Publish your own story / article for a great audience
Chiang Mai Stories Foreigners and corruption in Thailand
---
Corruption in Thailand is a controversial and somewhat touchy topic. Most Thai simply acknowledge that it exists and publicly disapprove of it but at the same time many secretly or openly find it justified to make use of it to achieve personal goals.
Foreigners often treat the topic of corruption in Thailand with smere / disapproval but some see it as a tourist attraction or a way to show off how adventurous they are.
A typical case I overheard recently went like this. Two new-bee American tourists on a motorcyle were stopped by a policeman who asked for a driving license. They didn't have an international driving license, so the policeman told them that the official fine (to be paid at the office of the traffic police) was 400 baht but he'd let them go for 500 baht cash in his hand now.
The tourists got thrilled at the idea of getting involved in a bribe and paid the policeman off, now 500 baht poorer but an anekdote richer that would spice up dinner conversations, they believed. They had bribed a police officer in Thailand!
I was tempted to spoil their triumphant mood but in the end I let them dwell in their ignorance. They went on to talk about sustainable living, helping people in developing countries and so on, so clearly they were the hypocrite type.
Other cases I heard in the past were just as awful, with foreigners refusing to pay a fine at the excuse of not wanting to waste money on the 'corrupt police' and so causing trouble for the scooter rental company.
What's wrong with us? Just because we came from a country where corruption is minor doesn't mean we should treat corruption in Thailand as a tourist attraction. Just pay your bills to the right institution and stop thinking you can change Thai society in the direction you judge is better.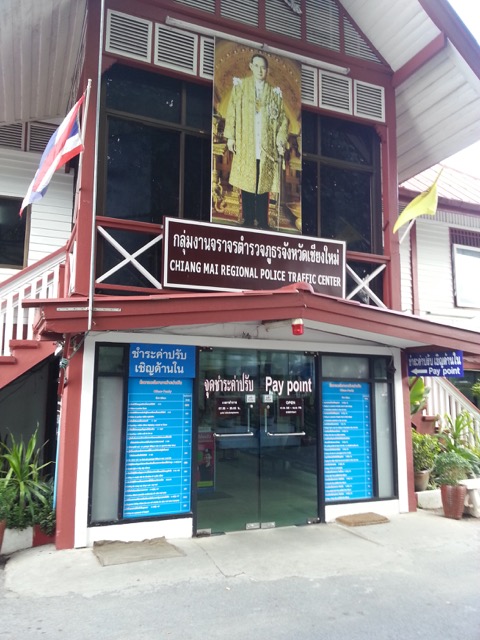 Pay your fines here at the traffic police office
The money those two American tourists paid went to one corrupt police officer on the street and not to Thai society, and that officer will be even more motivated to ask money from the next tourist.
Had the two tourists made the minor effort to go to the traffic police office, then the money would not only have benefited Thai society but they would also have paid less.
If you speak and behave Thai, you can even negotiate your fine down from 400 baht to 100-200 baht, which is what I did last time I got fined. Is that corruption too? No, it's not, I got an official receipt and the money I paid will go to the government, not to the few officers at the counter. Basically, you ask for a discount from the government and the government gives it. A discount on a traffic fine? Yes, but I doubt many foreigners are able to convince the office that they need it.
The first time I came across a 'corruption case' was when a hotel maid in Bangkok offered to wash my laundry directly at a lower rate than the hotel would charge. In the same way, a sales person selling language DVDs offered to sell his illegal copies of the DVDs at much lower rate than the original DVDs.
Is that corruption? Well, it's serving self-interest at the cost of the company that employs you.
Corruption in Thailand exists literally everywhere and at every level. The last funny thing I heard was how a Thai friend had the electricity meter in her house adjusted to a lower speed, so that her electricity bills would be lower. The guy who came to adjust it was, of course, an officer from the Provincial Electricity Authority (PEA), the very same person who is supposed to check on the meters when something is off course. The money she paid, 4000 baht, included the effort of the technical adjustment and the fee to keep him quiet. She could easily earn that corruption money back in about 3-4 months.
Corruption in Thailand exists in many more forms than most foreigners can imagine, and what we should do with it is: absolutely nothing, unless you really know what you're doing. If you're the owner of a popular bar, I bet you're paying off officials regularly, if not they'll find a reason to close you down, so then there's no way to escape from it. But for the vast majority of us, there is no reason to get involved with corruption, to treat it as a tourist attraction or to think you can influence it in a way you judge better for Thai society.
By Jacky, for CM Locator
---
Comments for Foreigners and corruption in Thailand