Publish your own story / article for a great audience
Chiang Mai Stories The future of Chiang Mai: promising or problematic?
---
Thailand just celebrated Songkran which traditionally marked the beginning of the Thai New Year and the coming of rain as a blessing after the dry season.
Like Westerners do during Western NY, it's perhaps a good time to pause and reflect on where Chiang Mai is heading to in the near future.
Here's our view on Chiang Mai's possible future in the next 5-10 years and what factors underly it.
1. Chiang Mai will become more and more like Bangkok
Like it or not, but Chiang Mai is well on its way to become another Bangkok. Not in terms of its size - Chiang Mai will never become as large as the capital - but in terms of congestion and crowdiness. In some ways, Chiang Mai could become worse than Bangkok, because at least Bangkok has public transport.
The construction boom of houses, shopping malls and condominiums over the past few years has attracted more residents in town, but the lack of urban planning and investment in the infrastructure of roads in and around the city has led to more and more traffic jams, that will only get worse in the coming years.
Major intersections and major roads inside the city but also on the Superhighway will become congested during most times of the day, there will hardly be times that you can drive on without a jam.
The situation in Chiang Mai will become worse than in Bangkok, because Bangkok was able to redesign it's road system and widen it at some places, and it has some proper public transport.
For Chiang Mai to widen up its inner roads it's simply too late, because the government lacks the money and will to buy everyone out along important inner city roads. Imagine the government buying up all the stores and townhouses along Nimmanhaemin, Suthep road and Huaykaew road, it's simply too late.
2. Chiang Mai will be become the Accident Capital City of Thailand
Already, the accident rate in Chiang Mai is one of the highest in Thailand. According to the latest government monitoring action during the so-called 7 Dangerous Days around New Year, the number of accidents in Chiang Mai is the highest within Thailand.
Chiang Mai will continue to 'excell' in this regard with an excessive accident rate and death toll.
Chiang Mai is like a patient with high blood pressure suffering a cardiac arrest nearly every day. The road system is simply insufficient to facilitate the increased flow of traffic, all major roads get blocked not only during the busy hours but also during other times of the day, in a way you can say the busy hour period has expanded.
The risk of having an accident has become higher and higher. You can witness accident marks on the road everywhere, if you're on the road often enough you can witness ambulance staff clearing up the mess minutes after an accident happened, and sadly now your chances to witness an accident happening live in front of your own eyes are very real.
The joy of driving through town has already gone, going from one corner of town to another has become an exhausting exercise that requires all your attention to avoid being hit. As a foreigner new in town and unfamiliar with Thai traffic "rules", you're at even more risk and you better get to
understand how Thai traffic really works
.
3. Real public transport in Chiang Mai won't be coming soon
Despite it's size, Chiang Mai still does not have a real public transport system. Yes, there are a few very old buses driving to outward places like Lamphun and Lampang, and recently a numbered redcap (songtaew) route map was introduced as an official public transport system, but critics suggest it is a disguised way for the songtaew lobby to stay in control of the transport system and anyway it's far insufficient for a city like Chiang Mai.
Most of the need for public transport is catered for by songtaews in different colours, which is not really a public transport system but operates in murky ways according to an article in Citylife.
Even in the coming 10 years, the government will lack the will and power to step over vested interests to create a real public transport system. Plans to make a Skytrain or tram from the northwest corner of the city to the airport, or even a tunnel from Nimmanhaemin to the Convention Center remain vague and hardly realistic.
Private business initiatives, such as Grab Taxi and Uber, although not 100% legal and undesired by the songtaew and tuc tuc lobby are making more of a difference than any government programs.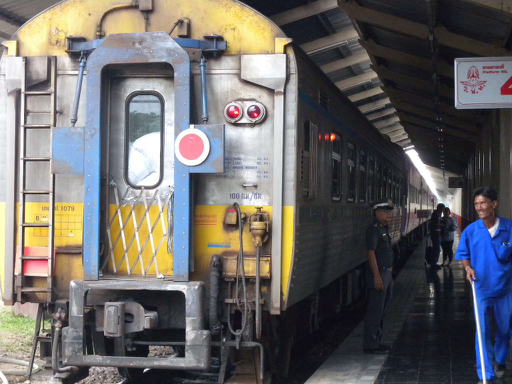 Old train at Chiang Mai train station. Some trains were recently replaced
4. Major infrastructural projects will only be realized on the very long run
Despite announcing it's plans to make a high-speed rail line connecting Chiang Mai to Bangkok, to build a new airport and to build a highway to Chiang Rai, such major infrastructural projects won't be carried out within the next ten years or so simply because the government doesn't have the money and commitment to carry them out fast and soon.
A high-speed train system would make some difference to Chiang Mai but frankly the airline tickets are so cheap that its effect will be limited. Chiang Mai is in great need of a new airport though, and delaying that decision won't be benificial for the city.
Only a few road improvements around the city will alleviate the traffic flows, for example the widening of the road to Hang Dong and the underpass of the Maejo - Superhighway intersection.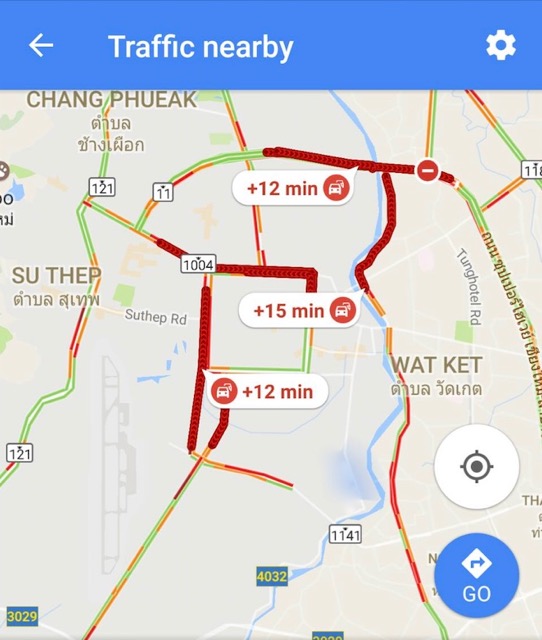 A modest day of traffic jams in Chiang Mai according to Google
5. Local economy will remains weak
While the current government policies may have some benefits for Thailand on the long run, they do not help the economy much on the short run.
Even when eventually a new elected government comes to power in Thailand in the next few years, it will be bound by the control measures installed in the system now and Thailand may not have the same laissez-fair economy as it used to have in the past.
There is tremendous potential in the Thai economy but with self-interests, corruption and inefficient business practises handicapping the system, it's not likely to grow vey fast in the coming 5 years or so.
Factories and small businesses have been suffering during the past few years. A local Thai hotel owner at Taphae gate told us he's been in business for forty years and 2016 was the worst ever.
The only highlight is the coming of Chinese tourists and investors into Thailand without which the economy would have been much harder hit.
6. Next property boom for Chiang Mai will come when Bangkok is suffering
Bangkok as the capital of Thailand will be suffering more and more from structural problems: parts of the city are sinking with several centimeters per year (!) while sea levels are rising, so it seems a near certainty that at some point in time some areas in and around Bangkok will experience flooding and water drainage problems in the next few years.
Only when the problems are totally undeniable and when it's actually too late, the authorities will have to come into action and people will realise that Bangkok isn't so liveable anymore.
The floodings in Bangkok a few years ago led to an investment boom in Chiang Mai and this scenario is likely to happen again.
The next time Bangkok is flooded, again more people from Bangkok will buy up second homes and land in Chiang Mai.
The property market in Chiang Mai is still in a total oversupply situation despite what agents or developer want you to believe, but over time this oversupply can be absorbed by the demand from Bangkok and from Chinese investors.
7. Diversification will be Chiang Mai's strength
Chiang Mai was only a small, provincial town a few decades ago, a tourist destination called the 'Rose of the North'. Nimmanhaemin area was just a plain field with one road. Back then, the city was known for elephant camps and peaceful holidays and attracted backpackers and holiday-goers.
In the meantime, the city has expanded in every direction possible (except for the mountain) and now attracts different groups of visitors and residents: retirees, medical tourists, yoga hippies, digital nomads and Chinese.
To some Chinese residents, Chiang Mai is an accessible alternative to China, with modest pollution levels, good facilities and international schools for their children.
Chiang Mai will become a more vibrant, interesting and economically resilient place if there are more diverse reasons to visit it and stay. The government makes modest and uncoordinated efforts to make Chiang Mai into a MICE city, the giant Convention Center along Canal road is probably not always fully booked.
A one-sided expansion of the city's economy and profile with only just 'more of the same': more hotels, more malls, more restaurants, more shops, won't add to Chiang Mai's strength.
8. The next phase for Chiang Mai is in business
One sector that is still small in Chiang Mai and that Chiang Mai would benefit from tremendously is international business.
Right now, Chiang Mai has a very modest business sector with some Japanese and Korean-run industries in neigboring Lamphun, a few westerner-run businesses in town and for the rest mainly tourism-oriented businesses and regional and local businesses.
The next phase for Chiang Mai will start when it will become home to a substantial amount of international businesses. That could be businesses from Bangkok, but more likely businesses from overseas.
Such a Renaissance of Chiang Mai is not likely to happen soon, perhaps within the next 10 years or so, lacking any government priorities and infrastructure, but if it happens it will be driven by the market and by innovations.
9. Whatever future lays ahead for Chiang Mai, Government won't be leading it
Overall, the future of Chiang Mai will be shaped and lead not by the Government's initiatives, which lack vision, co-ordination, planning, and the will to carry them out properly, while being held back by self-interests and lobby groups.
Rather, daily life in Chiang Mai will be shaped by the forces of technological innovation and international business.
An example of that is the lack of a proper public transport system which the government never developed. However, technological innovations combined with the drive of private businesses, such as Uber and Grabtaxi, are now side-skipping the monopoly of taxi, tuc tuc and songtaew drivers. Uber is cheaper, its drivers are younger and they use the latest technology so they know how to find places, the old taxi drivers only know the old landmarks. The playing field has changed, the future is to Uber and a younger generation, but the changes are not happening thanks to local or national government, one could even argue it's despite of them: Uber drivers have been attacked by mobs of songtaew drivers and the government has responded by fining Uber drivers for using a private vehicle as a commercial one.
Another example is the massive influx of so-called Digital Nomads in Chiang Mai, which makes it the no. 1 hotspot of remote workers in the world. This was not some kind of government priority plan, nothing was done to improve the infrastructure or to attract these people, rather the visa policies have become tighter and tigher over the years, making it less easy to stay in Thailand longer term.
This was a development that came from the market and technological changes which enables more and more people to carry out their job remotely.
Finally, the flooding of Chiang Mai and Bangkok several years ago was totally foreseeable, but the government only took some actions after the damage was done. At some places along the river Meiping, now finally measures have been taken against a new flooding, but it's not sure if they are sufficient and basically the government is lagging behind facts and events that already happened.
The lack of road infrastructure for the current size of Chiang Mai is another example of how the government failed to provide the right conditions for the growth of the city and now ordinary people have to pay the price in terms of waiting times in queues and accidents.
So a lot of the potential of Chiang Mai is not being realized because of an incapable government. For example, Chiang Mai could be a world example of a green, eco-city with sustainable energy sectors such as the creative sector and IT with a lot of spill-over to the local population, but the government does not see that potential.
10. Uncertainties remain, but Thai-ness prevails
When making predictions about the possible futures of Chiang Mai, there are many uncertain factors that could drive the direction the city is going, but there is also a near-certainty that we can work with: whatever opportunities and possibilities there are, Thai people will do it their way and that's probably how it should be: the Thai way.
You can bring democracy to Thailand, but Thai will have their own version of it. You can import best practises in business, but you still have to adapt them to Thai culture. Thai traffic doesn't work exactly the same as it is supposed to be internationally. Organic food in Chiang Mai isn't always really organic, there are various degrees of it.
So, whatever future we wish for Chiang Mai, chances are that it's not going to happen, or not in the way we deem best.
---
Comments for The future of Chiang Mai: promising or problematic?