Best deals on Zip Line Canopy Tour Packages in Chiang Mai - Overview & Comparison
---
Last edited: September 02, 2017 at 15:44:51
---
Chiang Mai is an excellent place to do a Zip Line Canopy adventure tour. In the green hills and mountains around Chiang Mai, you can still find pristine (rain) forests with giant trees, away from civilization but only an hour's drive out of town.
If you're tired of standard tourism but instead seek some more adventure, try a Zip Line Canopy adventure tour.
There are about 7 companies in Chiang Mai offering an exciting flight adventure that you won't forget, especially if you have to get back to a boring office job

after your holiday. Some travellers even plan their trip all around a ZIP Line Canopy tour.

HOW TO PICK THE BEST ZIP LINE TOUR FOR YOU?
Don't worry, we did all the research for you, and we summarize it here for you with the best deals available in the market.
The pioneer ZIP Line tour operator was Flight of the Gibbon. It is still the biggest and now also offers packages in Pattaya and Cambodia. The success of Flight of the Gibbon quickly attracted many competitors.
Most of these operators offer similar experiences, although there are differences. A good way to select the best package for you is by the number of platforms and ziplines, this is an indication of both the quality and quantity of the fun and excitement you can get, and compare that with the price offered.
Some operators offer extras, such as sky bridges and spiral stair cases, bicycling in the air, and so on, but that is all secondary to the main thrill you want to go for: hanging on a ZIP line and flying through the forest like a bird or monkey. The number of platforms and ZIP lines is also a good indication of the extras offered, they are roughly added proportionally to the package.
There are probably some differences with regard to extras.
HOW SAFE IS IT?
Doing adventure sports in Thailand is generally okay, but safety procedures are often less than what you can expect in more developed countries. If safety procedures are left too much to Thai staff to follow without strict foreign supervision, there are more risks of injury. Unfortunately, the maipenrai attitude can have serious impacts then.
Not all incidents are reported in the news, some are kept silent.
Let us know if you have experienced any safety issues. When know that an operator failed in some way with regards to safety, we don't advertise them anymore for 5 years.
An example of a fatal incident happened in 2015 by Skyline Adventure.
CHIANG MAI LOCATOR OFFERS THE BEST OVERVIEW AND LOWEST PRICES* ON ZIP LINE TOURS
Book early - book with group - book through us to get additional discounts
BEST DEALS ON CANOPY ZIP LINE TOURS IN CHIANG MAI
NAME
PACKAGE

PLAT
FORMS

ZIPLINES
ABSEILS
EXTRAS
INDICATIVE PRICE** (Baht)
BOOK WITH DISCOUNT
FLIGHT OF THE GIBBON
Zipline Canopy Tour
33
5km
2
longest ZIP Line 800m, 3 sky bridges, guided nature tour
3,599
EAGLE TRACK
Bronze
15
7
1
sky bridges, timber balancing beams, climbing net, zodiac bridge, flying skateboard, monkey ladder and nature trail
1,600
Silver
20
9
3
20 platforms: 9 ziplines,3 Abseiling (10, 15, 40 Meters), sky bridge, bamboo bridge, hilltribe ladder, kung fu walk, spiral staircase, zigzag walkway, nature trail, waterfall, etc.
1,900
Gold
35
16
4
2 sky bridges, 1 bamboo bridge, hilltribe ladder, kung fu walk, spiral staircase, nature trail, waterfall, etc.
2,400
JUNGLE FLIGHT
Package A
33
20
3
3 sky bridges, 1 spiral stair case, 600m canopy nature walk, longest ZIP line 300m, 2 best panoramic views
2,600
Package B
24
16
1
2 sky bridges, 1 spiral stair case, 15 min nature walk
2,200
DRAGON FLIGHT
Dragon 1
40
26
3
1 timber ladder, 2 spiral staircases, 1 cable walk, panoramic sky bridge, nature walk
2,100
Dragon 2
28
18
2
1 timber ladder, 2 spiral staircases, 1 cable walk, panoramic sky bridge,
1,700
FLIGHING SQUIRRELS
Canopy ZIP Line Tour
35
17
1
6 walking steps, climbling nets, sky brigdes, tarzan jumping, skateboard, bycicle and slider.
1,999
ZIPLINE CHIANG MAI
Canopy ZIP Line Tour
27
18
0
jungle trail, tree rappelling,sky bridges
2,000
THAI JUNGLE SPORTS
Package A
20
15
0
1-day trip: nature trekking + ZIP Lines, bamboo bridge, swing bridge, zigzag bridge, suspension bridge, railway bridge, sky viking
1,900
Package B
20
15
0
2-days trip: same + 1 day of nature trekking, tea & coffee plantation and stay overnight in resort with meals
2,900
FOR DETAILED CONDITIONS OF THE PACKAGE, PLEASE ALWAYS REFER TO THE INFORMATION OF THE OPERATOR
** ABOVE PRICES ARE INDICATIVE AND CAN CHANGE ACCORDING TO SEASON, PICK UP TIME, NUMBER OF PERSONS IN YOUR GROUP, AND OPERATOR. REST ASSURED: FOR MOST OPERATORS, WE CAN OFFER YOU THE LOWEST PRICE* AVAILABLE IN THE MARKET
NOTES
Most operators arrange for free pick up and round trip from your hotel in a VIP airconditioned bus; some offer a snack or lunch and water.
Prices for adult and child are often the same.
Some offer "full insurance", others "first aid insurance", but for most of them ultimately medical expenses due to any accident are for your own risk and normally you sign for that before jumping along a ZIP Line.
Reserve time for the entire outing about 4-6 hours including travel, depening on the package. Some packages are 1-2 full days.
Several pick up times available depending on your package and choice. Usually, 2-4 shifts per day, for example:
I. 06:30 - 07:00 II. 08:00 - 08:30 III. 09:30 - 10:00 IV. 12:30 - 13:00 or:
I. 07:00 - 07:30 II. 10:00 - 10:30 III. 01:00 - 01:30
These are indications, actual pick up times can differ somewhat, depending on traffic.
Other, less important, extras could be: free T-shirt, nature walk, etc. Refer to conditions of your package.
RESTRICTIONS / CONDITIONS ON WEIGHT, HEIGHT AND HEALTH
Some operators work with restrictions on age, weight and height, for example:
AGE: MINIMUM 4 - MAXIMUM 70
HEIGHT: MINIMUM 100 - MAXIMUM 200cm
WEIGHT: AXIMUM 20-120 kg
Some operators do not recommend or do not admit: people with heart, back, hip or knee problems, pregnant women. More strict restrictions could be: no mental health problems, diabetes, epilepsy, problems with lungs, kidney, liver, previous injuries or operation, foot, shoulder, hand and neck injuries.
WHAT TO BRING
Sunscreen, bug repellent, closed-toe shoes. NO flip-flops!
Camera with straps
Pants or long shorts (just above the knee). Preferably loose clothing.
* LOWEST PRICE
For most operators, CM Locator can offer you the lowest price available in the market. Official prices advertised may not be final discounted prices, especially if you: book early, book with a group, book a less busy pick up time, or book through us. CM Locator can be cheaper than other agents, because we offer a complete overview of all operators, we can compare them and we have no office saving costs that we don't have to charge to you.
If you can show us a confirmed price and package at a lower price than we initially offered, we can probably match that for most operators. So rest assured you can get the lowest price in the market.
CONDITIONS AND DISCLAIMER:
For all packages, please refer to the conditions of the operator for what is included and what not. CM Locator aims to give you the best overview of packages available in the market as well as the best deals, acting as your preferred agent. The responsibility to deliver the package with the conditions as stated by the operator rests entirely with the operator. CM Locator is not liable for changes in the package or by insufficient deliverance of services by the operator. However, we do gather responses from customers so as to rate the different operators. Share your experience with us.

---
NEWS: UNFORTUNATE ACCIDENTS BY OTHER OPERATORS
July 2015: Chinese tourist falls to death from ZIP-Line in Chiang Mai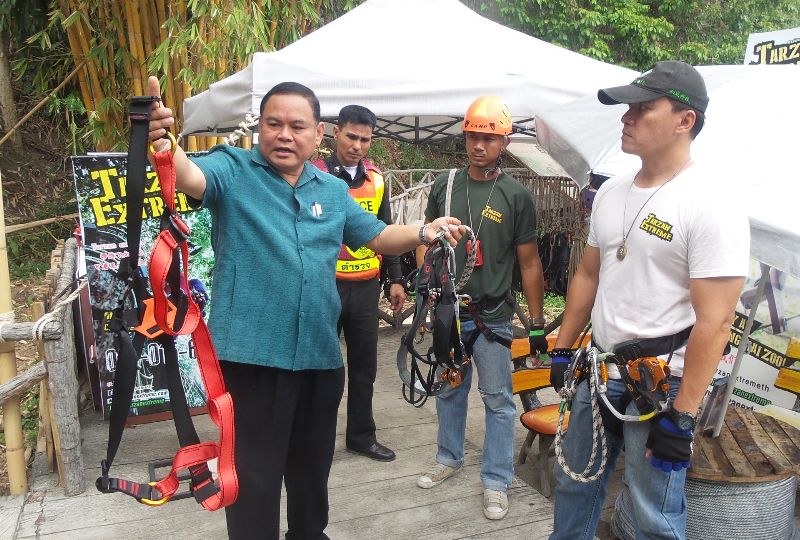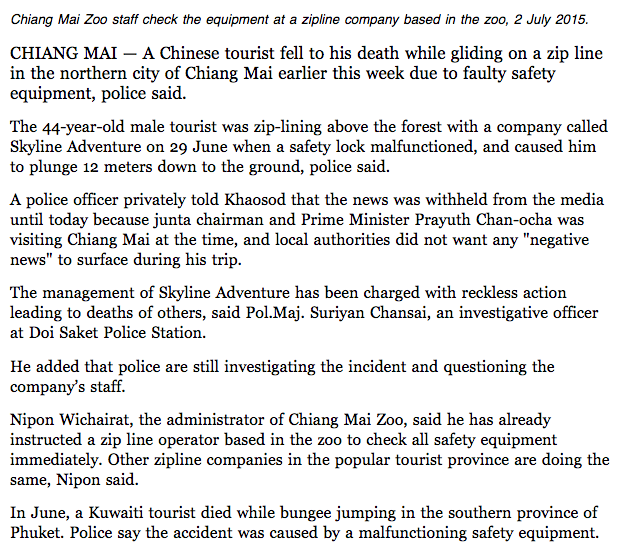 Credit: Khaosod English, July 3, 2015
October 2015: Chinese tourist breaks neck with Flying Squirrels
A female Chinese tourist died from a broken neck after she crashed with another tourist on the zipline at Flying Squirrels in Maerim on 11th Oct 2015. Alledgedly, staff from Flying Squirrels tried to cover up up the incident and reported that the woman died because of a heart attack, however autopsy from Nakornping hospital showed that she died because of a broken neck. The girls famiily tried to report this story to the Chinese Consulate in Chiang Mai.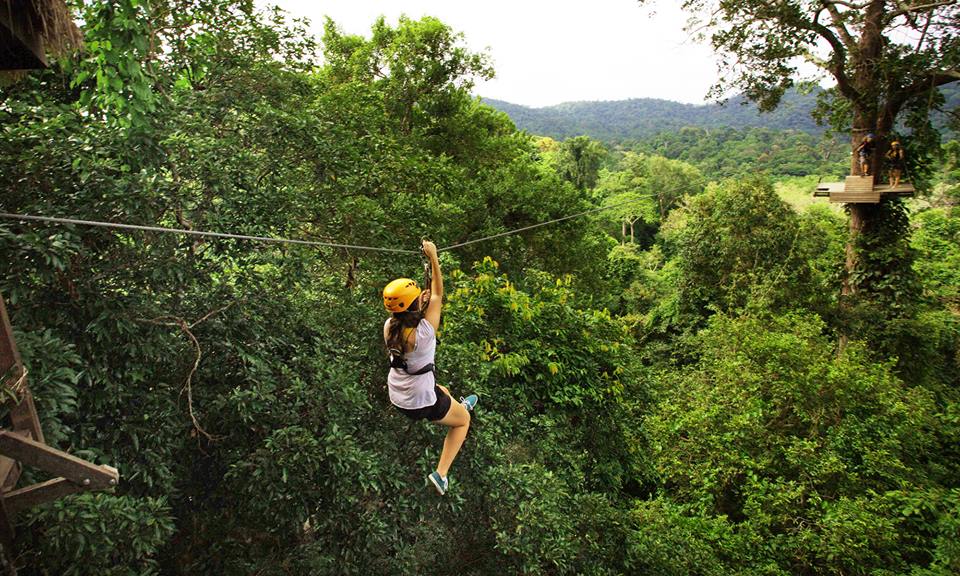 Flying squirrels accident in Chiang Mai