Can Digital Nomads legally work in Thailand? How?
---
Last edited: February 06, 2017 at 11:37:04
---
The debate about whether or not Digital Nomads can work safely and legally in Thailand repeats itself regularly on social media such as Facebook and on certain websites. Often there is a lot of confusion about this topic and people comment randomly with inaccurate and second-hand information. To get things right, CM Locator did some first-hand research and went to the relevant departments of the Thai authorities to get this topic clarified.

---
MUCH DEBATE STILL EXISTS ABOUT THIS ONE QUESTION:
IS IT LEGAL FOR DIGITAL NOMADS TO WORK (ONLINE) IN THAILAND? HOW?
---

The infamous raids of Punspace1 in Nimman by Immigration Police back in 2014 and the raid of an office for online teachers in Riverside Condo in 2015 much added to the confusion and fear amongst digital nomads in Thailand that there was something wrong or illegal with working online in Thailand. In the case of the Punspace raid, everyone was released without any charges, by the way.
GENERAL RULES ABOUT WORKING IN THAILAND
Stated in general terms, in order to work in Thailand a foreigner needs to:
be on the proper visa
get a work permit and
pay taxes
The type of visa required depends on the type of work: English teachers need a teacher visa, volunteers need a volunteer visa and others need a business visa. You are not allowed to work with a tourist visa or retirement visa, usually there is a clear stamp in the visa stating "employment prohibited".
To get a work permit, you have to be employed by a Thai company and that company needs to employ at least 4 Thai workers for every foreigner with a work permit.
And, if you stay in Thailand longer than 6 months, you have to pay taxes.
The main authorities you have to deal with are: the Immigration Department, the Labour Office and the Tax Department. This article is based on first-hand information from our interviews with the Labour Office and the Tax Department.
UNDERSTANDING THE CONTEXT OF THE CONTROVERSY ABOUT THE ISSUE OF WORKING IN THAILAND
To understand why there is controversy about the legality of certain types of 'work' in Thailand, there are a few factors to take into account.
To determine what is work and how to deal with it, various departments of the Thai government have to judge a situation based on the relevant sections of Thai law. Thai law was more or less imported or copied from amongst others European law just about a century ago and according to Thai lawyers, it isn't exactly the most coherent or best organised system of law in the world.
Besides that, Thai law has not been updated to deal with rapid and modern developments such as online work and Digital Nomads.
Every department of the Thai government has its own responsibility and will view a case based on its interpretation of what a foreigner can and cannot do. It could be possible that one department is concerned about a foreigner conducting certain activities while another isn't.
Thailand wouldn't be Thailand if there wouldn't be huge differences in interpretation not only between different departments but also between regions2.
And Thailand wouldn't be Thailand if there weren't a GREY or ALLOWANCE ZONE where things are allowed to be as they are, unlike in some Western countries where things simply black-and-white.
Finally, there is the issue of enforcement: even if things happen that are officially not 100% legal, the authorities don't always take action, even simply ignore it or it becomes an opportunity for local officials to become corrupted.
To make things worse, there is the issue of communication: most Thai authorities do not make the rules very clear to foreigners or even internally amongst officials. A new regulation could be introduced but officials don't know how to apply it, let alone foreigners.
WHAT IS WORK?
A lot of the confusion amongst foreigners about working in Thailand stems from the way the authorities in Thailand define work. According to the Chiang Mai Work Permit office, a foreigner needs a work permit when:
either he takes resources from Thailand, or
he competes with Thai jobs.
Following these criteria, most Digital Nomads do not need a work permit, they either work completely legal or they are in the GREY ZONE. Exceptions of activities for which a work permit is clearly required are: selling goods or services in Thailand, doing something that takes resources from Thailand, or working in a company style manner.
Read more about how the Chiang Mai Work Permit office evaluates work
MORE ABOUT THE GREY ZONE
Taken to the letter of the law, even a travel blogger residing in Thailand and writing about the beauty of this country is carrying out work, and therefore in theory needs a work permit. This, of course, sounds utterly ridiculous and doesn't really make sense besides that it's not enforcable.
Acknowledging that, Thai authorities usually take a more pragmatic (and passive) approach towards the issue of foreigners working in Thailand. Factors such as volume or scale, seriousness of a work activity, existence and source of income in Thailand, enforcability and other circumstances are then taken into account.
DO YOU NEED TO PAY TAXES?
The main criteria that the Tax authorities use to determine whether or not you have to pay tax as a foreigner is how long you stay in Thailand. If you stay longer than 6 months, you are supposed to pay personal income tax.

The Tax authorities in Chiang Mai take a pragmatic stance towards the nature of your work and whether or not you have an official entity (company) in Thailand. You can register with your address and start paying taxes rightaway!
The benefit of registering and paying your income tax here is that you can later prove in your home country that you did pay taxes. Besides that, it is a nice way to give back to Thailand for the facilities that you used.
If you stay in Thailand long-term, there is now no excuse anymore to say you can't pay taxes.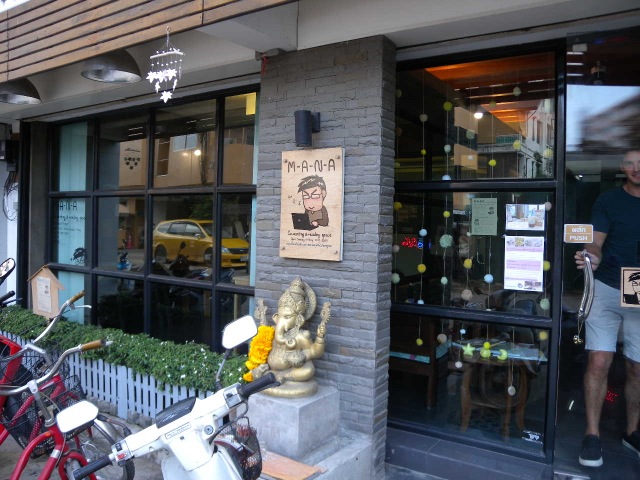 Are Digital Nomads workin in a co-working space on the target list of Immigration?
Working in a co-working space
A lot of Digital Nomads enjoy the atmosphere of working in a co-working space or coffeeshop more than staying at home all day. Is it safe? If you may believe some myths on forums you should shun these places, because Immigration is going to get you. Bullshit! If co-working spaces would really be on the target lists of Immigration, they would raid it all the time and no co-working space would still exist in Thailand.
Illegal / risky?
Just because you're behind a computer in a co-working space or coffeeshop you're not breaching Thai law!
You can safely work online in any co-working space, internet cafe or coffeeshop.

Immigration raided Punspace last year most likely because there was a rumour about illegal activities being conducted there. Immigration raided a so-called 'Erotic Garden' in Chiang Mai area a few months ago, because there was a rumour or someone reported that prostitution was being conducted there, only to find out that it was only a tea garden with sensual sculptures.
You sitting in a co-working space on a tourist visa trying to grow your online business are perfectly okay.
The criteria again, is in the first place about money income: are you getting your money in Thailand? Then you better get the right papers or keep a low profile.

Teaching Chinese students online
This is another field of attention by foreigners recently: giving Skype lessons to Chinese students in China from Thailand.
Illegal / risky?
It depends.
Are you sitting in the comfort of your own apartment and getting paid through Paypal? No big deal.

But are you paid by a company to do this and are you sitting in an office in Riverside Condo together with your 'colleagues'? Then you need a work permit and the company needs the proper papers to conduct this business.

Hopefully, this practical summary of cases demystified a lot of non-sense you can read in forums, and you have some idea about how you can work safely in Thailand.
Thailand is a laissez-faire society, so even if you err in some grey areas it's not immediately a problem.
Mind you, Thai regulations are changing all the time, so what was okay until now may suddenly become an area of attention by the Thai authorities.
By Steven G.

---
1. Google 'Punspace' and Google already suggests is 'Punspace raid' !
2. Examples of different interpretations between regions:
However, in order to get a work permit, you have to employ 4 local Thai for every foreign work permit (exception for BOI approved businesses), so that won't work for most foreigners who start to work online in Thailand.
The Chief of the Phuket Provincial Employment Office clearly states that activating certain business functions for your online business while in Thailand constitute work, but if you activated them before entering the Kingdom, it's not work.

This suggests that pressing a certain button on Youtube while you're in Thailand can be a breach of law.
Share your experience here as a comment.