Can Digital Nomads legally work in Thailand? How?
---
Last edited: August 02, 2016 at 05:22:13
---
Much (online) debate still exists about this one question:

Is it legal for Digital Nomads to work (online) in Thailand? How?

The discussion sparked up especially after the infamous raids of Immigration Police at the Punspace co-working space (Oct 2014) and an office for online teachers in Riverside Condo (Jan 2015), both in Chiang Mai.
Chiang Mai is a large international hub for online workers, and if you add the nomads in other parts of Thailand, the total number of digital nomads working in Thailand is probably in the thousands (but that's just an unofficial guess: obviously, no official figures exist because Digital Nomads aren't separatedly registered as such).
The debate is regularly repeated on forums such as Facebook and on blogs, with a varying degree of accuracy, often based on second hand information and often conflicting. Some claim that pressing a certain button in your room constitutes work and is in breach of Thai law, others think it's unfair we are using facilities in Thailand yet don't pay taxes, and probably the vast majority of digital nomads in South East Asia doesn't care and simply goes on with it.
In order to clarify the issue for myself, I've done some first-hand research to find out what is the position of digital nomads in Thailand and how should we operate in a way which respects Thai law and Thai institutions.

Here's a summary of what I found.

---
---
First of all, why is there (still) unclarity about this issue whether digital nomads can work online legally in Thailand? Isn't it just a matter of yes or no? Shouldn't it just be made clear by the authorities?
Yes, it should be made clear but don't forget: we're in Thailand and in Thailand things aren't always so black-and-white, and different realities can exist next to each other. I've read several statements by government institutions about this matter, I've consulted a lawyer, and I've visited the authorities myself, and everytime I get different answers. So, it's the authorities themselves that leave things unclear.
For example:
However, in order to get a work permit, you have to employ 4 local Thai for every foreign work permit (exception for BOI approved businesses), so that won't work for most foreigners who start to work online in Thailand.
The Chief of the Phuket Provincial Employment Office clearly states that activating certain business functions for your online business while in Thailand constitute work, but if you activated them before entering the Kingdom, it's not work.

This suggests that pressing a certain button on Youtube while you're in Thailand can be a breach of law.
Both statements are very strict and formal and don't take into account the reality of doing business online. They are interpretations of Thai law that didn't develop ways to deal with a relatively new phenomenon such as online work, by a regional office.
Now you have to realize that Phuket is usually the strictest region in the country when it comes to interpretation of law and enforcement: Immigration officers here have a history of being or appearing more strict than in the rest of the country. Phuket officials announced that they would trace and tax Airbnb hosts who rent out properties on a short-term basis (shorter than 1 month). And so on.
Now the beauty (and at the same time the mess) of Thailand is that a regulation issued by the government is often interpreted by its various agencies, branches and departments in different ways, and so is enforcement.
The fact that Phuket is more strict does not mean the rules are applied the same way in another part of the country.
You can see that for visa matters, where it's much easier to get a particular visa with a certain Embassy than with another Embassy, and everyone flocks to the easy-going Embassy. You see it for schools, where the approval of schools for education visa is more strict in one province than in another. You see it for almost anything, and that is Thailand.
So for the issue of Digital Nomads working online, there are also differences in interpretation of the laws and in enforcement.
Now I'm not telling you to do something illegal or to take advantage of a weak government, but rather to comply with local standards and if the local officials tell you to do things in a certain way, then that's the local reality you've got to deal with.
Digital Nomads should not just fear Immigration
The matter of foreigners working in Thailand does not only concern the Immigration Department, but also other Government Departments, notably the Tax Authorities. Most of the (online) discussion amongst foreigners is about Immigration, however, if things turn out badly, it could be the Tax department you should be more fearful of.
If you're found in the wrong, the Immigration department's aim would be to expell you from the country and have your passport stamped "unwelcome" for a while, but who knows the Tax department could aim to have you jailed rather than expelled.

Gaps in responsibility between different government departments
There are both conflicting concerns and gaps in responsibility that are unaddressed and left in doubt by different departments of government. In other words, the co-operation and responsibilities of the different government departments is far from seamless.
Example: a foreigner wants to pay taxes on rental income in Thailand, but he needs a tax number to do so, and for that he needs a work permit but he doesn't work.

What is work?
Clearly, when you enter Thailand on a tourist or education visa, you'll remember the sentence "Employment Prohibited" that was printed on your visa. You are not allowed to work, and some forums go on and on about discussing this without going to the core of the issue: how different government department determine what constitutes work.
Some foreigners are totally confused about this issue and even think that a businessman replying to an email in his hotel is conducting work and is therefore acting illegally in Thailand, which of course is utterly ridiculous.
In an ever-changing and modern world, government departments have to set criteria to determine when somebody is working according to Thai law. Digital Nomads, eBay, Airbnb and Fiverr are relatively new phenomena that have to be tried against Thai criteria of work by these departments.
The main criteria probably both government agencies (Immigration and Tax authorities) use to determine whether someone is working in Thailand, is simply this:

MONEY INCOME IN THAILAND

.
When you are receiving money income in Thailand, the conclusion by government agencies is that there is labour, therefore you need a work permit.

In most developed countries, a distinction is made as to the source of income: money from rent, money from stock, money from work, for example. You could have investments in those countries that generate a return and live there without a work permit.
Not so in Thailand, probably because not enough legal groundwork has been done to distinguish this and so government agencies can't work with such refined criteria.
With the Thai context of the controversy in mind, it's now easier to follow some guidelines as to how you can work safely or legally as a Digital Nomad.
Never receive money income in Thailand.
Receiving funds through Paypal from an overseas sender is fine. Being paid by a customer in Thailand, whether through a bank transfer or in cash, is not (the only difference is that cash payment is harder to proof later).

Don't publicly sell your services in Thailand, if you don't have a work permit.
Having an office and receiving customers there and providing services are obvious signs of labour.
Putting up advertisements in co-working spaces and on Facebook about workshops you offer to grow your online business against payment may become a topic of interest to the authorities.

Don't engage in work activities which are explicity forbidden for foreigners. These are often crafts and occupations that are more traditional, cultural or perhaps of strategic economic interest to Thailand. Examples: forestry, agriculture, ceramic ware, hat and dress making and so on, but also street vending, legal work and construction (see list by Ministry of Labour).

If you do have a work permit, the work you do must fit within the narrow scope of activities approved by the government and mentioned on your work permit. You cannot deviate and do other work.

Don't make enemies who may report you, whether you are doing something wrong or not. Small enemies may report you, big Thai enemies will have you deported whether there are real grounds or not.

If you think you might be erring in a grey area, limit the scale or volume of what you're doing. Scale matters, small scale is not a priority of the authorities, big scale is.

Here are some examples ranging from working in the grey area or totally illegally:

Teaching in a Yoga Studio
A Yoga Studio invites a guest yoga teacher over from abroad to teach a few workshops, without the additional permits. The teacher is on a tourist visa and teaches a few weeks, doesn't have a work permit but will leave in a short while.
Illegal / risky?
Yes, it illegal, but without anyone reporting not likely to get the attention of the authorities, partly because it's on a small scale and because there isn't that much money involved.
The reality is of course, that most foreign-run yoga studios in Thailand have been or still are in this situation sometimes. Some probably employ teachers on a long-run, and then they may be at risk.

Making a website for a local business
A Digital Nomad without work permit is doing web-design for a shop in Chiang Mai and gets paid in cash.
Illegal / risky?
Yes, it's illegal. You are receiving money income in Thailand.
If it stays with this one shop, you might not be at risk, but if you're publicly selling this service, you might be.

Exporting from Thailand
A foreigner is sourcing local products in Thailand and exporting them to overseas.
Illegal / risky?
It depends on the volume of your business and how you invoice.
If you buy a bunch of handbags on the nightbazar sometimes and put them up for sale on eBay, it's not a big deal. You'll be paid through eBay by international customers and your volume is still small.
However, if you rent a warehouse, employ Thai staff for quality inspection, and invoice from Thailand, you really need some additional papers.
This is the reason why many foreigners doing this kind of trading business set up a limited company in Hong Kong or Singapore to invoice from there, while their business is growing and while they still don't employ any or not many Thai staff.

Renting out property in Thailand
You own a condo and you rent it out.
Illegal / risky?
It depends, it's a grey area.

If you just rent out one condo while you're not in Thailand, it's perfectly fine.
If you rent out your condo while you are in Thailand, in theory you are receiving money income from Thai property, therefore you need a work permit. But who's going to employ 4 Thai staff to rent out your condo to another foreigner for a year?
What if you rent it out long term, and you stay abroad but sometimes come back to Thailand. Would you then need a work permit for the periods that you are in Thailand?

So this is another grey area, left unattended by the Immigration and the Tax department.
There are probably ten thousands of foreigners who own property in Thailand that they rent out without work permit and without paying additional taxes. And there are more and more foreigners who rent out their property short term through sites like Airbnb.

All of this cannot be monitored by the authorities and it's in a grey area, so for most foreigners it's okay.
But if you are renting out 50 condos and employing cleaners and staff, yes, it's a business and it you may raise the attention of the authorities.

Working in your own bar or restaurant
This is an example you can see everywhere in Thailand: foreigners own a bar or restaurant or whatever shop, sometimes together with a Thai wife.
Ever noticed how the foreigner husband usually looks pretty lazy, sits down at the back all the time, sips from a coffee or something alcoholic but doesn't take up a plate to serve you?
This is because owning a business is something different from working in the business.
Illegal / risky?
A foreigner who (co-)owns a bar or restaurant can sit there and 'supervise' the staff, but is not supposed to work, unless he's got a work permit. Foreigners who stand up and go behind the counter to poor drinks or serve plates are effectively working and are at risk if the immigration department visits them at that moment.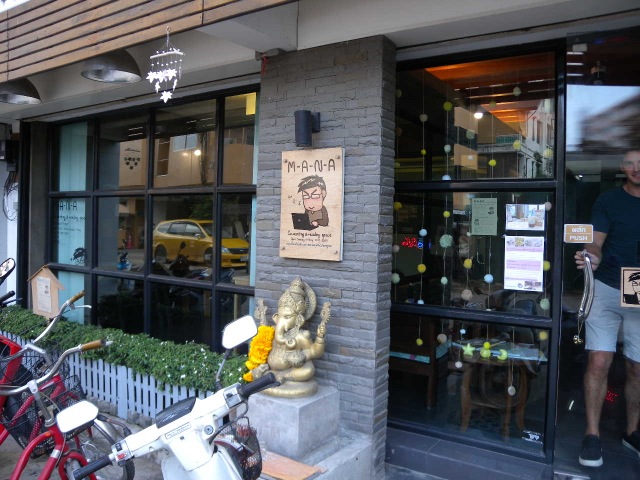 Are Digital Nomads workin in a co-working space on the target list of Immigration?
Working in a co-working space
A lot of Digital Nomads enjoy the atmosphere of working in a co-working space or coffeeshop more than staying at home all day. Is it safe? If you may believe some myths on forums you should shun these places, because Immigration is going to get you. Bullshit! If co-working spaces would really be on the target lists of Immigration, they would raid it all the time and no co-working space would still exist in Thailand.
Illegal / risky?
Just because you're behind a computer in a co-working space or coffeeshop you're not breaching Thai law!
You can safely work online in any co-working space, internet cafe or coffeeshop.

Immigration raided Punspace last year most likely because there was a rumour about illegal activities being conducted there. Immigration raided a so-called 'Erotic Garden' in Chiang Mai area a few months ago, because there was a rumour or someone reported that prostitution was being conducted there, only to find out that it was only a tea garden with sensual sculptures.
You sitting in a co-working space on a tourist visa trying to grow your online business are perfectly okay.
The criteria again, is in the first place about money income: are you getting your money in Thailand? Then you better get the right papers or keep a low profile.

Teaching Chinese students online
This is another field of attention by foreigners recently: giving Skype lessons to Chinese students in China from Thailand.
Illegal / risky?
It depends.
Are you sitting in the comfort of your own apartment and getting paid through Paypal? No big deal.

But are you paid by a company to do this and are you sitting in an office in Riverside Condo together with your 'colleagues'? Then you need a work permit and the company needs the proper papers to conduct this business.

Hopefully, this practical summary of cases demystified a lot of non-sense you can read in forums, and you have some idea about how you can work safely in Thailand.
Thailand is a laissez-faire society, so even if you err in some grey areas it's not immediately a problem.
Mind you, Thai regulations are changing all the time, so what was okay until now may suddenly become an area of attention by the Thai authorities.
By Steven G.

---
This article expresses the opinion of a contributing author and does not necessarily reflect the position of CM Locator. Did the author forget something? Or do you have something to comment?
Share your experience here as a comment.