Dealing with Chiang Mai Immigration Office
---
Last edited: August 14, 2015 at 05:10:31
---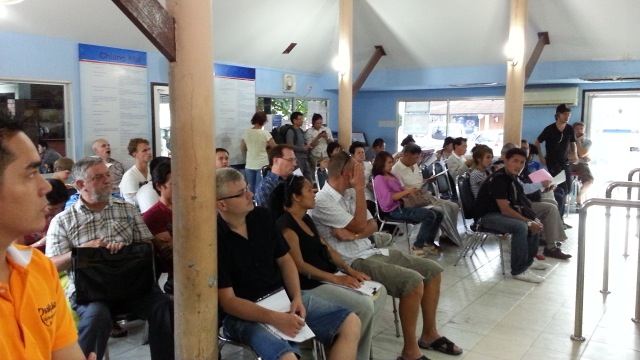 The times are past that you could just walk into Immigration and be out within 30 min.
Waiting queues are 'business-as-usual'.

Every foreigner staying in Chiang Mai long term sooner or later has to deal with the Chiang Mai Immigration Office. In fact, in a way it is fair to say that every long term foreign resident in Chiang Mai is "at the leash" of Immigration: they can decide to kick you out of this country at any time.
Dealing properly with Immigration is therefore essential for every foreign resident in Chiang Mai.
Needless to say to most foreigners (but some foreigners forget it): Immigration is not a business in the hospitality sector such as a hotel. Therefore, they do not owe foreigners a service and they are not here to fulfill your needs.
First and foremost, Immigration is part of the Royal Thai Police force and all foreigners are here because they allow you to stay.
So, when dealing with Immigration it's important to have your papers in order and always stay friendly and polite. Occasionaly, some foreigners get upset due to the long waiting queues, the lack of organisation and logic with regards to policies, papers and procedures, and acting it out they may have some unpleasant surprises.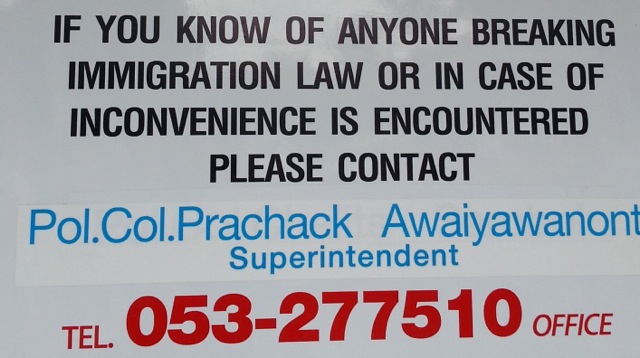 Immigration is not a hospitality organisation, it's police and you'd better not have enemies in Thailand.

Queue system
Since a few years, the Chiang Mai Immigration Office is usually very, very busy. Crowds are queuing up outside of the office from early in the morning 6 or 7 am, and at times even up until the road. For this reason, Immigration gained itself the nickname 'the Zoo' amongst some groups of foreigners, and indeed waiting times can easily be 2-4 hours.

Nowadays, Immigration works with a queue system. The doors open at 7:30am but people queue up before that to get the first ticket numbers. The ticket number is issued in order of entrance / queue and depends also on your visa matter. There are time slots during the day for ticket numbers to be handled, for example all ticket numbers up until 250 will be treated in the morning before lunch break and all ticket numbers from 250 up in the afternoon.
When you present your case and get a ticket number, the officer in charge will tell you roughly what time you have to get ready.

How to deal smoothly with Immigration?
Here are a few tips to get your papers done as smooth as possible and to reduce waiting time:
1. Visa matter:
First and foremost, distinguish what kind of visa matter you have: a relatively simple one or a more extensive one.
Relatively simple visa matters: re-entry permit and 90-day reporting
More extensive visa matters: most other issues, especially application of first / second entry of a 1-year non-immigration visa.
2. Book a reservation online:
If you know
at least 100 days
in advance that you have to go Immigration, you can
book a reservation online
. This is Chiang Mai's Immigration's latest attempt to somehow offer you more convenience dealing with the immense waiting queues. Pity this site (www.chiangmaiimm.com) is entirely in Thai (even though it advertises several language modules), and also a pity that it doesn't allow you to book a reservation within 100 days, because most foreigners probably can't plan that far ahead and also most visa matters will occur within 90 days (such as the usual 90-day reporting and the maximum stay of one entry which is also 90 days). So after you got your new stamp and want to remind yourself of the next time you have to report to Immigration, it's already too late because you have to book at least 100 days in advance. It doesn't really make sense, but that's often with Thai rules and practises, you just have to follow it.
3. Timing
If you can't book a reservation online, you simply have to queue up. Depending on your visa matter and how much time you have, you can try at different times of the day.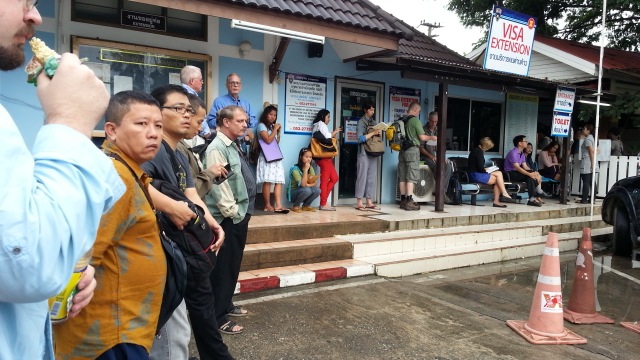 Queuing up early in the morning will get you a ticket number
that will be handled during a certain time slot during the day
If your visa issue is more extensive and/or you don't have much time before expiry of your current visa, you must be sure to get it done and then the only sure way is to queu up early in the morning about 7-7:30am. You can also deliberately choose to go a little later, say 8-9am, then most likely you'll get a ticket number for the afternoon and you can just chill out in the morning.
If your visa issue is relatively simple and/or you still have time before expiry of your current visa, you could give it a wild try and just walk in during the afternoon at say 2 or 3pm. Chances are that most of the queues are gone and you can get things done within just 2 hours.
Most heavy queues form early in the morning (6, 7 or 8am), but but if you add up all the time involved including waiting until the office actually opens, you may end up spending just as much time (3-5 hours for example) as when you arrive there later in the day.
3. Procedure and preparation:
Before you go, make sure you have all your papers prepared. You can still make copies of some relevant pages in your passport at the back of the office (2 baht per copy) or even make passport pictures, but it'll be cheaper and faster if you got that done already.
Check our list of
standard requirements for visa
.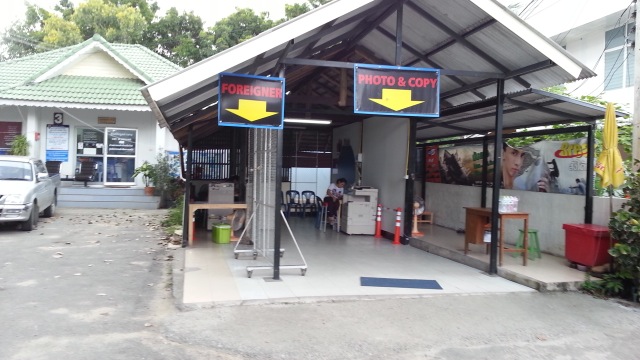 Procedures at the office aren't always clear, for example sometimes they install a ticket issuing machine at the back and at other times you simply have to walk up to the central counter (not well indicated) and present your passport and visa application case.
At all times, stay polite and friendly or at least neutral to the officers in charge, some foreigners lost their temper and got a red stamp in their passport telling them to leave immediately.
It's hard to get update information from the authorities, even the Chiang Mai Immigration site is not update and/or translated into English, but at least it's a start and you can download some visa application forms here.

Other matters to do at the Immigration Office
Besides the obvious visa matters, there are other matters that could bring you to the Chiang Immigration Office. For example, a Letter of Residence. This (one of the documents of) what you need to show to the Thai authorities when buying a motor cycle or car. Strange enough, you don't need a Letter of Residence when buying a much more expensive property such as a condominium. And strange enough, you can also not use the title deed of your own condominium as a proof of residence to get the Letter of Residence to buy a scooter or car (but you can use you rental contract for it)

. Still following it? Again, there is often not much logic to Thai rules, you simply just have to get what they want and then everyone is happy.
You can get a Letter of Residence at Immigration with a proof of residence such as a rental contract. Normally, they charge some THB 500 for it.
Some consulates in Chiang Mai also provide a Letter of Residence that you may be able to use when buying a scooter or car.
Location: Chiang Mai Immigration now has 2 offices, the old office is located near the Airport, just after Airport Plaza. The new office is located in Promenada Resort Mal.
Official opening times: from 8:30am to 4:30 or 5pm.
Tired of queuing up at Immigration? Outsource your visa trouble to us. Want to stay long term in Thailand? Get a 1-year visa with ease.
---
DISCLAIMER: This information was compiled from several sources and best-practises. Policies, prices and procedures of the Thai authorities change continuously. CM Locator accepts no liability for incorrectness of information here. Help us keep this information as update and useful for visa applicants as possible and let us know if you find something has changed.