NomadGuides Chiang Mai
---
Last edited: October 28, 2017 at 06:42:58
---
NomadGuides Chiang Mai by Michael John Hughes (2016) is probably one of the most detailed guidebooks ever written on Chiang Mai. This e-book can prove its value to you especially if you intend to stay in Chiang Mai for a longer period of time and if you really want to get most out of your stay.
Having this e-book on your bookshelf can help you greatly in understanding how things work in Thailand and can save you a lot of time and money, for example when dealing with Thai authorities or figuring out how to get a driving license. In addition, you receive plenty of useful tips on all kinds of aspects of living in Chiang Mai.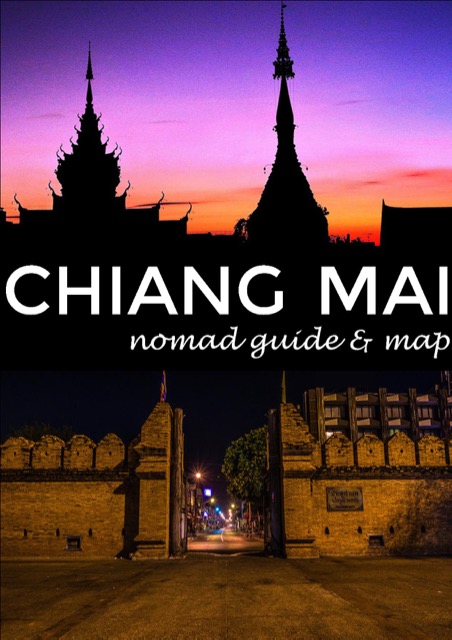 NomadGuides Chiang Mai consists of a stunning near 400 pages (!) of tremendous detail on each and every topic of living in Chiang Mai: best rental properties, co-working spaces, telecom providers, food courts, government offices, visa matters and so on.
This e-book also contains various promotional deals that will enable a smart user to cash in and earn back the purchase costs within days.
Currently priced at only USD 15 (but expected to become more expensive in the future), NomadGuides Chiang Mai is an absolute bargain investment for anyone living in Chiang Mai.
---
Buy NomadGuides Chiang Mai now:
Final discounted price: USD 15
TIP: Save costs and select 'Personal transfers' or transfer to us in THB when you're in Thailand
WHAT YOU WILL GET:
You will receive the e-book in a PDF file (18MB) including complimentary 'NomadGuides Map of Chiang Mai' illustrating more than 1000 Points Of Interest.
Get a free preview of NomadGuides Chiang Mai here.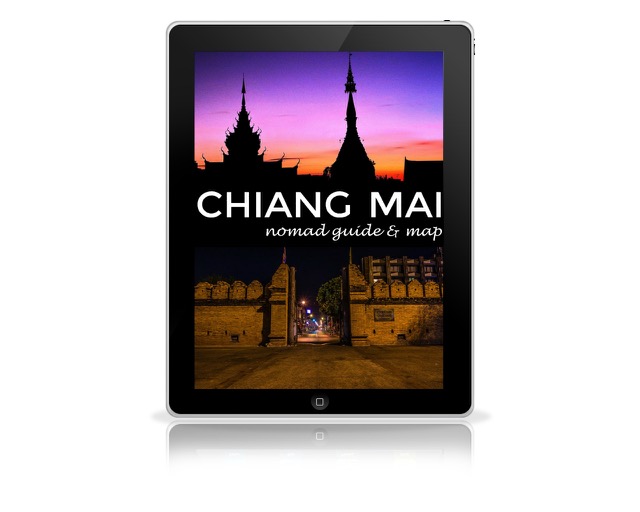 MORE ON NOMADGUIDES CHIANG MAI
NomadGuides Chiang Mai (first edition January 2016) is the first publication in what we hope will become a series of thorough guidebooks catered for different target groups. It comprises just short of 400 pages purposely researched and written for all long-term travellers and foreign residents with special attention to 'Digital Nomads'.
NomadGuides Chiang Mai was compiled over a period of 17 months of hard work with more than 7000 'man-hours' of effort. NomadGuides is an extremely in-depth piece of work, which perhaps can be too detailed for a short-term traveller who is just interested in the 'ten highlights of Chiang Mai' but which can be very useful to foreigners who live here and want to get real information to do the things they want to do in the most effective and efficient way.
The author has made every effort to verify information and content at a rigorous level. Expect real trustable information here that is in stark contrast with the usual guessing, complaining and parroting you can find on social network sites (such as Facebook groups and Thaivisa forums, to name a few).
It is partly because NomadGuides Chiang Mai values real information and first-hand checking, that Chiang Mai Locator recommends this e-book.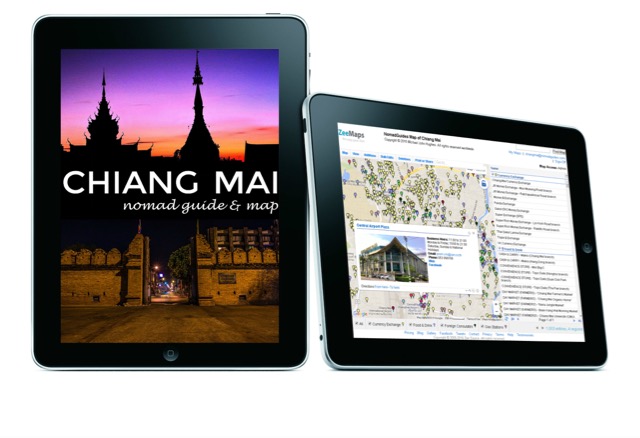 NomadGuides Chiang Mai comes with complimentary 'NomadGuides Map of Chiang Mai' illustrating more than 1000 Points Of Interest including currency exchange bureaux, food and drink outlets (cash and carry warehouses, day and night markets, food courts/food parks, speciality stores and super-/hypermarkets), foreign consulates, gas stations, government offices (such as police stations, immigration, tax and land transport offices as well as provincial utility supplier offices), health care providers (hospitals and medical clinics, optical stores and ophthalmologists, and pharmacies), IT malls, language learning centres, orientation points, post offices, shopping centres, transportation hubs, work spaces and just short of 650 rental properties (predominantly condominiums and apartments).
This map is one of the most comprehensive e-maps available in the market, perhaps not as comprehensive as the maps available on Chiang Mai Locator, but it is well-targeted to the needs of certain groups.
Mike Hughes worked as a law-enforcer in England before taking on the challenge of becoming an expat worker in Bangkok. A few years of sweat and tears later, Mike discovered that life can be so much easier and so much more pleasant when he started living in Chiang Mai. He quickly fell in love with the city and became the 'walking madman' of town because he walked nearly every soi the city has to offer and wants to sniff every corner and pick up every bit of interesting info there is.
One of Mike's resolutions is to have lived in every tambon (area) of town, not just the popular and sometimes overrated areas that some people parrot about, and the spirit of his ebook reflects this unbiased and rigorously detailed approach.
Mike remains dedicated to know everything there is about Chiang Mai and his nature is to share that with everyone, so please throw him some more questions after reading through the book, only his after-sales service is already worth the price.
---
WHAT OTHERS SAY ABOUT NOMADGUIDES CHIANG MAI
"A truly exceptional piece of work"
"The amount of detailed information packed in this book is insane"
"Exceeded my expectations by far"
"Answers every question imaginable from serious to fun stuff"
"TOP NOTCH work, incredibly well researched and detailed"