The new six months visa to Thailand and how to use it
---
Last edited: September 18, 2016 at 09:19:52
---
INFORMATION LAST UPDATE SEPT 2016
Nearly one year after its launch in Nov 2015, the rules of the game on the new six months visa or Multiple Entry Tourist Visa (METV) have changed, thus still confusing travellers.
What does it offer?
The METV is a flexible long term tourist visa that allows you to stay in Thailand for a maximum period of 60 days each time, during an entry period of 6 months.
Essentially, it's a flexible tourist entry visa which already includes a multiple re-entry permit.
Purpose of the METV
With the METV, the Thai government aims to make Thailand more attractive to longer-term tourists.
Tourists now can choose to get a:
Single Entry Tourist Visa (SETV): valid for 3 months, each stay maximum 60 days.
Fees: about USD 30-35 (depending on where you apply)
Multiple Entry Tourist Visa (METV): valid for 6 months, each stay maximum 60 days.
Fees: about USD 200 (depending on where you apply)
The formerly popular double-entry and triple entry tourist visa were abolished with the introduction of the 6 months visa, and in a way you can say that the METV replaces them.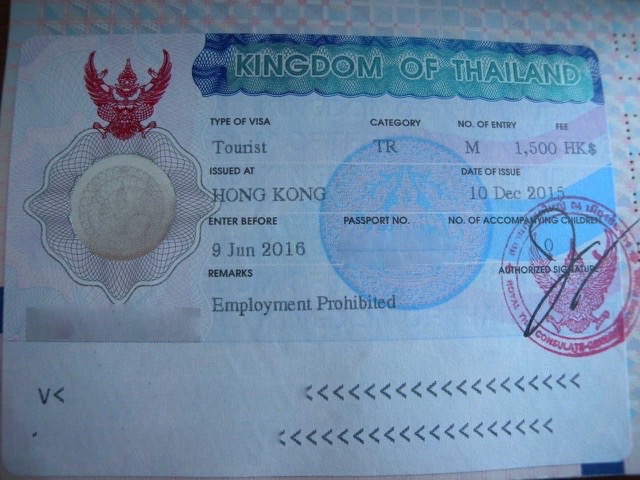 The new six months multiple entry tourist visa can be stretched to last 9 months
Benefits of the new METV and who should use it
The METV is designed as a flexible in-and-out visa, ideal for travellers to for example Southeast Asia who want to do several countries in a timespan of 6 months, with Thailand as their main (visiting) base.
In essence, it's an unlimited entry tourist visa, you can go in and out of Thailand as many times as you wish within a timespan of 6 months, and every time you enter Thailand you can stay for 60 days. The good thing of this visa is that you don't need to go to Immigration anymore to get a re-entry permit.
The main benefit of the METV therefore is flexibility to stay up to 2 months whenever you want, and you only have to go once to the Thai Embassy / Consulate in your country of residence to get that.
Alternatives to the METV are:
So, it makes sense to use the METV if you think that during the next 6 months you might be staying longer than 30 days (visa-on-arrival / visa-exemption) or longer than 2-3 months (SETV) for a few times.
If your trips are planned and fixed, you can of course work with a combination of a few visas-on-arrival / visa-exemptions and/or SETVs which might be a bit cheaper in the end, but if you like the flexibility and want to save yourself the effort of having to go to an Embassy again, the METV is great of course.
For long-stayers, the METV is much better than a combination of visa-exemptions / visa-on-arrivals because the Thai authorities generally don't like you to use that more than twice per year.
---

THE MAIN BENEFITS OF THE NEW MULTIPLE ENTRY TOURIST VISA ARE
FLEXIBILITY TO GO WHEN YOU WANT AND
COMFORT TO APPLY ONLY ONCE
---
Is the METV cost-effective?
If a Single Entry Tourist Visa costs you USD 30 and the Multiple Entry Tourist Visa USD 200, the METV will be much more expensive if you can plan your trips and just buy 2 SETVs. But don't forget, the METV automatically includes the multiple re-entry permit, which normally costs you about THB 4,000 so then all combined it's not that expensive. Again, only if you need the flexibility and comfort that the METV provides.

Is the new six months visa good for Digital Nomads and long-stayers in Thailand?
That depends on how much of a nomad you are and how much money you're willing to spend on visa and necessary travel. Essentially, the METV allows you to stay for a maximum period of about 9 months (6 months + 60 days as a last entry + 30 days extension).
If you want to stay in Thailand for a full year without leaving the country, you could also consider some kind of non-immigrant visa like the
education visa
, a volunteer visa etc. (although Immigration is always becoming more strict on that).
If you fly out of the country every 60 days, you can use the METV to stay in Thailand for up to maximum 8 months.
Some of the requirements of the METV can be troublesome for some digital nomads, such as: a letter of employment, proof of sufficient finance and the need to apply from your country of residence. So, compared to the old situation where you could stay on a double-entry or triple-entry tourist visa for about 6-9 months doing border runs only, the new METV is not really an improvement for the digital nomad who can't comply with all the new conditions.
By the way, there is no visa in Thailand which is specifically designed for Digital Nomads or location-independent-workers, and it's highly unlikely there will ever be one. The introduction of the new METV (and the abolishment of the double- and triple-entry tourist visa) can work out well for the Digital Nomad who is truly travelling, because it provides comfort and flexibility at a reasonable price, but it's not an improvement for Digital Nomads or long-stayers in Thailand who stay too long are are more seen as Digital Settlers in the eyes of the Thai authorities.
Nobody knows exact numbers or backgrounds of Digital Nomads in Thailand, but most likely the new METV doesn't get a warm welcome by most of them.
---

THE NEW MULTIPLE ENTRY TOURIST VISA IS ONLY GOOD FOR THE DIGITAL NOMAD
WHO HAS MONEY IN THE BANK
CAN APPLY FROM HIS HOME COUNTRY AND CAN SUBMIT THE NECESSARY DOCUMENTS
BUT IT'S BAD NEWS FOR THE POORER DIGITAL SETTLER WHO WANTS TO STAY LONG-TERM
Maximizing your stay with the METV
Immigration confirmed that the entries you get with the METV are normal tourist entries just like before. This means that you can renew an entry by just doing a land border crossing (in Maesai for example), you don't need to fly. Also, you can get a 30-day extension at the Immigration office at THB 1,900.
All this means that the maximum period you could stay on one METV is about 9 months.
The official entry period of the METV is 6 months. You could (re-)enter the country just before the 6 months have passed, then your next entry starts and this way you could stretch your maximum stay to about 8 months: 6 months + 60 days = about 8 months. After that, you could apply for an extension.
A full year itinerary to stay in Thailand at lowest costs using the METV could then be like this:
- get the METV from your home country -> about THB 6,000
- do 2 border runs or fly out every 60 days; -> about THB 600 x 2
- re-enter Thailand just before the 6 months are over, then your last 60-days entry starts again -> about THB 600
- apply for the 30-days extension at Immigration -> THB 1,900
- go to Vientiane and get a SETV -> THB 6,000
- extend it at Immigration THB 1,900.
Total costs: about THB 17,900 for a stay of 9 months so that's nearly THB 2,000 per month. The most expensive part is your necessary trip to Vientiane.
Requirements of the METV
The official requirements of the METV are:
passport must be valid for another 6 months
you have to apply from your home country or show evidence of proof of a residence permit of the country where you're applying
bank statements showing a balance equal to at least USD 7,000 during the past 6 months for each month
letter confirming employment (or in case of self-employed: business license; in case of student: proof of being a full-time student) - although some Thai Embassies have waived that requirement
copy of airplane ticket / e-ticket / proof of itinerary for your first entry into Thailand
proof of bookings of accommodation for the first entry into Thailand
The practise and implementation of visa rules can differ a lot between Thai Embassies and Consulates all over the world, so some Embassies might not ask for all these requirements but in theory they could.

Advantages and disadvantages of the new METV compared to the old double entry and triple entry tourist visa
The advantage of the new METV lies in comfort and flexibility for those who travel frequently (every 1-2 months) in and out of Thailand:
you apply only one time
multiple re-entry permit is included in the price
you can fly in and out as many times as you want within 6 months
maximum total stay about 9 months (but with crossing a border in between)
The disadvantage of the METV compared to the old double and triple entry tourist visa especially for those who want to stay long-term is:
you have to apply from your country of residence
you have to show a solid bank statement of USD 7,000 during the past 6 months
you have to show confirmed flight and hotel information for your first visit
maximum total stay about 9 months compared to about 12 months with the old triple entry tourist visa
total costs on visa, extensions and travel were cheaper with the double and triple entry visa, if you stay in Thailand all the time.

The Thai authorities aren't really good at dispersing clear and undisputable information about all details of visa matters, and so it is for the METV. A good summary of the new requirements for the METV is by the Thai Embassy in Washington (more info
here
).
As for further particulars with regards to the implementation of rules of the METV, we have to wait for experience from people.
UPDATED JULY, 2016
In July 2016, Immigration stopped people at the airport in Chiang Mai who had a METV and asked for the receipt proving payment at the Embassy or Consulate, as it appears that many Embassies / Consulates don't provide for the METV anymore. The computer system of Immigration isn't good enough to check the visa number so Immigration in Chiang Mai can't verify the authenticity of a visa issued in an Embassy.
Most likely, not enough people have been able to apply for the METV given the rather strict and difficult conditions, so as we expected the METV might soon be history.
Some sources
Most Embassies provide this kind of letters, confirming the same.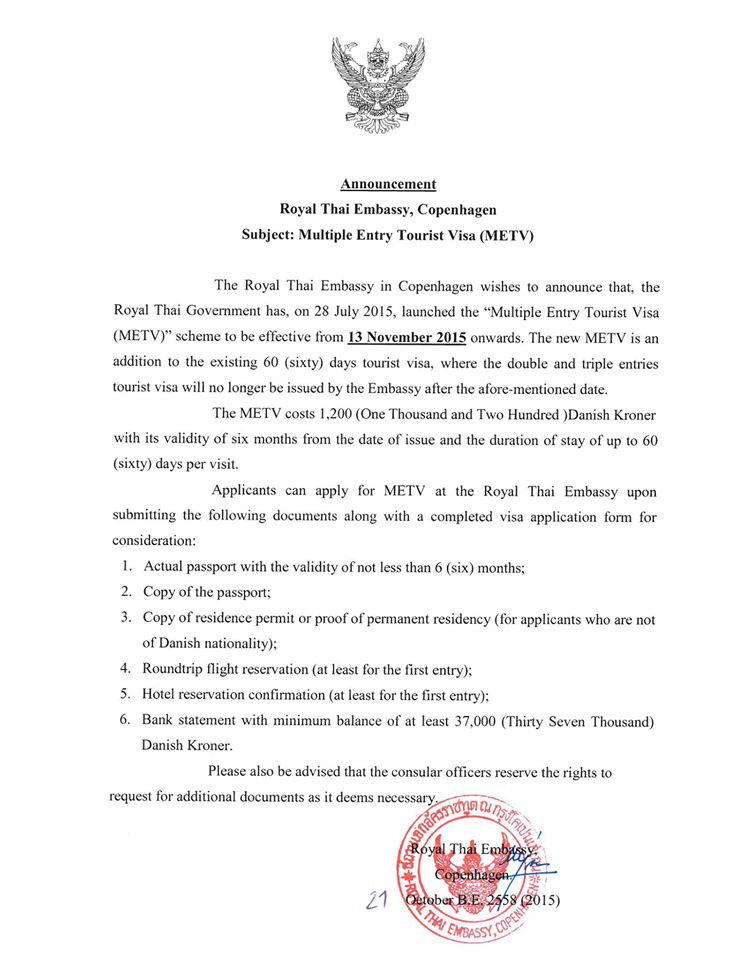 Notice Embassy in Copenhagen. Source: Facebook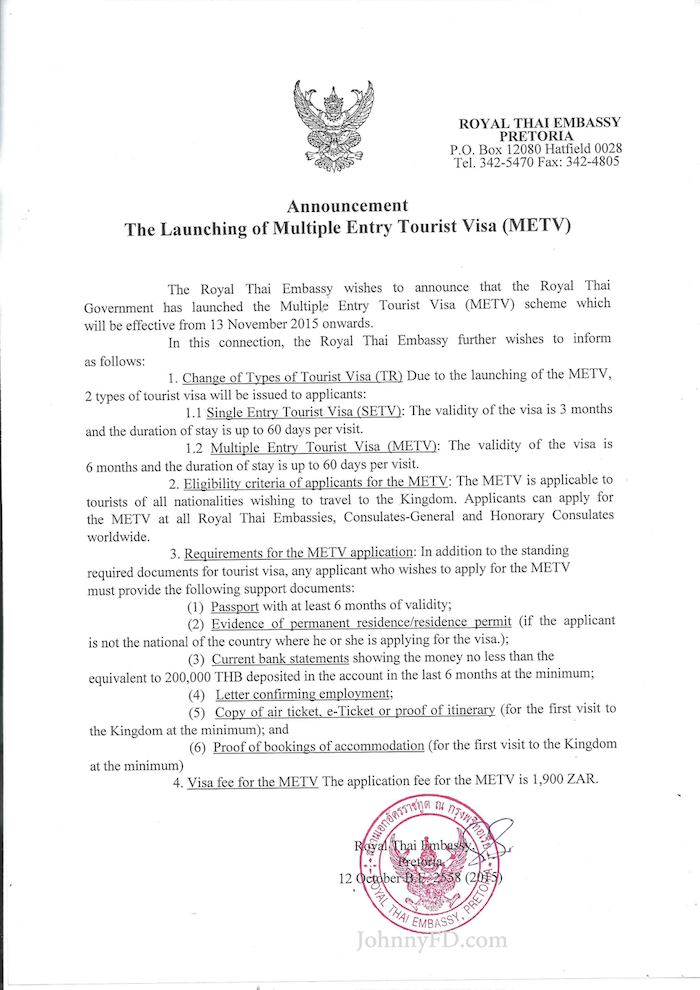 Source: johnnyfd.com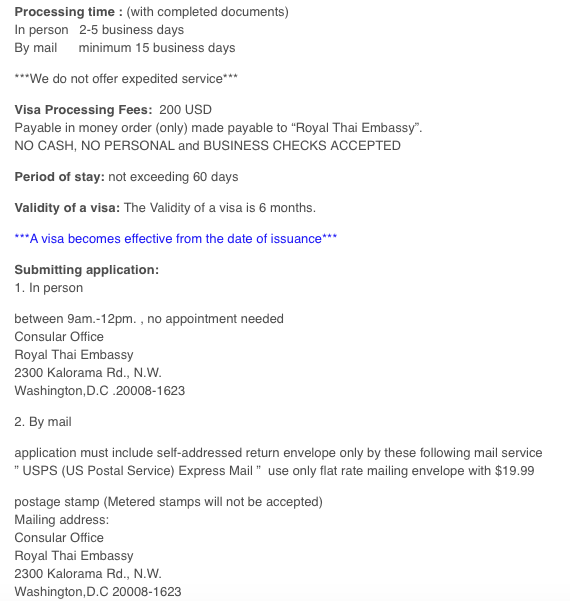 Embassy in Washington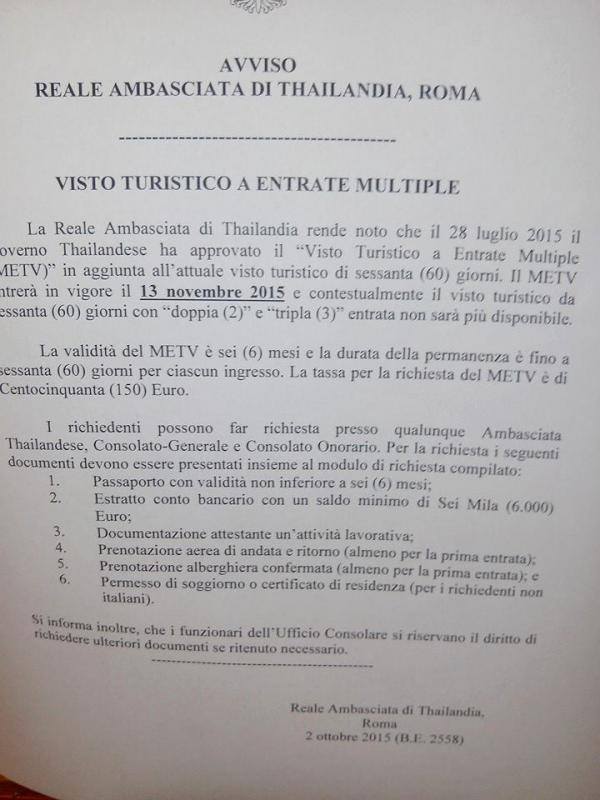 Notice from Embassy in Italy, source: Facebook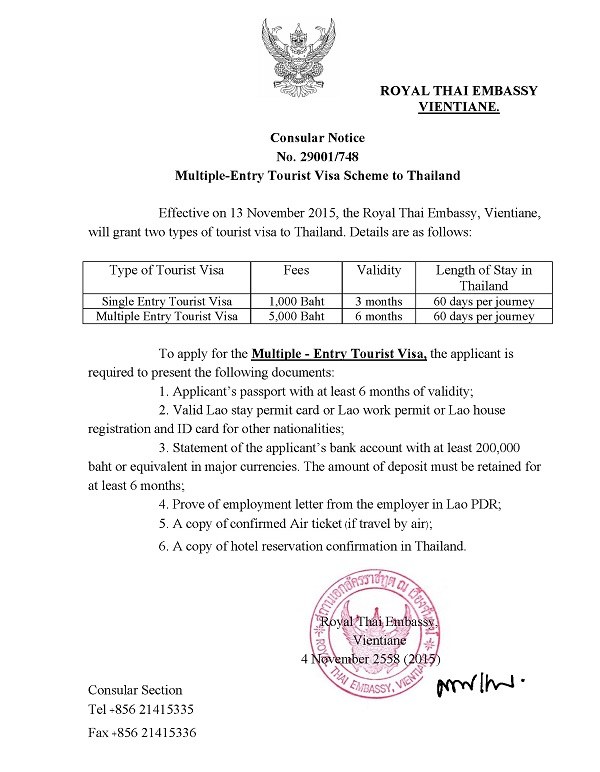 Notice from Thai Embassy in Vientiane. Source: Thai Embassy Vientiane, http://vientiane.thaiembassy.org/en/news/announce/detail.php?ID=313