Best local markets & shopping malls in Chiang Mai
---
Last edited: September 02, 2017 at 11:40:42
---
Shopping for anything ranging from essentials to luxury items and fancy gadgets in Chiang Mai is a matter of convenience and fun, with so many characteristic local markets and modern shopping malls around.
Stroll through local characteristic street and flea markets to find souvenirs, second hand items or stuff locals buy. Hit a shopping mall for modern basic and luxury stuff and watch a movie at the same time.
---
OVERVIEW OF MARKETS AND MALLS IN CHIANG MAI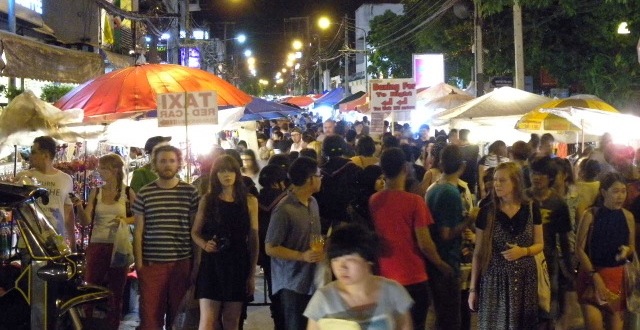 The Sunday market on Rachadamnoen (often called 'the Sunday market street')
is one of the most popular night markets in Chiang Mai
LOCAL STREET, FLEA AND GADGET MARKETS
Sunday Market
The most popular local market is the Sunday market which is held along and around Rachadamnoen street every Sunday from about 5pm until nearly midnight. Basically, it's the entire length of the street running from Taphae Gate to Wat Prasingh with side branches that grow wider every year. The Sunday market is so popular that some people forget the real name of the street and often refer to Rachadamnoen street as 'the Sunday Market street'.
Favoured by both tourists and locals, the Sunday market has a pleasant and friendly atmosphere, without being overly commercial. There are lots of interesting and fancy gadgets you can buy, while at some places amateur artists play music and show performances. The good thing about this market is, that local Thai people flock here in big numbers every week, so it's not just a tourist thing and in fact as a foreigner you'll probably be surrounded by more Thai than by other foreigners.
You can enjoy simple street food in the side streets of the Sunday Market, even in temple complexes.
Asking prices on the Sunday market are already quite reasonable, but you can still negotiate a bit further depending on the number of items you're buying. Expect a negotiation margin of say 10-20%.
Don't expect high quality materials on this market, most of it is made for fun and won't last years.
Saturday Market
The Saturday Market probably started as an attempt to copy the success of the Sunday Market, in a different area and on another day. The Saturday market is held along Hualai street and its side branches. Hualai street is often also called 'the Silver street' as there are many silver shops. It runs diagonally from Chiang Mai Gate.
Many vendors of the Saturday market are actually the same as on the Sunday market and the items displayed and sold are also basically the same. However, some people claim the Saturday market has a different atmosphere and prefer it for that. The Saturday market is definitely a bit smaller and perhaps more tranquil for that reason. Some rare vendors only sell on the Saturday market and not on the Sunday market.
Whatever it is, if Sunday night is not available not in your schedule, the Saturday market is a good alternative.
You can have a cheap dinner at the food stands at Chiang Mai Gate market, then stroll along Hualai street.
Night Bazar
Probably the most famous market of Chiang Mai is the Night Bazar, which runs along and around the northern part of Changklan road. It is held every night and has several branches with other markets that can be considered part of the overall Night Bazar umbrella: the indoor Night Bazar, Kalare Night Bazar and Anusarn Market.
The convenience of the Night Bazar and its sister markets is that you can go to there every day, from about 5 or 6pm until mid night.
It is said the Night Bazar started as a selling venue for Yunnan Chinese traders on their way to the South.
The Night Bazar has a lot of stuff to offer, from jade jewelry, ancient artifacts and statues to fake watches and cheap clothes from China and Thailand. The Night Bazar has a more commercial atmosphere, the vendors are often hilltribes, Thai or full-time sellers that try to sell with a very high margin at first. Therefore, you should negotiate more seriously here, expect margins to be negotiated on up to 100% sometimes (!).
The indoor Night Bazar has more permanent shops that display art, paintings and jade and wooden works. Kalare Nightbazar has some restaurants and shows too. And Anusarn market is a semi-covered area with lots of booths and restaurants.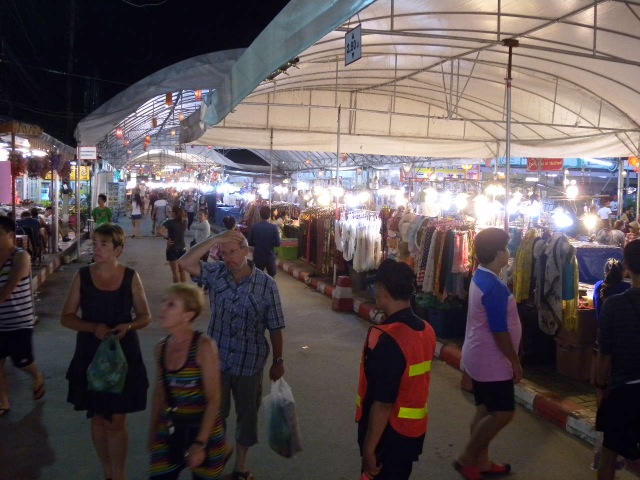 The Night Bazar is good to experience a lively night market atmosphere, buy some fake brand watches as a souvenir for your friends, or some beautiful wooden artifacts, and to take a good dinner in one of the many restaurants.
Warorot market
Warorot market is a simple daytime local market that sells food, clothes, flowers, and all kinds of basic stuff. In the night time, cheap clothes can be bought here. Foreigners usually call the entire area Warorot market, but actually the area consists of several parts of which Warorot is only a part. Locals usually refer to it as Kad Luang.
It's located in China town adjacent to the river.
There is no need to bargain hard on these markets.
Talad Muang
Located a bit north of Warorot, this is city's largest vegetables, fruits and other food market, that is often used as a wholesale market for restaurants. If you were already surprised at how cheap some restaurants can offer you dishes, you'll be completed flabbergasted by how many vegetables and fruit you can get for say just a 100 baht.
Although it's mainly a whole-sale market, some shops do sell smaller quantities.
Jing Jai (JJ) Market
Usually called JJ Market, this area sometimes hosts a flea market. Only once a week on Saturday mornings or irregularly.
Rattanakosin market
Interesting flea market frequented especially by locals. You can find a lot of second hand stuff here. Usually on early Sunday mornings.
Organic market
There is a modest organic market about once a week, usually on Friday mornings, in Nimman area (Chiang Rai road) near CMU.
Baantawai
This is not really a market, but more of a concentration of shops that specialise in all kinds of furniture, mostly wooden and traditional furniture but also modern variations with different materials. You can buy it and take it away, or have it shipped to your own country. Ready made or made-to-order.
Bantawai is located in Hang Dong area, just east of the police station.
Friday Shan, Hilltribe and Mountain market
If you fancy a different type of produce from the land, go to the Friday morning market at the back of the Pornping Hotel. Hilltribe products from the mountain with strange vegetables and fruits are on sale. Local Shan who live in Chiang Mai also use this market to get their favourite stuff.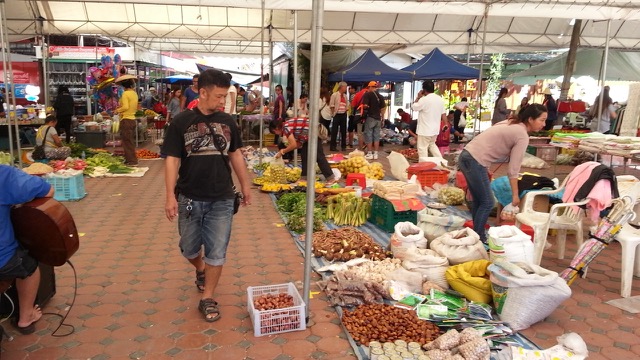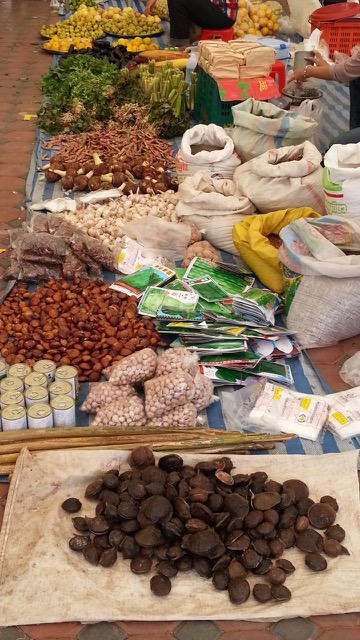 Interesting and unknown vegetables from the mountain grounds
Other flea markets
* Central Kad Suan Kaew: in front of this shopping mall, on Thursday - Saturday evenings about 17:00 - 22:00, you'll find all kinds of 2nd hand clothes, shoes, gifts, some handmade stuff, and some local food/snacks.
* Ruam Cheok Market: Monday - Tuesday evenings, selling clothes, food, several other stuff, very active and always busy.
* Big-C extra: behind the mall, Thursday - Saturday evenings, selling clothes, gifts, several other stuff, snacks
* Prince Royal's college: near the college, Sunday morning, selling 2nd hand stuff
* Lotus Kham Tieng: Wednesday - Thursday evenings, selling clothes, food, and many other stuff
* between Changklan road and Mengrai bridge: Thursday evenings, selling fresh food, vegetables, fruits, grocery etc.
* Baan Hor: in front of the Chang Klan road mosque at the Night bazaar, every Friday morning-noon, selling food, Muslim halal food and other stuff
* Saturday market in San Kamphaeng: selling similar stuff to Sunday and Saturday market in Chiang Mai.
SHOPPING MALLS
A few years ago, mall shoppers in Chiang Mai could only resort to two malls, but the recent construction boom in Chiang Mai has led to many more new ones, both big and small. The best ones are:
Central Airport Plaza
Airport Plaza, sometimes simply referred to as "Robinson" by locals because it houses the department store Robinson, is still one of Chiang Mai's best shopping malls. Conveniently located on the edge of town, with easy and ample parking, and pleasant inner layout with all the shops you really need, it still beats all others. You can find anything here from electronics to clothing, from cheap and basic to luxury items, from simple food at the food court to some nicer dining, and a good cinema.
Airport Plaza offers the best combination of all this and remains unbeatable despite the rise of new luxury malls.
Central Kad Suan Kaew
Kad Suan Kaew (KSK) is historically the oldest real mall in Chiang Mai, before it was taken over by the Central Group. Noticably, the building is quite old as are the adjacent complexes (for example the Lotus Pang Suan Kaew complex).
Invite a Thai friend for a cinema and chances are that he/she prefers another theater than the one in KSK because it's simply a bit older and the chairs and size are just not up to standard for them.
Another minus point is that you have to pay for parking, and that at times it can get a little congested.
The main advantage about KSK is its location, just off the northwestern corner of the moat and also not too far from Nimmanhaemin.
Some shoppers however prefer the assortment by Central Department Store more to Robinson's.
The food court in KSK doesn't have much proper food to offer and neither elsewhere in the building.
So after all, location and assortment are the main plusses of this mall.
Central Festival
Opened just in 2013, Central Festival is the largest shopping mall in Northern Thailand and one of the largest in the country. There is a large number of different shops here, including some more luxury ones such as Marks & Spencer, as well as two cinemas.
Run by the national Central Group, it operates according to a well-tested business concept that always works in Thailand.
Located along the northeastern part of the Super Highway, Central Festival is a good choice if you're living in that area or if you mostly drive a car and want to avoid traffic congestion in town. Also, some luxury brands and items can only be found in this mall, nowhere else in Chiang Mai.
Promenada
A brandnew shopping mall, just opened in 2013, Promenada is the largest mall in Chiang Mai to be run by a foreign investment company rather than by Central or a Thai company. This can clearly be noticed as the Promenada's concept was probably conceived of behind a drawing table and is not perfectly catered for the Thai market.
Promenada has paid a lot of attention to a wide, spacious concept with outer areas where people can repose, a thinking which would work in cold Western Europe but not in Thailand where locals like to go to inside a mall because it's airconditioned.
Initially, Promenada promised luxury brands and stores to Chiang Mai's provincial public, however it could not deliver on that promise, it simply proved a few bridges too far and now most of the real luxury stores are in Central Festival, not in Promenada.
Promenada's location is not bad but not good either, at the outer end of Mahidol road.
After all the initial fuzz, what is left of Promenada is a standard mall that is often deserted, with no special stores. The main reason to go here is because you live in this area, pass it, or because you like the mussels and wine by Rimping supermarket.
The mall tries to be more active or attractive by organising regular seasonal events and promotions.
As a shopper, you don't have to care about what has become of the investors' dream, but surely their returns aren't as high as expected.
Maya
Maya is the last addition to Chiang Mai's row of malls, opened just in 2014 with much grandeur.
From outside, the mall actually looks bigger than it is, inside there aren't as many shops as in the Central's.
The shops here are mostly gadgets, a food market, a Rimping and so on. Nothing out of the ordinary, but pleasant to go to if you're a Nimman addict in need of a larger airconditioned space or a cinema.
It can be a pain to drive in and out of the complex, though, as it's located right at the Rincome intersection which infamously probably is the most congested intersection in town.
Walk over from Nimmanhaemin as a change of atmosphere and you'll enjoy it.