Add a business / suggest an edit
---
Last edited: October 07, 2017 at 06:46:38
---
Help us to keep Chiang Mai Locator the best resource site of Chiang Mai (even of Thailand): more than 7,000 businesses listed!
Members or visitors
Do you know that a business have moved or have you found a place which is worth sharing?
Simply send us the details and we'll upload it within a few days.
Business owners
Are you a business owner, then simply send us all your details and we can feature your business on our Homepage.
Normal listing is entirely free of charge.
Advertise with us to get maximum exposure (starting from only THB 300 per month): advertising possibilties.<
---


Add a new business or suggest an edit for an existing business
---
Notes on how to find GPS coordinates (latitude / longitude)
There are many applications and sites that can help you to get the GPS coordinates of a place.
A simple one to use on your desktop is Bing Maps.
Select a location with your mouse, click on the left button of the mouse and street name and GPS coordinates will appear.
GPS coordinates in Chiang Mai normally have the format: 18.******, 98.*******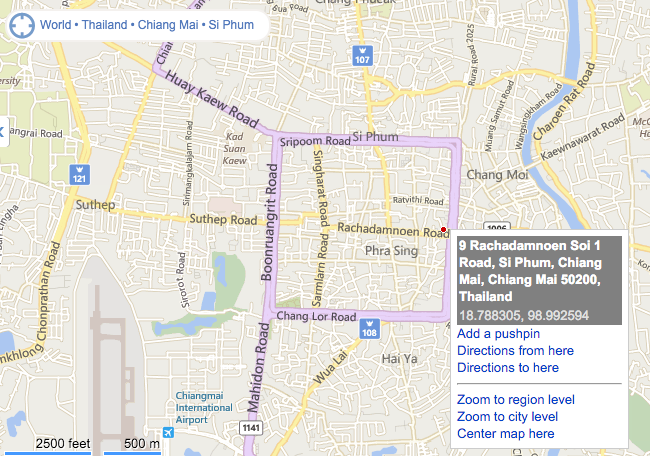 Another site is for example mygeoposition.com.
On your smartphone, simply search for applications that can show GPS coordinates (keyword: GPS coordinates).