Best Swimming Pools in Chiang Mai
---
Last edited: October 25, 2017 at 07:41:45
---
Whether you're here short term or long term, a good pool matters. What you like of course depends on what you value: making serious laps, hanging out with a drink, or letting your kids play. Here are our favourites:
50m Olympic size mainly salt water pool (!), no hang out places
This is one of Chiang Mai's best kept secrets: a gigantic 50m mainly salt water pool with a cover! If you've been in Thailand for a while, you've learned that it's better to avoid too much sun, this entire pool is covered so it's never too hot or too sunny. Best of all, it's mainly salt water and it's gigantic, not only long but also wide with many lanes.
Almost no foreigners come here, this is the perfect place to do serious laps.
Officially part of Montford College but open to outsiders between 16:00 and about 20:00 hr. Just recenty built with college fee money, the electric maintenance cost must be gigantic too. There is no equivalent in Chiang Mai. At certain times, of course the school kids will swim here in groups, but the pool is so large and wide that you can make serious laps almost all the time.
Of course the pool lacks finishing, like almost everything in Thailand: there are no steps inside the walls of the pool (probably the builder forgot them), the shower tabs are sometimes reversed (hot versus cold), the lockers are too small and already broken and no one ever thought about putting a few proper benches in the changing rooms, but the main thing is the great pool and after all it's Thailand.
Clean and tidy facilities.
Main downside for some people will be that there are no terraces and it's definitely not a place to hang out. But it's ideal for the serious swimmer who wants to make long laps and wants to stay out of the sun.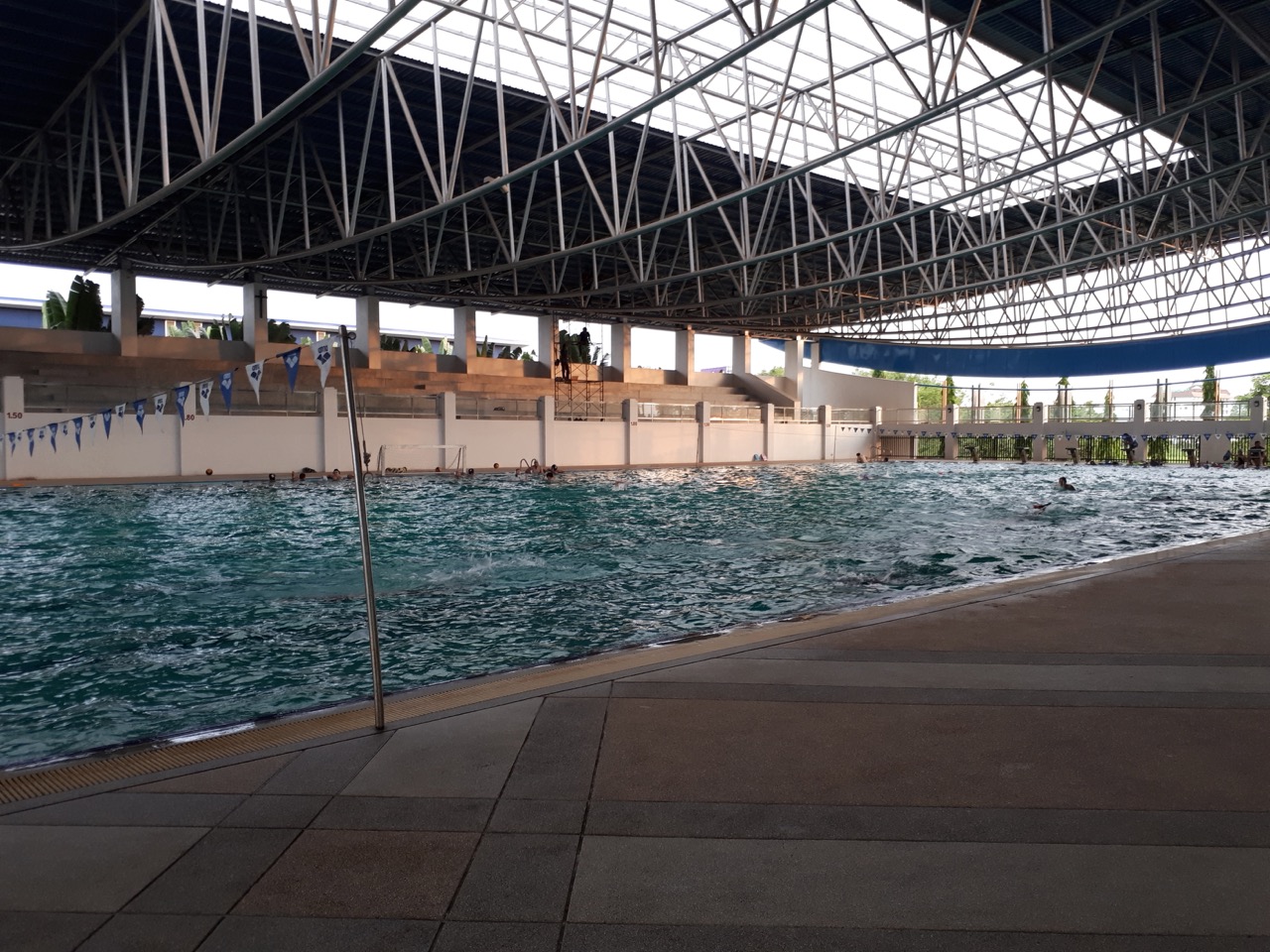 OPEN: to outsiders: Mon-Fri 16:00 - 20:00 and Sat 17:00 - 20:00
FEES: 50 baht
25m salt water, pleasant terrace
This is the best pool in Chiang Mai for if you want to combine a pleasant natural atmosphere with a proper pool. A full 25m long, salt water (!), nice green environment and a big enough terrace to hang out, well managed. Located a little out of town, off Canal Road. The first time it may be difficult to find, but after that you keep coming back. Run by a retired Brit, Philip, it's in essence his own private pool because he swims there twice a day. We are just helping him to contribute in the costs of running it :) (salt water is quite expensive, a machine is working all the time to keep it salt).
This place has the highest number of regulations that we saw in Chiang Mai: how to swim, how to behave, what not to do etc. But it's a great pool and a nice play to hang out, have a drink or even eat something. Philip has a few houses at the back too that are for rent. And you can take swimming lessons from a qualified teacher. It's never really that busy, so you can always make laps. And during the busy hour (5-7pm) there are special lap lanes. There is a small pool in the back for babies, but the main pool is not deep so neither children nor adults should drown here.
Perhaps just not the best pool in the world and not the centre of the universe (depending on how you see it, Stephen Hawkins), but probably the best pool in Chiang Mai. Normal entrance ticket 200 baht but you can buy packages. Also, only 80 baht after 5pm. Pool closes at 7pm (enter well before that).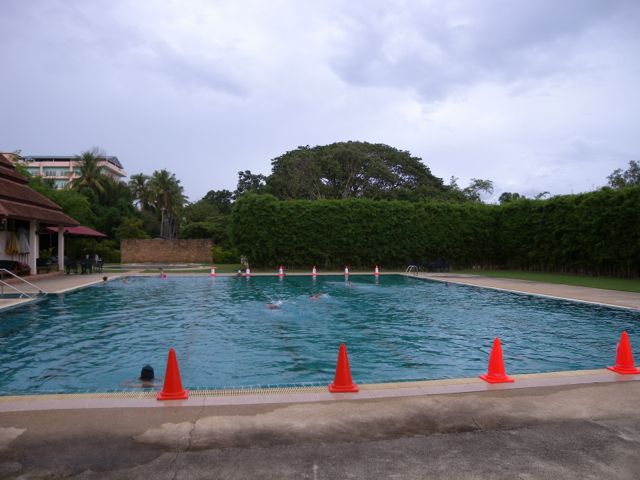 The Centre of the Universe salt-water pool
27m chlorine pool, narrow, great terrace
This hotel features a very popular fitness center and swimming pool. It offers good value packages even for short stay, that include use of the fitness center, pool and sauna. Located conveniently in Loi Kroh Road, just off the Night Bazar. Great terrace to chill out and enjoy views around the city and Doi Suthep. The pool is longer than 25m, probably around 27m, but it's narrow and there is a extra leg at the beginning, making it an L-shape. If it's not busy, you can make real laps, if busy it's hard to go around other people and you may hit some in the dark because the lights are not bright enough. The chlorine here is of a milder type, so a bit less aggressive to skin. The changing rooms here are too congested and overall it's not so well managed, but considering the location and the packages it's still a good deal to work out.
Huay Kaew Road - 47m chlorine, terrace so so
A huge pool hidden on the 7/F of the Lotus hotel on Huay Kaew road, just adjacent and connected to the shopping mall Central Kad Suan Kaew. With some 47m it's almost an Olympic size. Some shallow parts are good for children. Not a great terrace to hang out and no drinks served. The chlorine they use here is rather aggressive so you can feel it on your teeth after a while. There is a sauna on the 5/F which is not bad and is included in the price (100 baht for walk in). But the changing room on the 6/F is lousy. Good thing is, the pool closes at 9pm. It's a nice pool at a good location and great if you like a long stretch instead of turning around all the time. A lot of Thai stay in this hotel too, so you can mix.

5. Chiang Mai Land - 25m chlorine, nice terrace and restaurant
This is a complex with a pool, a restaurant and 3 tennis courts. The pool is standard size, chlorine but of a kind which is not as aggressive as in the Lotus Hotel. The pool gets busy during certain hours, especially late afternoon, when school kids have lessons. When it rains, interestingly a lot of Thai people don't like to swim, maybe because it makes you wet :) It's a nice place to hang out with a drink and some food and talk to people. The only disadvantage is that it's busy sometimes and then it's hard to swim proper laps, you'd have to go around people and watch out. Suitable for children as there are always swimming teachers and shallow parts. Morning are good for laps but you'll be sure to get a lot of sun.
50m Olympic pool, chlorine, no terrace
This is Chiang Mai's official sports complex that was built in 1995 for the Southeast Asian Games and at the same time to commemorate the 700th anniversary of the establishment of Chiang Mai as a city. The complex features plenty of tennis courts and also an Olympic size pool. It's a normal chlorine pool, not too busy but sometimes you'll see some local and national athlete teams training here. Pity there isn't a nice terrace and also the changing rooms are dirty and smelly. It's up north on Canal road so if you're in the city it can be a bit far. Not really a place to bring small kids. There are plenty more swimming pools, in hotels, housing estates (muu baan) etc. but for some of them you have to pay relatively high entrance fees, become a member first or they don't reach 25m length, which is a minimum for proper laps. If you're not so picky about these things, you can also consider the following pools:
This is a quiet and large 50m pool located in a resort. There is a gym and sauna too. Not sure if this is salt or chlorine.
Fees: 80 baht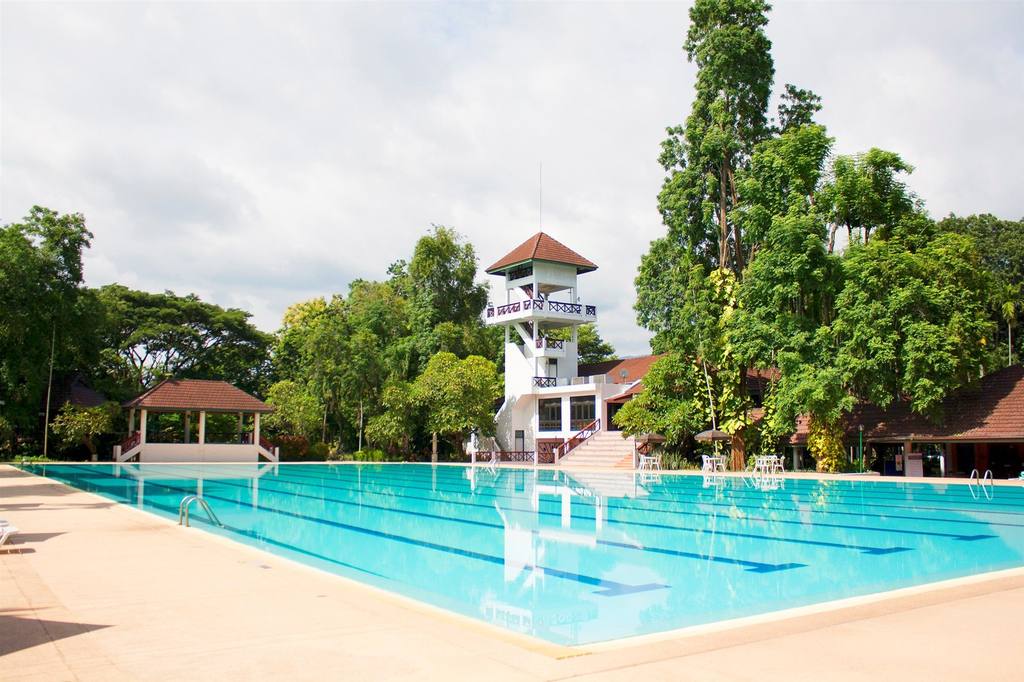 salt water, quiet, nice location, about 18m
Located inside the Green Hills complex, which are serviced apartments, but open to the public at some 50 baht, the pool here is a real salt water pool and relatively quiet, with great views of the surrounding mountain. You can hang out a bit with a drink.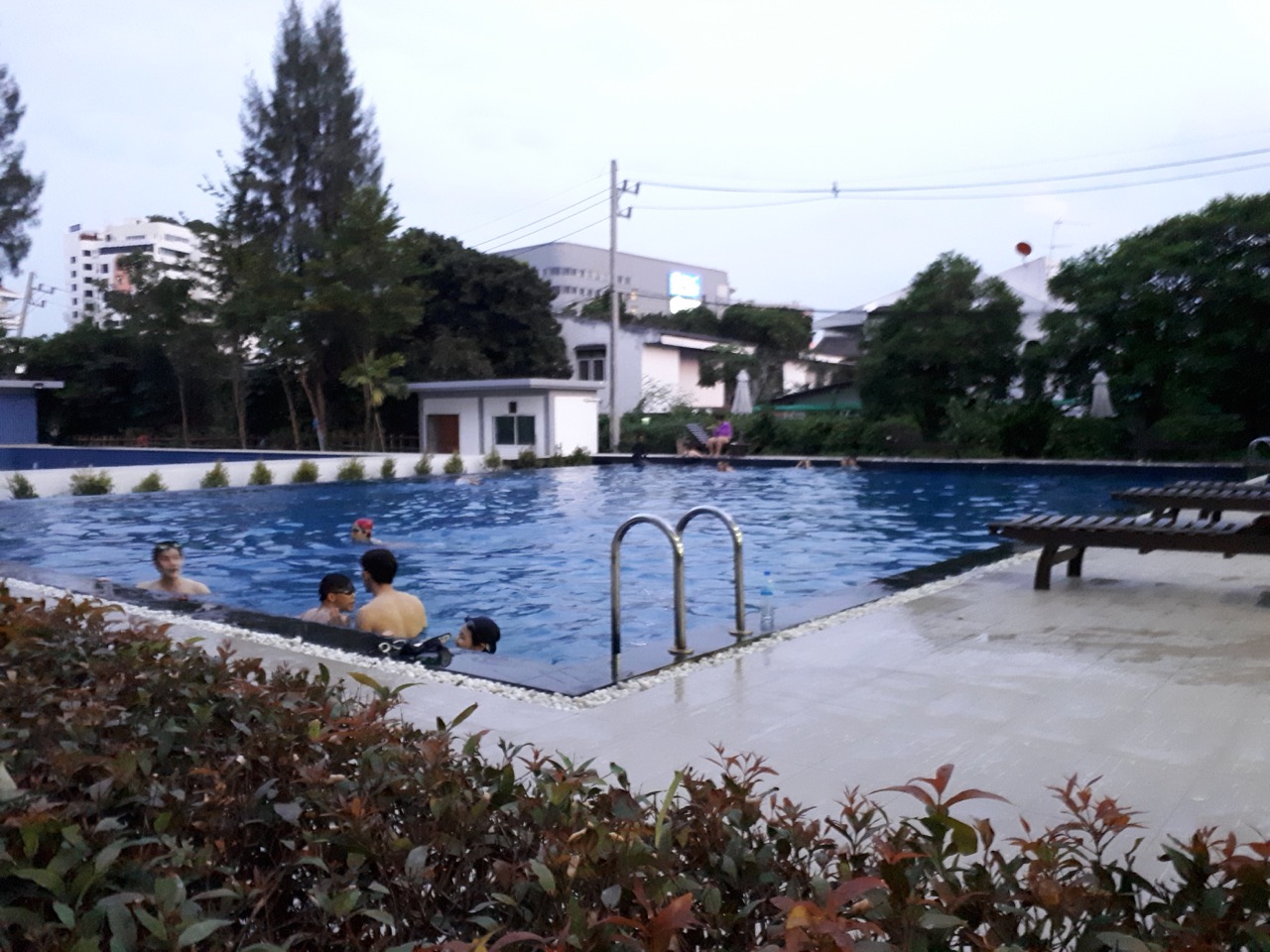 beautiful pool with gorgeous terrace, about 18m
This is truly a 5-star hotel, with great service and a lovely pool and terrace to hang out. Fantastic view on the river, almost as if you're floating into the river. Minus point is that it's not 25m long, shorter than 20m probably. Great place to hang out though drinks here are not cheap, of course. You can walk in and pay for a swim (several hundred baht) or put your name on a waiting queu to become a member (limited number).
beautiful pool and hang out, music, 18m chlorine
Like the Chedi, a 5-star hotel so expect a great terrace, great service and nice hang out. At certain times, there is music so you can swim at the tune of a piano! Minus point is again that the pool doesn't reach 25m long.
This page contains more content accessible for Premium Member. Please check out our
Insider Guide
and become Premium Member.