Chiang Mai is arguably one of the best cities in Thailand, if not in the world, to enjoy various kinds of massage but also to study massage. There are so many massage schools, practitioners and styles that everyone can find something of his/her liking here.
Whether you're in Chiang Mai for a short holiday or for a long-stay, trying a massage should be a must on your to-do list, and it shouldn't be a punishment!
Most local massage styles in Thailand are based on Thai traditional or ancient Thai massage, although there are some minor foreign influences such as for example Swedish massage or Chinese massage (in the distant past however, much of Thai massage may actually have originated from other countries).
The most common types of massage in Chiang Mai are:
traditional Thai massage
foot massage
herbal ball massage
oil massage
Then there are more specialised kinds such as karsai massage while high-end spas often offer exotic massages such as Ayurvedic massage or bodywraps.
Choosing the best massage places
Most visitors coming to Thailand don't have much knowledge or experience with Thai massage and tend to stick to the tourist areas, where you find various massage shops that are cute and convenient, but don't always offer the best quality massage.
The government lists some 400-500 places, then there are those that are not officially listed. So in total there may be some 600 places in Chiang Mai offering massage.
What type of massage suits you best depends on your personal preferences. Do you crave a feeling of luxury and a peaceful environment to relax, then go for one of the high-end spas. Do you want to fix that aching part in your back, then a therapeutical massage could be more beneficial. Do you want to combine the pleasure of a massage with helping some disadvantaged local groups in society, then try a blind massage or a massage by a female prisoner (personally, I didn't try the latter, because I don't think you'll get the best massage there, but especially Tripadvisor visitors find that very exciting and beneficial for their karma).
It's hard to say and very personal what is the best massage for you, because you may value other factors besides purely the quality of the massage more than someone else.
With other factors I mean: the luxury feeling, the level of hygiene, the music at the background, the smell of a certain aroma oil, the conversation with the practitioner, the degree of privacy, even the vicinity to your guesthouse etc.
Agreed, these other factors can be rather important: when you're supposed to have a relaxing massage but you're lying down in a shared space or a space only separated by a curtain, you may get disturbed when overhearing other people's conversations or noises.
Besides the pure quality of the massage and the other surrounding factors, you may feel a 'click' with a certain practitioner: he/she can find that sore spot that no one else could find with the exact right pressure. I felt great with some practitioners and introduced them to friends, but they just didn't have that 'click'.
So if you stay in Chiang Mai longer and you have time to try various places and various practitioners, you may develop a preference for this person at that massage place and that person at this massage place.
My personal preference is that generally I value the quality of the massage at say 80-90% and the surrounding factors at 10-20%, with certain minimum standards for privacy and hygiene. In other words, I'd rather have a spot-on massage in a modest place than a poor massage in a beautiful decorum.
In a way, choosing the best massage is like choosing the best food: there are a number of (more or less) objective factors that clearly decide in favour of a certain practitioner / cook and then there are some subjective factors and surrounding factors that no one can argue about.
Quality of massage
In general, the quality of the massage depends on the training that the practitioner had and his/her natural talent and interest. You can have a great massage at a simple place by someone who had basic training but really has a feel for it, and a mediocre massage at an expensive spa by someone who has been trained for months but doesn't feel your sensitive spots.
Most massage shops in town offer staff modest in-house training, the bigger 'massage chain stores' may (or may not) employ staff with a massage certificate from a proper massage school and the more luxurious spas often recruit staff that have been trained at the spa training schools.
My experience is that you get the best massages from those who are trained in proper massage schools and who are genuinely interested in learning the particulars of your individual body and giving you the massage you need.
If you don't know a certain good practitioner, for a good quality massage your safest bet is to go to a massage business that is associated with a massage school.
Therapeutical effectiveness of Thai massage styles
Truth to tell, although I do enjoy Thai massages, in general Thai massage styles don't go as deep as for instance Chinese (Tui Na) or Japanese (Shiatsu) massage styles, although there are of course some good Thai practitioners. The reason for this is that not many Thai massage practitioners combine the practise of massage with a deep knowledge of the body, physiological and energy effects. Thai people don't really have such an investigative nature and the root sources of Thai traditional massage that were documented in ancient books sadly went lost during a fire in the Wat Pho temple in Bangkok a few centuries ago.
So, Thai massage can be very relaxing and beneficial to the body, but from a strictly therapeutical perspective the effectiveness is often somewhat limited up to a certain level, unless you find exceptional and excellent practitioners.
Combining knowledge and feeling with the massage is essential to really have an impact on the body-mind rather than just having a mechanical programmed Thai massage.
An example of an excellent practitioner who studied Thai massage thoroughly and combined it with knowledge of the body and passion is Mike Tan. Mike mainly teaches which is great for advanced massage students, but sporadically gives treatments.
Range of massage places in Chiang Mai
For the sake of your convenience, I'll categorize the various businesses offering massage into 3 groups from high-end to low-end. This will give you some framework to choose from, although frankly speaking there are no hard criteria to divide massage places into more than two categories (i.e. the high-end spas and all the rest). The level of facilities, services and quality simply overlap too much.
The only sound criteria you could use to divide places in categories are actually price, luxury and menu.
A. HIGH-END SPAS
These offer relatively expensive treatments ( >THB 800/hour) in a luxury environment and have a wide menu with more than just Thai and oil massage. Expect beautiful rooms, a nice garden or nice surroundings, soft music at the background. Meant for a total relaxation experience for part of the day.

Examples: Oasis Spa, Cheeva Spa, Lanna Come Spa, Dusita Spa and all the in-house spas in 5-star hotels.
B. MID-RANGE PLACES
These are often chain massage stores, with several branches all over town and with certain minimum standards and a system in place. Menu offers a range of Thai, oil and herbal massage or so (about THB 350 - THB 800/hour)
Examples: Lila Massage and Fah Lanna Spa
C. BASIC PLACES
Basic and simple massage shops with cheap massages (THB 100-300 / hour)
Some bloggers use factors such as a shared room versus a private room as a criteria to distinguish between high-end and mid-range, but really there are many overlaps: even low-end places often have so-called VIP rooms.
Other tips for taking a massage in Thailand
In some massage shops, they use very inferior oil that keeps sticking to your skin and doesn't rinse off even after taking 2 showers. If you're into oil massages, bring a small bottle of simple baby oil if you don't like the oil used by the shop.
In the same way, if you're very concerned about hygiene, bring a towel of your own so you know you're laying down on a fresh one. Most places are hygienic but in the lower end range you may have your doubts and then it's nice to stay clean.
The cheaper places in town usually have shared massage rooms, which are normally quiet enough and for Thai massage you keep clothes on (often loose clothes provided by the shop), in other cases there are curtain rooms so curtains to separate your space from someone else. A private room is often called a VIP room although it may not be so VIP after all.
As for the time of the day, most people seem to prefer taking a massage in the afternoon or evening, so if you want to have more peace for yourself, mornings are a good choice or else just around dinner time (6-8pm).
How much to tip if another question often asked by visitors. Well, it all depends on you, but if the massage was good (enough) 50-100 baht is quite common.
Best massages in Chiang Mai
Here's my list of favourites and why.
If you want to walk in and have a proper Thai massage, this is one of the best places to go to. This massage business is associated with Old Medical Hospital Thai massage school so all practitioners have proper training and a minimum quality level is guaranteed. Prices are very cheap, the room is mainly a shared room but there are private rooms. In addition, there is a herbal steam sauna which is a fantastic combination with especially Thai massage and there are great promotional offers for sauna + massage at early times of the day.
Top 2. IDI Thai Massage School
IDI (stands for Intellectual Development Institute) is again a massage school that has walk-in facilities for taking a massage. It's another modest but good massage business which is associated with a massage school, which guarantees that the quality of massage you get is of a certain minimum standard. There are some great massage therapists here who can really give you a therapeutic massage. Very reasonable prices but nothing fancy.
There are several massage-by-the-blind shops in Chiang Mai and I can't say which one is better, but this place used to be one of my favourites as it's located in the Old Town and it has a few good practioners.
Some practitioners are quite good because they feel and see with their hands, although their ability to adjust and focus on a certain treatment is somewhat limited, like almost anywhere in Thailand.
Nevertheless, it's a pleasure and gives me a good feeling that these people can earn their living in this way.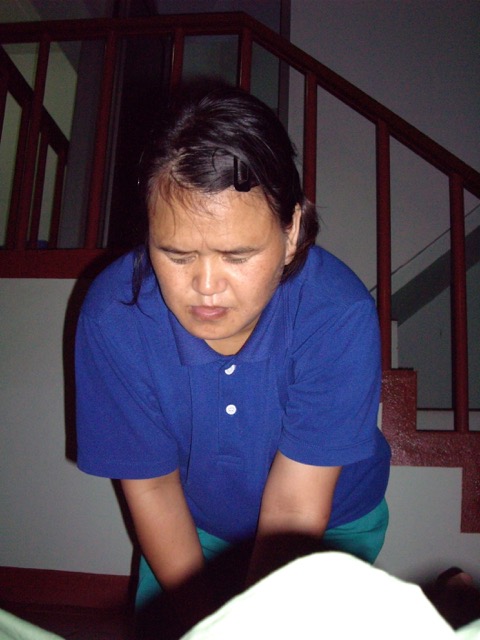 Temples in Thailand are more than just houses of worship: they also perform important social functions and sometimes are even used for businesses, commerce and parties. In most bigger temples, you can find some Thai massage, which is not done by the monks but by massage practitioners and some of them can be quite good.
A surprisingly good and nice massage in a location you wouldn't expect: Promenada shopping mall way out of the old centre. Enjoy a massage here when you've taken your queue number at Immigration for a visa extension or so and you know it'll still take a few hours.
OUTCALL MASSAGE TIP
If you prefer the comfort of a outcall massage to your room with genuinely trained massage professionals, consider Rlax.me which provides services in Chiang Mai, Phuket and Bangkok. The therapists are qualified with a great number of hours of training, usually more than the average you find in random massage parlours. You don't need to prepare anything, the therapist will bring equipment and you can relax in your own hotel room or apartment.
About me
I've been living in Chiang Mai for nearly 10 years and I've tried tens of massage places in town. This article is meant to sketch more about the background of Thai massage in Chiang Mai and to give you a better picture than you can get from what one-time visitors (on for example Tripadvisor) and short-term travel bloggers (such as Justine Wharton) write about massages in Chiang Mai.
If you have any questions regarding massage, just drop them below as a comment, I'm happy to help.
Vincent L.