The TM 30 form - All you need to know about it and why it matters to you
---
Last edited: April 03, 2017 at 07:28:29
---
The so-called TM030 form is currently (Oct 2016) the talk-of-the-town as Immigration just changed some practicalities that will affect nearly all foreigners staying in Thailand.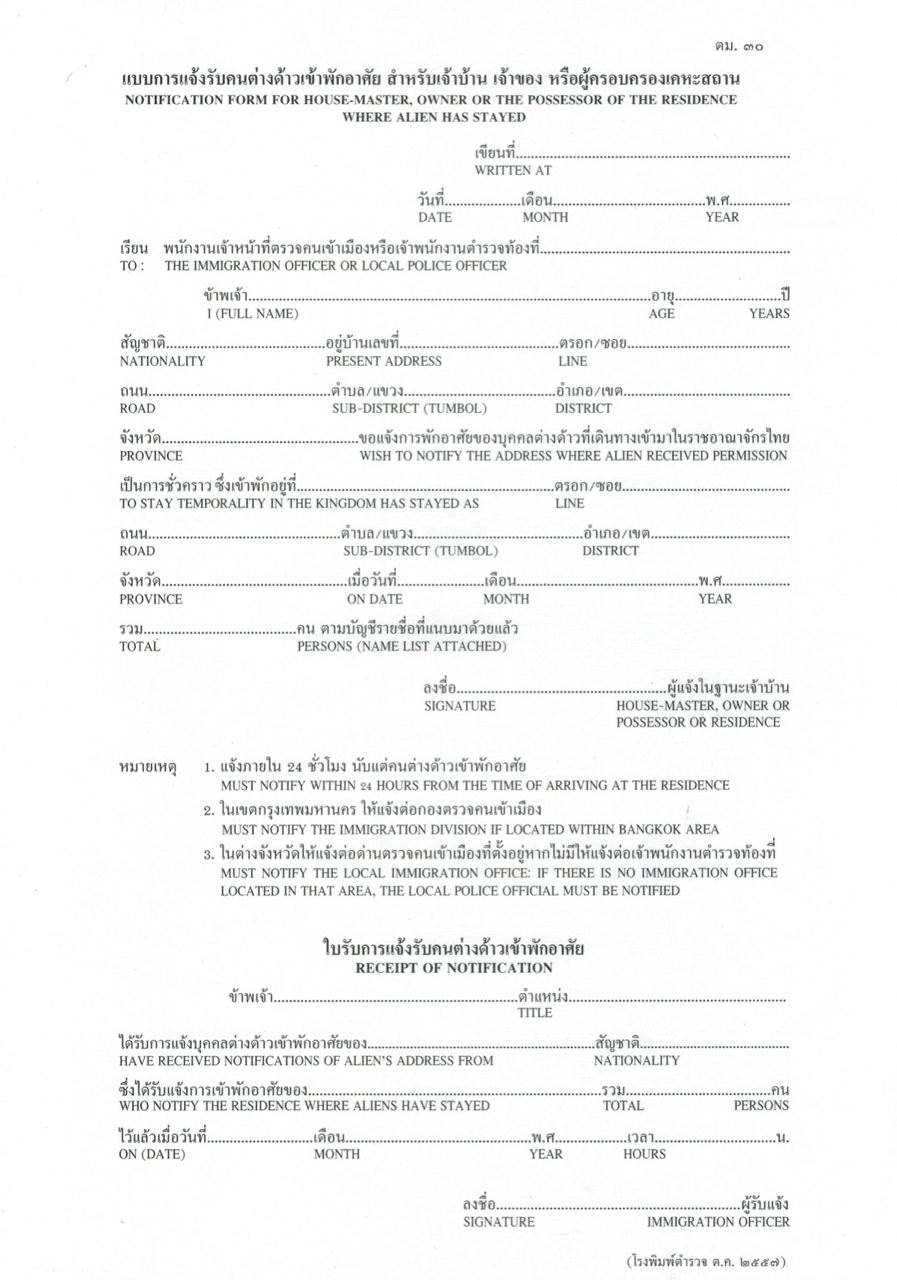 The so-called TM.30 form or Notification form from House-Master, Owner or the Possessor
of the Residence where Alien has stayed
Download the TM.30 form from
here
.
What's it all about?
The TM030 and its underlying laws are about the obligation of a landlord (or house master, possessor, manager) to report the stay of a foreigner (non-Thai national) in his/her property. All foreigners staying in Thailand and their hosts should be very well aware of this.
The laws with regard to the TM030 and the obligation to report a foreigner's stay have been in place for some time, but the government has started to enforce it more strictly lately, and changed some of the procedures with regards to your 90-days reporting and extension of visa.
---
IF YOU'RE RENTING, CHECK IF YOUR LANDLORD HAS REPORTED YOUR STAY
---
What is the purpose of the (new) regulations?
Basically, with the TM030 form, the government aims to know exactly where each foreigner is staying all the time. Every host, no matter Thai or foreigner, has the obligation to report the stay of a foreigner within 24 hours.
This may seem a scary idea to those appreciating their privacy, cumbersome to those providing accomodation, and perhaps even crazy in the eyes of frequent travellers, but we've got to live with it because the law is in place and Immigration is enforcing it more and more. The TM30 measures are one of many of the current government that are all aimed at better monitoring and controlling what happens in this country. The government wants to make it difficult for foreigners to stay under the radar especially who Immigration sees as 'bad guys', foreigners who overstay and terrorists.
The Thai authorities did not advertise the new regulations very well so many foreigners and Thai property owners have been surprised by the sudden strict enforcement of the TM30 regulations. Moreover, even Immigration officers are sometimes not sure about how to implement the law and Thailand wouldn't be Thailand if you can different and sometimes conflicting answers from different Immigration officers about how to report.
To make things worse, the stay of a foreigner has to be reported within 24 hours and Immigration is all too eager to fine the landlord THB 1,600 if just one day late or when some documents are not complete.
Who should act?
Officially and practically, the responsibility to report the stay of a foreigner rests with the host: the landlord of a property, the hotel or the service apartment. Untimely reporting of a foreigner can be penalized with THB 1,600 per case (normally the penalty does not exceed that amount , even if your landlord reports months too late).
---
IF YOU'RE A FOREIGNER STAYING IN THAILAND LONG ENOUGH
TO GO TO IMMIGRATION FOR A VISA EXTENSION OR 90-DAY REPORTING
YOU BETTER CHECK IF YOUR LANDLORD REPORTED YOUR STAY
However, if you are the guest or tenant, you can't ignore TM30 either: many foreigners report that they need it when going to the Immigration office for a service, such as the 90-day reporting and sometimes even for visa extentions. It still depends on the officer in charge that you're facing, but at such moment that you may find out that your landlord did not report your stay and you will have to explain where you stayed all that time. There is also a risk that you as a tenant (or guest) may be fined instead of the landlord.
In some cases, Immigration enforces strictly and demands the return slip of the TM.30 form, in other cases they allow foreigners just to tell them their address and when it's in the system it's okay.
Some foreigners reported having problems at the hospital after treatment when they didn't have a TM.30 form, apparently it's needed for the insurance company, so even for this, it's better to get it done.
How to report?
As a foreigner staying in Thailand, you should prepare:
(a) a copy of your passport (photo page)
(b) a copy of the visa page in your passport and
(c) a copy of the departure card (or write down the number on the copy of your passport)
The landlord should prepare:
(a) a copy of the title deed of the property
(b) a copy of the rental contract
In case the landlord has outsources this matter to a property manager, a letter is needed giving authority to this property manager to report TM30 on behalf of landlord with stamps from the tax office on this letter.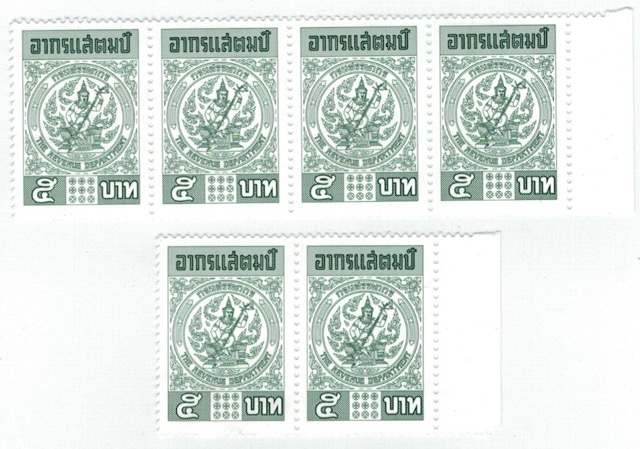 Official stamps from the tax authority office that need to be affixed to letter from landlord giving authority to property manager
Then, your landlord or property manager should report in either of these ways:
1. Most common and most official is to go to the
Immigration Office at Promenada, 2/F
(the department in charged just moved in Dec 2016) and fill out the TM030 form there.
(This is for Chiang Mai, for other places you have to go to the nearest Immigration Office and if there isn't one, you have to report to the Police Office.)
2. If the landlord is renting out a unit in a condominium building, often the building collects the information (copies passport and departure card number) and hands it to Immigration about 1-3 times per week. Some buildings don't and leave it up to the owners.

3. In theory, the landlord can also register online on https://extranet.immigration.go.th/, but this online system is often not accessible (nor are safety standards of the site 100% update). Recently, Immigration closed this possibility to report, because people did not include the right attachments.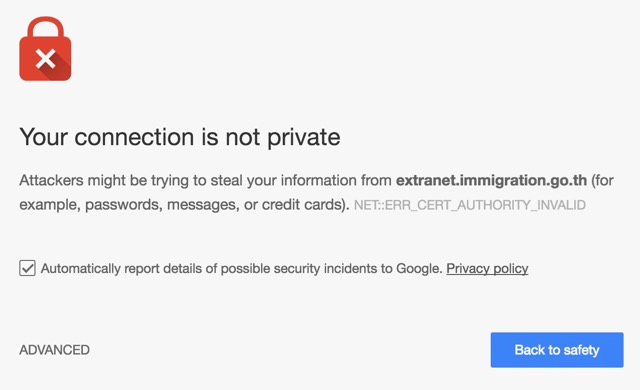 To access the online system of Immigration, when on this screen, click 'Advanced' and choose to proceed nevertheless (despite safety warnings)
After registration, the landlord will get a stamped return slip that the tenant (guest) should use when going to Immigration for a service.

Notes:
Surely, every time you leave Thailand and return with a new (arrival and) departure card in your passport, you have to be reported again, because your departure card number has changed.

The official law is that, even without leaving the country (so with the same departure card number), a foreigner still has to be reported every time that he/she changes to a new place. The owner of that place has to report the foreigner, even if it's just for 1 day. So if you're making a trip out in the countryside for the weekend and you're staying in a guesthouse there, your stay for that weekend has to be reported and once you return to your primary place, you've got to be reported again.
However, in practice many Immigration officials say that's not necessary and you can just stick to the first report.

If you own your own property (for example a condo), that does not acquit you of the obligation to report yourself.

If you have a yellow house book (tabienbaan) or co-own a house, that does not acquit you of the obligation to report yourself.

In principle, the prime responsibility of reporting a foreigner rests with the property owner, not with the tenant or traveller or with the agent or property manager, but all could experience trouble when the papers are not in good order. Reportedly, there have been cases that travellers were fined instead of the landlord, when they reported at Immigration for 90-days or to get a visa extension.

In principle, each individual foreigner needs to be reported, not just the head of a family or one person in a group of travellers, however in practice sometimes the authorities accept reporting of just one person per room or per house.

Are the authorities that serious?
Well, it's unlikely that you will have trouble when a landlord or a guesthouse or service apartment has not reported your stay. Unlikely too that there will be any issues when you stay in Thailand for a short time and leave without having any contact with Immigration.
But the moment you show up at Immigration to deal with some paperwork, you may have to show where you stayed and then it's too late. Once again, it depends on which officer you're facing and what's the mood of the day, after all this is Thailand. And even Immigration officers have taken a practical stance at how to deal with the new regulations, that are not always easy to enforce as usually it's the guest who experiences trouble when he/she is not reported while landlords aren't really forced to report.
For this reason, Immigration is all too eager to charge either the landlord coming to the office later than 24 hours or the guest coming without the proper TM.30 slip the penalty of THB 1,600. There are about six officers in this so-called Investigation Department who are bringing in a lot of penalty money.
What to do when you discover you haven't been reported
Officially, you need to be reported for where you stay. But even the Immigration officers take a practical stance at the new rules.
So, a
PRACTICAL APPROACH
you could take as a foreigner (at your own risk) is to not bother about it too much if you know you don't have to go to Immigration during your stay in Thailand, and to only get more serious if you know you do.
If you already know you have to go to Immigration at some point, for example for your 90-day reporting, and you haven't been reported within 24 hours from the moment that you checked in at your accomodation address, then some foreigner just report from that moment stating that they stayed in hotels before which didn't report them. This has worked for some foreigners, because Immigration won't bother to call those hotels to tell them they didn't do their job.
Summarized:
If you are a tenant (or guest):
Make sure to check with your landlord within the first week of your stay that he/she has reported you. If the landlord doesn't want to go, you could consider staying at another place, or you could report yourself at Immigration on behalf of the landlord, but then you need to get his/her proxy first (there is a separate form for that).
If you're a landlord:
Report your foreign guest/tenant within 24 hours.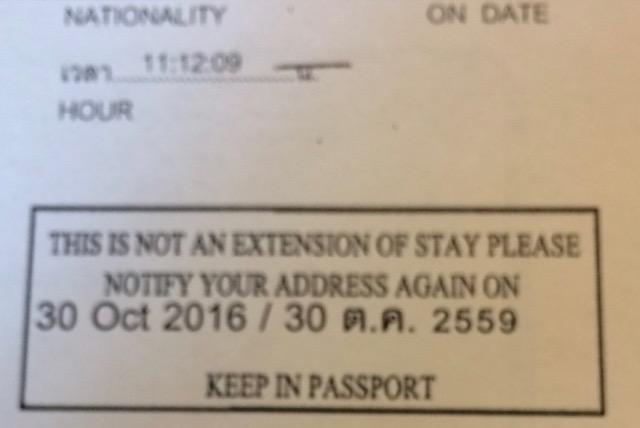 ---
Do you have first-hand experience with the TM030 form? Leave your comment here