Traffic rules in Thailand and how to avoid traffic accidents
---
Last edited: January 17, 2017 at 07:37:43
---
Traffic rules in theory apply internationally and so also in Thailand, but traffic behaviour in Thailand is rather different because Thai people tend to bend (or break) the rules, so in daily practice traffic rules aren't observed in the same way as in other countries and if you want to stay safe, you'd better be aware of how things are different here.
This is all the more important because Thailand is year-and-again amongst the top countries of having traffic accidents in the world (!).
Most of Thai-style driving (in so far as it deviates from the international norms) derives from Thai culture and Thai mentality1: laziness, carelessness, recklessness, cutting corners and being flexible. So it is because of Thai culture that Thai people drive in the (sometimes crazy) ways they do, but vice versa by understanding Thai-style traffic you'll get to understand some more of Thai culture as well.
Why is it important to prepare for Thai traffic situations?
Thailand has for many years in a row ranked amongst the top countries of having traffic accidents in the world, especially for motorcyle accidents, according to
studies from the WHO
.
The Thai authorities also monitor the number of traffic accidents and fatalities, especially in the so-called 'Seven Dangerous Days of the Year', which is the period around Western New Year, and the period around Thai New Year Songkran. Every year, tens of people die per day during these dangerous periods and hundreds are injured, with Chiang Mai as one of the most dangerous provinces in the entire country.
Many foreigners are involved in traffic accidents in Thailand, for the simple reason that they trusted international rules and were not accustomed to the ways in which Thai people drive.
How is Thai traffic different?
1. Range of Responsibility
The most important factor that influences all Thai traffic behaviour is what I call a Thai driver's 'Range of Responsibility'. A Thai driver's Range of Responsibility is what he2 (should) pay attention to in Thai-style, basically it's all that appears in his eyesight without turning his head, so we're talking about an angle of roughly 90-140 degrees in front of the vehicle.
The average Thai driver's span of attention is only in front of him without turning his head.
This is implicitly understood to be his Range of Responsibility.
So, while an international driver's Range of Responsibility is 360 degrees, the Thai driver's practical Range or Responsibility is at most about half of that.
According to international traffic rules, you have to check your mirrors and do a shoulder check when you change lanes, make a turn or in other circumstances, but because Thai people are inherently lazy, most of them fail to do that consistently. And because most Thai people don't make sufficient use of mirrors and shoulder check, there is an implicit collective understanding that a driver's main (or even only) responsibility rests within the span of his eyesight in front of him, his Range of Responsibility.
To put it simple, everyone basically cares (mostly) about what is in front and as far as the corners of the eyes can see, almost without turning a head.
Does that work? Well, it works in many cases and in a way it could be an efficient way to deal with traffic but the one disadvantage this lazy system has is that it doesn't sufficiently cover the so-called blind angle (or blind spot) that is located somewhere behind you and at your sides, so this becomes a grey area between the driver in front and the one in the blind angle and thus creates a risk for accidents to happen.
Because most Thai drivers neglect a shoulder check (and many also forget to check mirrors),
there are often huge areas uncovered by their attention, especially the blind angles / blind spots.
---
BECAUSE THE RANGE OF RESPONSIBILITY IS THAI TRAFFIC'S MAIN "RULE"
IT INFLUENCES ALL, GOOD AND BAD
---
Because of the Range of Responsibility is a Thai driver's implicit leading principle, everything else depends on it. It almost doesn't matter who's right or wrong according to the official rules, in practice everyone acts according to this principle.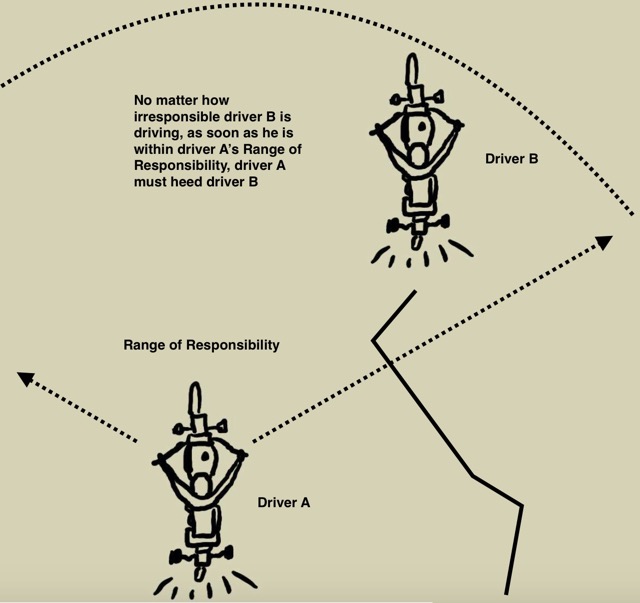 No matter how irresponsible driver B drives, he is within driver A's Range of Responsibility
so it's driver A that should heed driver B, according to Thai traffic "rules".
For example, you could make signs that you want to move sideways from one lane to another or make strange movements and you'll find, to your surprise perhaps, that someone behind you is waiting for you to cross lanes, even though according to international rules you were supposed to wait for the person behind to pass you first or even though you are acting wrongly according to the real rules.
"You're in my sight so I adapt to you" is the practical solution that the Thai traffic society has adopted.
Another example is that Thai drivers tend to overtake someone just before a turn, which in international context doesn't make sense, creates dangerous situations and also obstructs the flow of traffic, but it does make sense in Thai context because when driver B suddenly appears in front of driver A, it means that now driver A has to take driver B into account because B is in A's Range of Responsibility.
Cutting someone else's way is very common in Thailand. It's irresponsible from international perspective but "understandable" in Thai context because as soon as you appear in someone else's Range of Responsibility, he should heed you, even if you drive irresponsibly.
I believe that Thai police and Thai insurance companies even make (explicit) assessments based on a driver's Range of Responsibility, so that some accidents are blamed on the person behind while in an international context that person would have been right.
So the Range of Responsibility is really important and it actually conflicts with international traffic rules as you're probably used to.
2. Adapt to each other rather than follow rules
Another important implicit feature of Thai traffic behaviour which has everything to do with Thai culture is that Thai drivers continuously adapt to each other rather than rely on real traffic rules. In other words, it's more important to watch and adapt than to trust and follow the rules.
This collective implicit understanding in Thai traffic actually made me fail my Hong Kong motorcycle driving test, because I picked up this Thai habit of stopping or moving very slowly when the traffic situation appears unclear, while in international context you are supposed to rely on other drivers acting according to the rules and keep your speed.
Adapting to each other continuously is an Asian cultural feature that can be witnessed to its maximum in Vietnamese traffic, that consists of rivers of scooters flowing down the streets like a school of fish. Japanese people show adaptive but at the same time extreme law-abiding behaviour, while Western people tend to be more strict and rely on rules.
Thai people aren't really amongst the most law-abiding people in the world, rules are publicly acknowledged but are often easily bent in public or broken in secret. In a similar way that many Thai treat a promise as being a mere intention that can be put aside using any (lame) excuse, rules, laws and regulations are often treated as guidelines.
In traffic, you can witness that in more cases than I can describe: parking right at corners (with red-and-white pavement signs), driving against the traffic flow, driving without lights on and so on. It all doesn't matter, it's is warmly embraced by the all-absolving mantra that vibrates through Thai society: mai-pen-rai, sabai-sabai. Even by law enforcers.
For example, at intersections without traffic lights typically you can observe that normal traffic rules don't apply: traffic from the left is supposed to have priority, but in practice people just watch each others behaviour and the one who pushes first often goes first.
Thai people don't trust the rules, don't rely on laws, and don't trust each other, but instead they are flexible to the situation and adapt.
---
NOTHING REALLY MATTERS
EVERYTHING IS EMBRACED BY THE ALL-ABSOLVING MANTRA
THAT VIBRATES THROUGH THAI SOCIETY:
MAI-PEN-RAI SABAI-SABAI
3. Hindering traffic flows is common
In Western driving schools you should have learned that you have to do what you can to avoid interrupting the flow of traffic, so you wait until cars pass before you park or get out of a parking space, you don't stop at the side of the road when that will block the entire lane, you don't drive slowly where you can drive a decent speed and you make turns quick enough. Much of this is nearly alien to Thai style traffic where the concept of avoiding hindrance to others is nearly absent. This is especially so for tuk tuk and red pick up trucks, which behave like a mafia anyway, but also for other uneducated road users.
Driving 20km per hour, making extremely slow turns, temporarily parking the vehicle in the middle the road thus blocking all traffic behind are all very common in Thailand.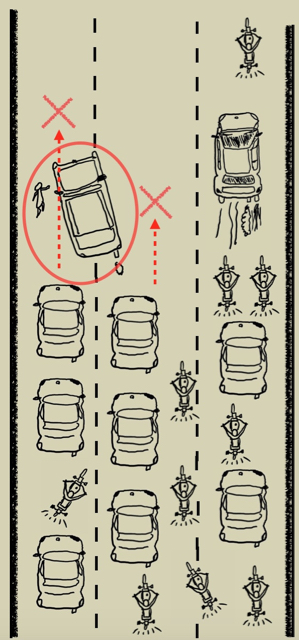 Common causes of traffic congestions on the road are wrong parking and stopping by songtaews to pick up customers. This songtaew stops diagonally, thus blocking 2 out of 3 lanes.
This again is for a large part due to cultural factors: time isn't as valuable as in Western societies, there is less of a hurry, there is no concept of opportunity costs, and you're supposed to adapt and accomodate each other rather than claiming your rights.
4. Cutting corners
You probably have learnt before how to await traffic on a main road to pass first and then make a proper turn into that road, so you want to expect the same from your fellow road users, but in Thailand it's different.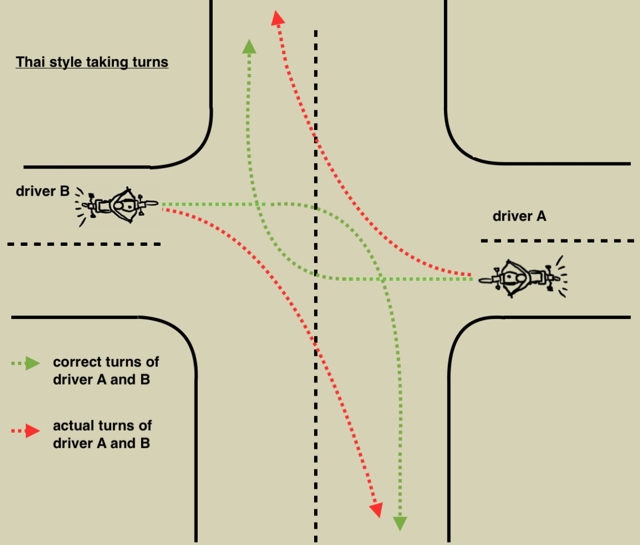 Correct turns of two opposed drivers would be to cross each other, but Thai-style taking turns is likely to avoid that and cut corners. There are underlying cultural factors explaining this preference: whenever Thai people can, they try to avoid conflict and direct confrontation. Also, it's considered 'easier' by Thai drivers to avoid each other than to cross each other and take rules and behaviour into account.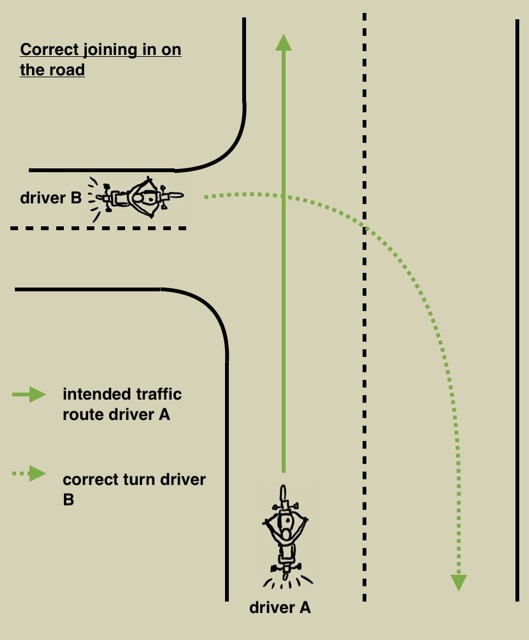 Correct traffic behaviour: driver B should wait for driver A to pass before turning into a main road.
Thai drivers like to cut corners wherever they can, not just in traffic but also in work and study, so you have to anticipate incorrect traffic behaviour like this: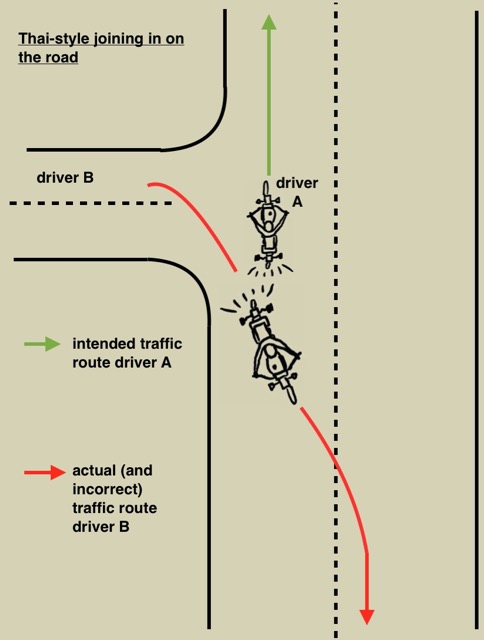 Actual and incorrect Thai-style traffic behaviour: driver B hardly waits for driver A to pass, but instead cuts a big piece of the corner, thereby even driving against the traffic flow and then curve into the main road.

When you're driver A and you see someone trying to join the main road like this, at first you might think the other driver is going to crash into you, and there is a risk to that, but all you have to do is to maintain your speed and be predicable because driver B is making his calculations to join in based on predictable traffic behaviour of other road users.

---
IF YOU ARE WONDERING WHY THAI DRIVERS BLOCK ROADS AND DRIVE RECKLESSLY
REMEMBER THAT TIMES AND THEIR LIVES ARE LESS PRECIOUS THAN YOURS
---
Cutting corners is a habit (or skill!) that Thai people have not only in traffic, but in many other aspects of life too: work, social life, study, language. The focus is not on doing things the correct way, but on getting your things done the easier way. That there are consequences, risks and disadvantages to doing things not in the right way is not something most Thai people worry about, as long as you can get away with it now it's good enough.
I've been working with Thai workers for years, even when fixing a leaking water pipe workers prefer to go the quick-and-dirty way taping things away or 'solving' it with lots of silicon, which does the job for a few months, but you know it's not going to last. Cutting corners is the cornerstone of the Thai skillset.
5. Anonymous selfishness
While Thai people are generally very polite when meeting one-on-one, so in private individual contacts, they can be rather rude when faced anonymously in traffic. Selfishness is the norm, gentleman behaviour is nearly non-existent, flashing lights don't mean allowing another to go first but are meant as a warning that the driver is passing at a high speed and you'd better stay clear.
Lack of signalling or too late signalling before making a turn is another example of selfish behaviour.
Thai culture teaches to be 'kreng jai' (เกรงใจ) to each other when the other party is known, but people like to take advantage of each other when unknown.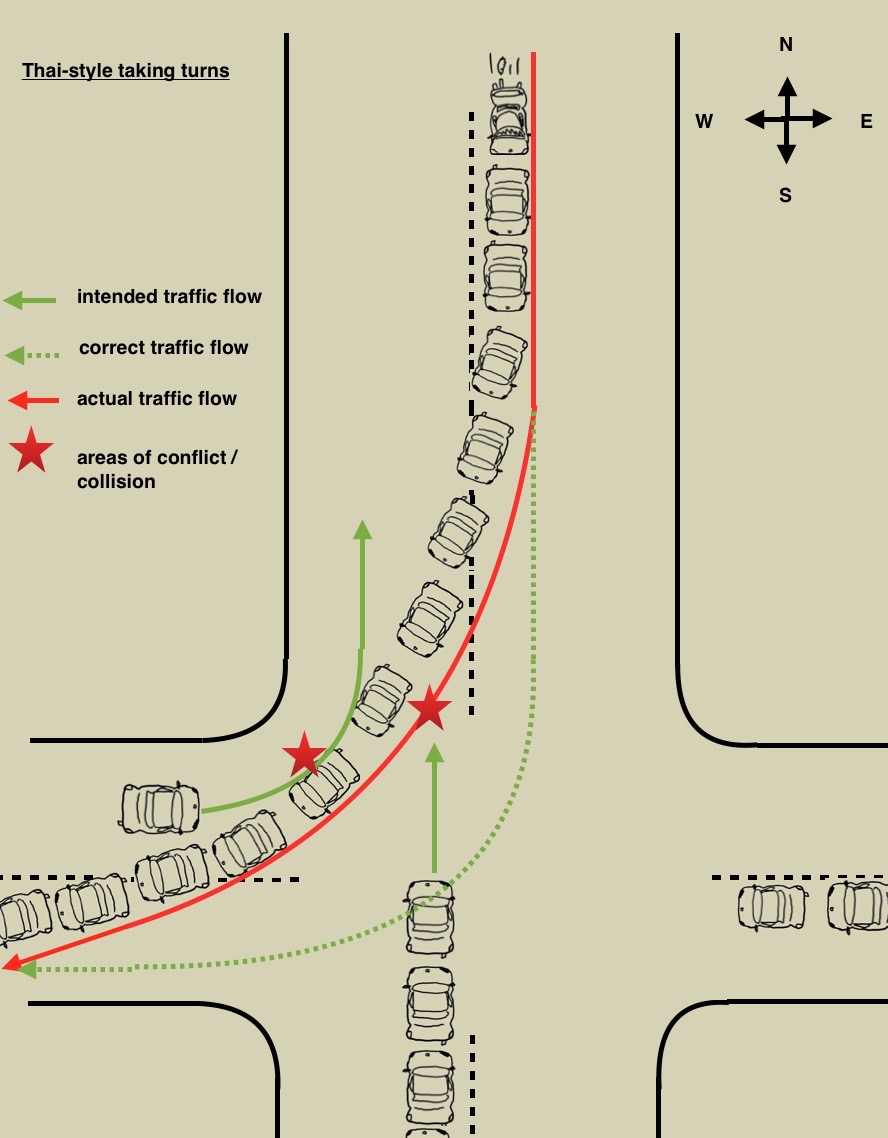 How Thai drivers take turns: each car in line coming from the north and wanting to turn to the west is supposed to wait for the traffic flow coming from the south. Instead, a column of vehicles starts to form that deviates from the proper turn and thus blocks both the traffic coming from the south and the traffic coming from the west. Every single car from the north making the turn before letting the traffic from the south go first is wrong, but in Thailand this is common.
Many Thai people behave rather selfish in traffic in various ways: when queuing in a jam, they won't give space for incoming traffic waiting to join the main road. When making turns, they just put their vehicle in the middle of the road to block traffic (at times that is actually the only way to move onto a main road). The rule that seems to apply is: whoever blocks the road goes first.
6. Reckless behaviour
Dangerous situations can occur when a vehicle tries to overtake a traffic jam by crossing over to the other lane, so by going against the traffic direction (in Thai: ย้อนทาง or ขับรถย้อนทาง or more common ย้อนศร or ขับรถย้อนศร = driving against the traffic flow / arrows), even if there is a double line in between the opposing lanes which prohibits crossing it to take over.
If you're driving on the quiet lane and see a vehicle leaving the queue of the traffic jam to overtake it by crossing onto your own lane, all you can do is to move out away from the middle of the road as the overtaking vehicle is not going to give way to you (in fact, it may flash lights to you signalling you to get out of his way).
I've been in a sitation that a tuc tuc behind me to make such a dangerous manoeuvre, crossing the line onto the other lane, while I was waiting to turn right into a soi. The tuc tuc didn't watch my signs that I was waiting to turn right out of the traffic jam and nearly crashed into me from behind.
7. Grey areas and a lack of consensus
Because the implementation of rules is left unclear (to some extent), not well enforced, and because most people don't stick to the official rules, grey areas in conduct are created and there is a lack of consensus about what is proper traffic behaviour.
One striking example of that concerns pedestrians crossing the road using a zebra which is sometimes marked by traffic lights. When such crossing is on a main road without an intersection, most Thai drivers are simply not used to the idea of stopping as there aren't pedestrians crossing over all the time. So they will simply cross even if there is a red light.
This creates dangerous situations for foreigners who trust the green light, I've witnessed several near-accidents and one real accident happening like that.
The most dangerous situation happens when one car stops for a pedestrian and the traffic coming from behind didn't realize that fast enough or didn't see the pedestrian. You can see very sad accidents happening in the following clip.

Crossing a main road as a pedestrian can be a very dangerous enterprise in Thailand.
What does not work so well in Thailand?
Although you should not forget international traffic rules, in order to stay safe you have to adapt to the local situation and you will soon find that a lot of proper international traffic rules almost don't apply or can even bring about more risks in Thai-style traffic.
For example:
the so-called 2-seconds rule of keeping a proper distance between you and the vehicle in front that gives you 2 seconds to stop before reaching the point where the vehicle in front is, doesn't work because especially in the city, within no time the void between you and the vehicle in front will fill up with scooters and cars.
gentleman behaviour of stopping for pedestrians or letting people go first does not work if the traffic behind you did not expect you to stop.
even proper shoulder checks can be dangerous if you take too much time for it, because within a fraction of second some idiot can come in front of you and push the brakes.
changing lanes has no real meaning in Thai-style traffic: the road is just one wide open space and not many drivers signal a move from one lane to another.
expecting others to stick to the rules doesn't work, you better watch the situation as it occurs and adapt.

These are a few of the most remarkable features of Thai-style traffic that are probably different from what you're used to. Besides that, almost everything you can imagine could go wrong goes wrong.
Realising that will help you not only to understand more about Thai culture, it can also keep you safer.
Thai authorities' response to Thai traffic behaviour
Thailand has adopted international traffic rules, but Thai authorities of course have come to realize that not all international rules go very well with Thai culture and traffic behaviour, so they have made alterations aiming at improving traffic situations in a way which is more suitable to Thai drivers.
Unfortunately, not all of them work well.
a. U-turns
The many U-turns you find on main roads are an example of that: they are an alternative to having an real intersection. Real intersections in Thailand suffer from the problem that Thai drivers tend to speed up last-minute to push through the last seconds of the green light or the beginning of the red light, thus delaying the traffic coming from the next green light. Also, sometimes traffic doesn't flow through and just parks in the middle of the intersection.
Energetically, intersections embody direct confrontation, which doesn't go well with Thai culture.
The alternative, the U-turn which allows traffic to smoothly blend in with the current flow, is much more suitable to Thai culture in many cases, but it can get irritating if you have to drive a few kilometers before you can change direction.
b. One-way traffic
Making roads one way only is another example of how Thai authorities try to improve traffic flows to cater for Thai-style driving. Unfortunately, it's often the only tool Thai authorities see in otherwise congested traffic, and it doesn't really work.
Especially in the busy hours of the late afternoon, when parents pick up their kids from schools and early workers go home, Thai police come out to main intersections to "regulate" traffic manually that should be done by a computer rather than a human, and often they make the traffic flows go worse.
Whenever you notice the traffic is not flowing around 4 or 5pm, you'll often notice that the reason was a police guy redirecting traffic a few hundred meters further on.
c. Creating unclear traffic situations
In some locations, Thai authorities have reversed the direction of lanes aiming at improving traffic flows, which may be effective at most times of the day, but it can come at the cost of some traffic accidents due to confusion amongst Thai drivers who didn't pay enough attention. A reversed left-right traffic flow is a situation that most Thai don't expect and when not well-marked or well-separated, confusion and accidents are bound to happen.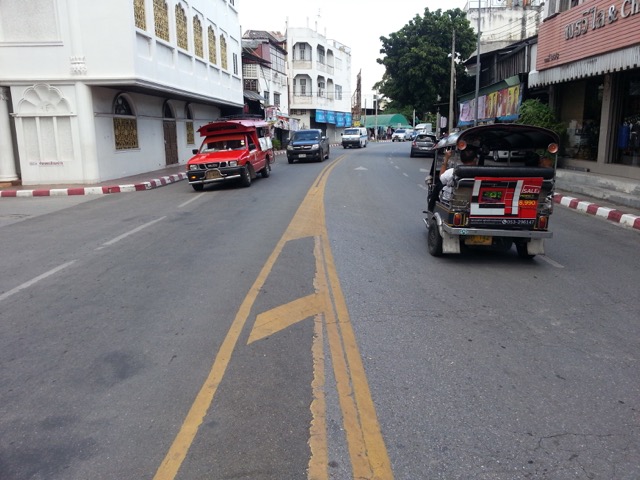 Reversal of left right traffic flows can lead to accidents because Thai people are not used to it
This is at Chiang Moi Tud Mai road, near Warorot Market, where accidents can happen especially at night time when drivers don't pay attention to signs and follow 'normal' traffic flows.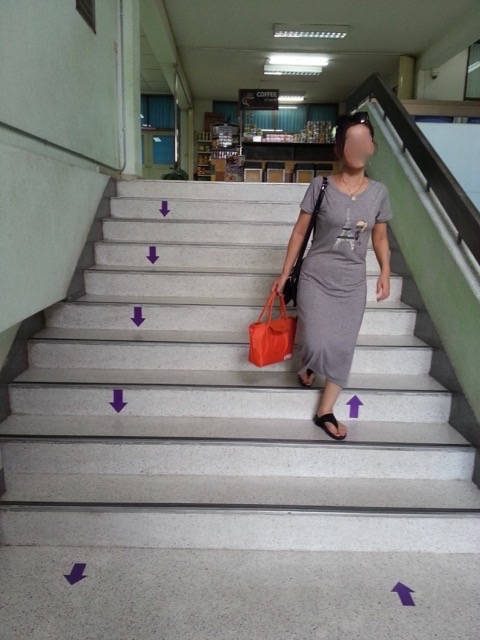 Thai people aren't used to unexpected traffic situations and so confusion can happen.
Ironically, this is at the Driving License Office (!)
Another change of lane structures in Chiang Mai probably due to the intended promotion of Chiang Mai as a "Bicycle City" has been the marking of bicycle lanes that go against the traffic flow. Not many cyclists use these lanes, often motorcyclists use it improperly, and a lot of car drivers ignore the lanes causing dangerous situations.
How and why do most accidents happen in Thailand?
Accidents happen, and in Thailand accidents happen A LOT. In Chiang Mai only, I witness an average of 1-2 accidents on the road every month (!), meaning that I either see it happening right in front of me or I pass a place where an accident just happened minutes ago and the victims are still sitting on the road. Besides that, I see near-accidents happening nearly every day, cars driving at centimeters aways from each other, and you can see the white chalk marks by the police nearly everywhere on the roads.
Dealing with inuries of traffic accidents is year-and-again in the top three of main activities in hospitals.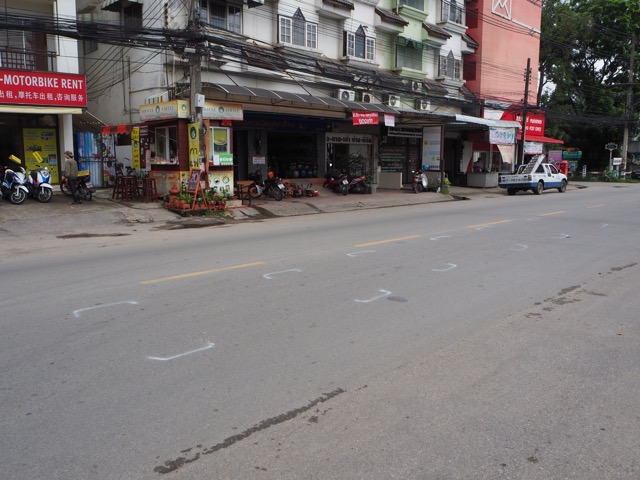 Police mark the positions of vehicles after a traffic accident. In this case, 6 cars were involved in a chain collision.
This suggests that the cars were driving too close too fast on an inner-city road.
Whatever your ambitions are, you don't want to leave your marks like this in Thailand.
It's hard to get hold of official statistics, but a few common causes for accidents are:
Drinking
Reckless and speedy driving
Late or no signalling before changing direction, sudden change of direction
Not enough distance between vehicles
Lack of attention
Cars and motorcycles don't stop for pedestrian crossings
Confusion or lack of attention due to grey areas caused by unclear or insufficient Thai style traffic "rules"
Poor official traffic rules and enforcement: according to the WHO, only rules with regard to helmets are sufficient, other rules with regard to speed, seat belts, child seats, drinking and other standards are insufficient.
Poor knowledge of traffic rules: The driving license tests aren't really that difficult and don't cover much. In some cases they are a joke, I recently went to renew my driving license and the only test I had to do was to tell the staff the colours of alternating traffic lights (!).
Unclear or unexpected traffic situations: Whenever a traffic situation is unusual, such as a pedestrian crossing that is not frequently used or reversed left-right lanes, people don't think and accidents occur easily.
POSSIBILITIES OF A TRAFFIC ACCIDENT
Here are some either typical traffic accidents that could happen in Thailand, or traffic accidents that you would not expect to happen: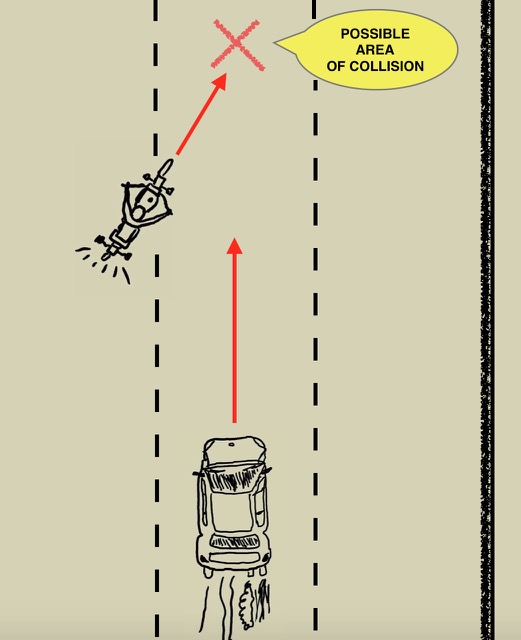 Possibilities for a traffic accident and differences in interpretation between Thai and international context:
the motorcycle driver changes lane without doing a proper mirror
and shoulder check and collides with a fast driving car.
In international traffic context, the motorcycle driver would probably have found to be wrong,
but in Thai context it could well be that the car driver (partially or wholy) blamed because he can see what's coming, he might have been driving to fast, and the motorcyclist is considered to be more vulnerable.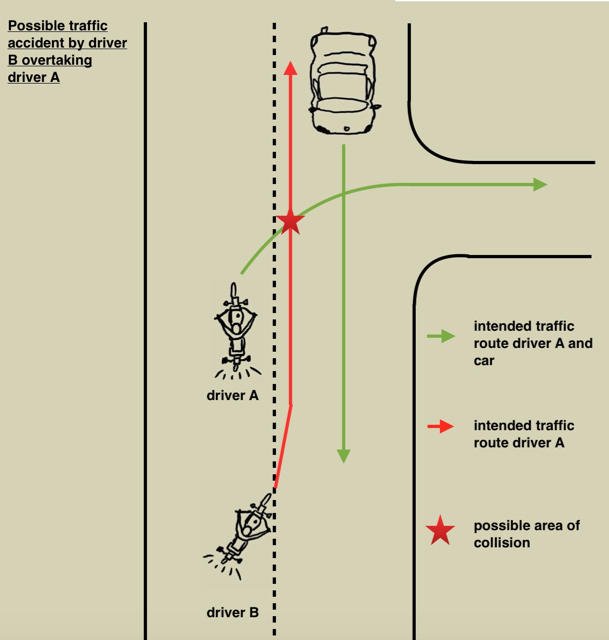 Driver A is waiting for the car from the opposite direction to pass before making a right turn into a soi. Driver B can't wait and crosses the middle line (sometimes even a double line) to over take driver A. At the moment that driver A wants to make the turn, driver B hits into driver A.
Driver B is wrong to overtake driver A when driver A is clearly signalling to be on the verge of making the turn.
Lesson: always check your mirrors and shoulder even in situations where you would not expect to need that.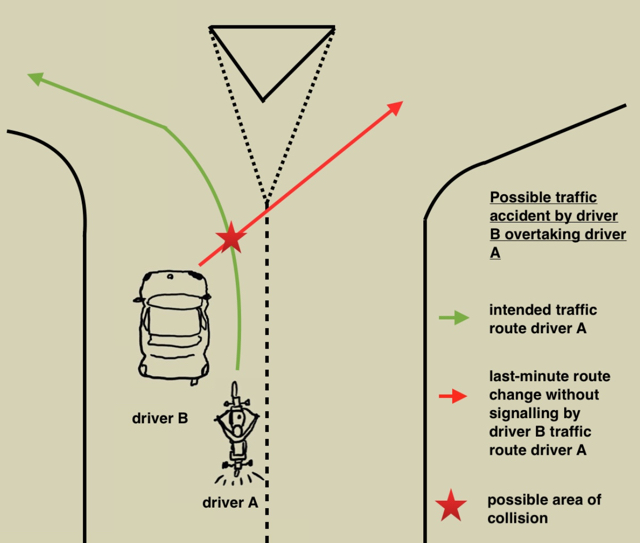 Driver B is in the left lane which leads to a left turn on a T-section, so driver A anticipates that driver B is making a left turn on the T-section just like him. However, driver B changes direction last-minute without signalling or by late signalling and collides with driver A. Driver B is wrong, but because driver B is still a littlebit in front of driver A, Thai interpretation might put some responsibility on driver A.
Lesson: antipicate how traffic behaves but also anticipate mistakes of others and put most of your attention in front of you.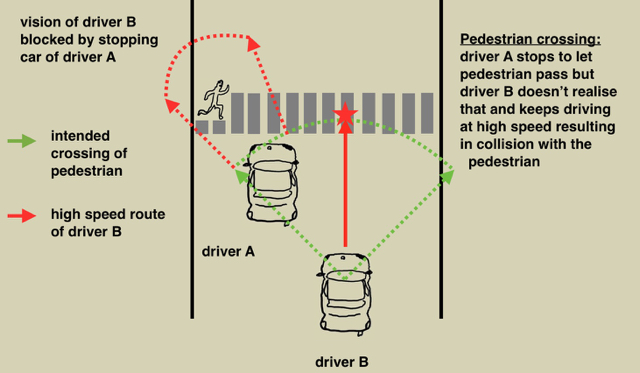 Driver A stops in front of a pedestrian crossing to let a pedestrian pass. Car driver B isn't alert enough to realize that driver stops for a pedestrian and keeps driving at high speed to collide into the pedestrian. The situation is even worse if the pedestrian is running to cross the busy road because then he appears very suddenly into the vision of driver B from behind car driver A.
Lesson: whenever someone stops on the road, realize there might be a reason and that you don't have full vision.
When you're the pedestrian, make sure that you are seen and move predictably.

Example of reckless driving on the highway
Sadly, Thai drivers are infamous for not stopping after causing an accident, because they don't want to be responsible for paying huge damage and hospital fees to the victims.

This video by the Chiang Mai municipal government can give you some ideas of how traffic accidents happen in Thailand.
Source: Municipality of Chiang Mai
How to stay sound and safe?
Being aware of the main "rules" I set out above, you will be better equipped to stay safe.
Remember that many Thai drivers don't consider their life and their time as valuable as you do. As Buddhists, they believe they have several lives anyway, and those who consider themselves less lucky in life often tend to have some kind of apathic attitude: they are born poor and are meant to stay poor, so if a traffic accident ends their life so be it.
When you engage in Thai traffic, you are taking on a double work load: your own and someone else's. Not only do you have to look out in the normal way that you are educated to do, also you have to anticipate Thai drivers' mistakes.
1. Focus on your Range of Responsibility
While not neglecting your international driving rules' obligations to watch out 360 degrees around you, in Thai context mainly focus your attention in front of your vehicle. You need to put about 80-90% of all your attention in front of you within your Range of Responsibility. Correct international driving behaviour would put perhaps 60% of your attention in front of you and 40% of your attention around you, because this is also part of your responsibility. But in Thailand, you have to break with this habit because you really need more attention in front of you where dangerous things can happen suddenly all the time.
2. Drive and move predictably.
Don't make sharp or sudden turns. When changing direction, signal and move slowly. It's all about being predictable to your fellow road users so they can adapt to you.
In an international driving context, you are supposed to adjust your speed at the proper level: at times slower and faster where you can, you could even fail your exam by not driving fast enough. You're supposed to make smooth and fast turns.
In Thai context, this doesn't always work out well. Making a sudden quick turn or a sudden movement outside of your steady 'cruise-controlled' pace could surprise other road users who were anticipating your predictable behaviour.
For example, some in particular young Thai scooter drivers take over at very high speeds, zigzagging around other vehicles. This irresponsible behaviour can only go unpunished when all other traffic is predictable.
In such case, if you would make a sudden movement, however correct in international driving context, a collision might happen, it wouldn't be your fault but you don't want to get involved.
Another example is how some pedestrians, after having waited for a long queue of vehicles to pass, suddenly try to cross a road running when they see an opening in the never-ending traffic. They might be noticed by one vehicle but not by another vehicle which comes from another lane. Even when crossing a lane as a pedestrian, walk over in a composed, predictable manner making sure that all other traffic sees you. Make a short sprint only when you are absolutely sure that there is no one left to hit you.
In the same way, don't stop to abrubtly. Try to stop slowly, so the traffic behind you can notice. Stopping in situations that the traffic behind you doesn't expect, for example if you want to exhibit gentleman behaviour for a pedestrian waiting to cross the road, can cause the driver behind you to hit you in the back.
3. Don't trust traffic rules, but watch actual traffic behaviour. Anticipate traffic, but in the right way.
Do cars really stop at the zebra?
Anticipate how traffic, especially in front of you, will behave, rather than trusting that everybody follows the rules.
On many intersections, the lights turn green in a fixed sequence against the clock, but on some major intersections in Chiang Mai (Airport Plaza intersection, Rincome intersection, etc.), it's completely different, so don't anticipate the normal sequence but actually watch.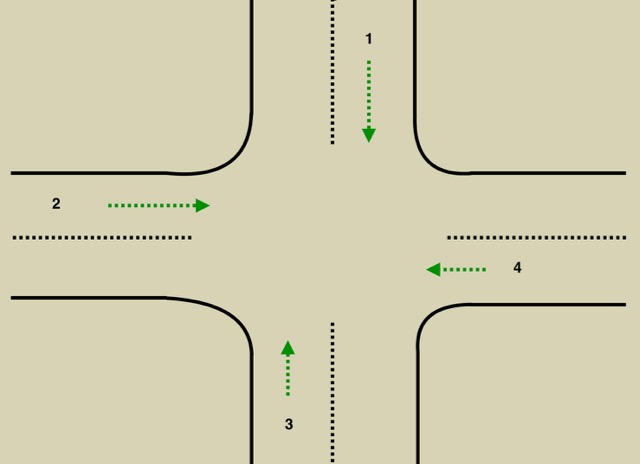 4. Don't trust the roads
Generally, roads in Thailand are pretty good and comfortable to drive, but this can be misleading as there can be sudden and unexpected unevenness in the roads or even big gaps without a notice. Especially when you're driving at high speed and you encounter an uneveness, it may bring you off your balance.
Some foreign drivers with lots of driving experience got killed in Thailand driving into caves in the road where they didn't expect it.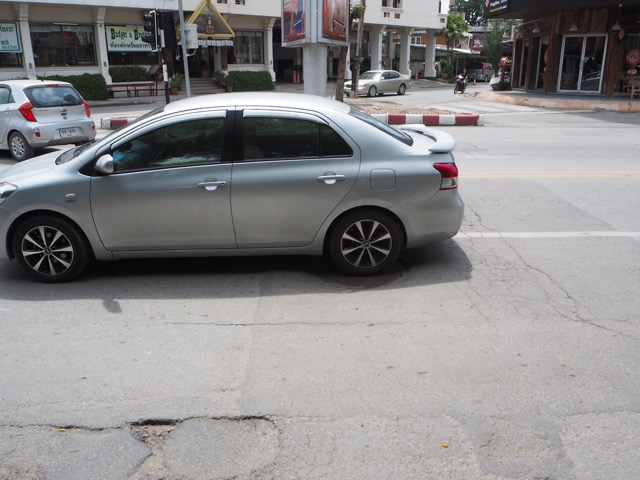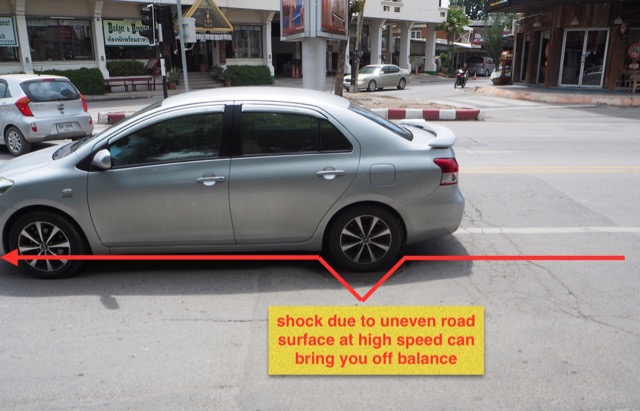 The water department didn't bother to put the lid of the water sewage system level with the road, in this case it's about 5-10cm deep compared to the road. It's practicably invisible and you won't expect it as you're focusing on the intersection, and it can have an impact on your stability when you're driving at high speed.

5. Adapt your changing lane or changing direction procedure
In international driving, you should have learned to (a) signal first, then (b) do a shoulder check, then (c) change lane or make a turn. This is the correct way to change direction or make a turn, however, this doesn't go 100% well with Thai driving styles, so I recommend a different procedure:
(a) watch first in mirror and shoulder check
(b) wait until the right moment to signal
(c) signal
(d) watch again in mirror and should check
(e) make the turn or change lane.
Thai style driving context is different from international context in that you always have to be careful that no one is passing or overtaking you from the wrong side / angle. If you turn left, you not only have to check your right side (which is normal), but also your left side, because someone might just want to pass through going straight on your left.
Another difference is that you should not leave the signal on for too long. In international driving, you can leave the signal on for a while, traffic will notice and pass and you change lane or direction after that. In Thai context, this may not be the case. As soon as you signal, other drivers behind you are on alert as you are going to make a move which is inside their Range of Responsibility. So you may find that the traffic behind you is waiting for you to change lane, whereas you're used to international traffic to simply pass.
So, don't signal too early. First check how much traffic is behind you. If you keep the signal for too long, traffic behind you may think you have just forgotten that you left your signal on.
Signal, watch, and take action on your signal. Don't wait too long to take action on your signalling to others.
6. Don't drive too fast
Allow yourself time to adjust to other people's mistakes.

7. Don't lean in curves
Roads in Thailand are generally good but there is more pollution including some petrol sedimentation on the surface of roads, which can become slippery especially when it rains. Also, some shops clean their own floors with soapy water and then throw the water on the road, which may be a bit slippery.
By leaning into the curve, you make yourself more fragile to loss of balance in case of slipping. Also, it's much harder to stop properly when you're in a leaned position in case you encounter another vehicle as your gravitational point is not straight above your tires, then stopping abrubtly will lead to slipping.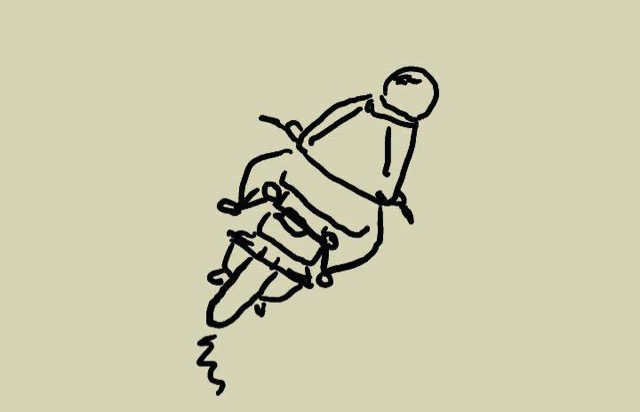 Leaning in curves can feel good, but roads are sometimes more slippery in Thailand
due to petrol and other dirt sedimentation on the surfaces
8. Wear protective clothing or at least a helmet
Nearly the only thing Thai police are actively enforcing is wearing a helmet, so if you stay in Chiang Mai during about one month, the chances of getting fined are quite high. Besides that, it's of course the most essential piece of protective wear to have. You can buy simple Thai quality helmets at a few hundred baht or very high quality ones at several thousands. Both will at least give you the most important basic level of protection.
If you feel comfortable with it, you can also wear long pants and long sleeves (which are good against the sun and mosquitos anyway) and at least wear proper shoes, not flip-flops.
Gloves are also very good protection but a bit of a bother when you're just driving in the city.

If you drive a big bike and go around or out of the city at much higher speeds, all of this becomes much more serious and you should definitely at least wear proper shoes, gloves and helmet.

9. Get a proper accident insurance and get your vehicle insurance
Most of the popular large banks in Thailand offer an accident insurance, in particular the one by Bangkok Bank is famous amongst foreigners but other banks in fact provide nearly the same offer.
An accident insurance usually covers a substantial amount of damage in hospital bills (around THB 50,000) at a very modest price (about THB 1,000-2,000).
(The insurances are usually underwritten by an insurance company that the bank teams up with, so the bank just serves as a counter.)
Besides that, if you own a vehicle you should pay for your government license every year (just a few hundred baht) and when you do that, they will require you to have your vehicle inspected and get an obligatory accident insurance as well (just THB 100-200).
10. Don't be over-confident and don't trust
Perhaps the most important of all is: don't be over-confident. When you just start to drive a motorcycle or vehicle in Thailand, you may feel everything is under control, you're enjoying the roads or the landscape and you may become over-confident.
I had three minor slipping accidents in my time of driving here, and they all happened in the beginning because I felt too confident about driving and trusting the road or others.
Driving too fast, hanging in the curves, trusting the surface of the road, and trusting others to follow the rules can all come from over-confidence and will lead you into trouble.

These guidelines will help you to stay safer in Thai style driving. However, other dangerous situations occur with foreigners who pick up Thai-style driving habits and bring it to the extreme, which can be more dangerous than the 'predictable' Thai behaviour. Also, more and more Chinese on the road with even more irresponsible driving, parking in the middle of the road, and so on create traffic situations which are different from Thai-style.
Kenny Wong for CM Locator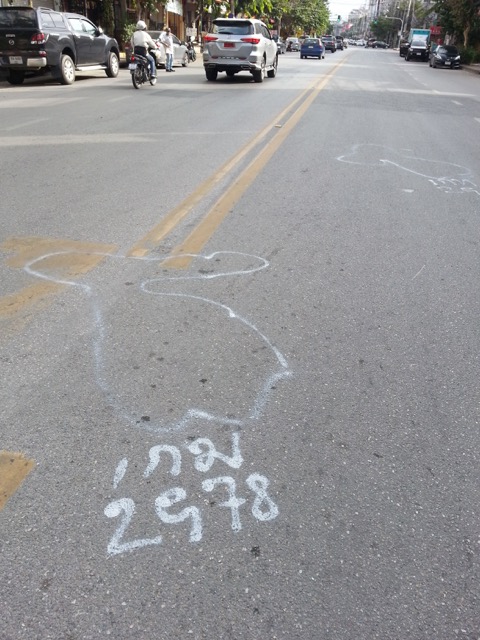 Traffic Accident Investigation: this is what happens after an accident.
Your body and vehicle are depicted on the road in a rather macabre way.
note 1: For the sake of style and simplicity, in this article I use generalisations such as 'Thai people' or 'Thai mentality' and so on to refer to what I have observed to be mainstream behaviour, but I am very well aware of people who don't behave in certain ways. Where I write 'Thai people' or 'Thai-style driving', I mean 'many Thai people' or 'most Thai people' in general ways that I have observed. This article is therefore not in any way meant to be racist or discriminatory.
note 2: For convenience, in this article I refer to the driver as 'he'.
---
This article has at times been edited and updated with help of readers to give you the most realistic and complete survival guide of how to stay sound and safe in Thai traffic. Help us to do so by leaving your comment underneath.

Enjoyed reading this in-depth article? Read another top article: on our site: Farang Life Cycle in Thailand