Cost of living in Chiang Mai
---
Last edited: December 13, 2016 at 06:58:21
---
Chiang Mai is arguably one of the cheapest places in the world to live in. You can get a local meal on the street for just 30 baht (approximately USD 1). On the other hand, if you tend to be attached to some Western hobbies and food, you may pay a higher than expected bill. So all-in-all, it all depends on what consumer goods you put inside your basket, as economists say.

COST ESTIMATE OF LIVING IN CHIANG MAI
Here's a cost estimate for 3 different kind of budgets.

BUDGET VS. BASKET
LOW

LOW: "LIVING ON A SHOESTRING"

MEDIUM

MEDIUM: "FAIR BUDGET"

HIGH
HIGH: "LUXURY"
monthly budget
(in USD)
USD 300-470
USD 470-940
USD 940+
monthly budget
(in THB)
THB 9,500-15,000
THB 15,000-30,000
THB 30,000
housing
Thai style apartment
THB 2,000-3,000
better apartment, condo or house
THB 4,000-10,000
luxury apartment, condo or house
THB 10,000- 25,000
utitlities (water, electricity)
THB 500
THB 1,500
THB 2,000+
internet
shared
THB 100-200
private line
THB 630
faster line
THB 900+
transport
2nd hand scooter
THB 1,000-2,000
new scooter
THB 2,000-3,000
car
THB 2,000-4,000
food, coffee
basic
THB 6,000-9,000
moderate
THB 9,000-15,000
luxury
THB 15,000+
entertainment
mostly free
THB 1,000-2,000
parties, drinking
THB 2,000-4,000
indulging
THB 4,000+
healthcare & insurance
at home
THB 0
some fixes
THB 1,000
well-protected
THB 3,000
visa and trips
never leave in 1 year
THB 1,500
some trips
THB 3,000-5,000
several fun trips
THB 5,000+
special expenditures
Thai lessons, buy stuff
THB 1,000
+ fitness membership
THB 2,000-4,000
+ golf membership
THB 4,000+

Of course, this is just a rough estimate and example of what lifestyle you could lead for which budget.
There are costs which are a one time expenditure, such as the purchase of a scooter (and which in theory you could depreciate over time, but there's no need to make things too complicated here). Also, there are costs such as a health insurance, which you may have at home or purchase here.
What costs you have entirely depend on you, what kind of things you buy. Live on noodles and you'll last long, buy a pack of Swiss muesli or specially imported stuff from Europe and your bill will mount much higher.
Some guys even keep an explicit budget of fun things like drinking, going out and buying girls, in that case you can easily double your spending. Other guys brag about or make a sport out of living as cheap as possible (www.trektheworld.tv/travel-chiang-mai-thailand-budget-money-saving, but I wouldn't be proud of it).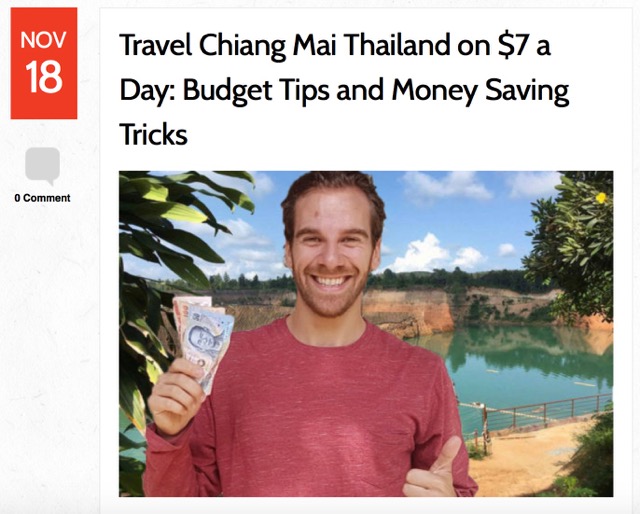 Chiang Mai resident proud to live on USD 7 per day

The truth however is that the majority of local Thai are probably living off a budget of less than THB 10,000 per month, so in theory you can too. From their perspective, anything on top of that is in fact pure luxury.
Overall, for probably the majority of foreigners living in Chiang Mai a monthly budget of up to THB 15,000 is considered moderate, up to THB 30,000 is fair, and any figure above that is comparative luxury.

Cost of living in other places in Thailand
Similar budgets for Pattaya, Bangkok and Phuket are probably higher by some 50%, 100% and 150% respectively, compared to Chiang Mai. In Bangkok you'll spend much more money on a decent place to live, on transport and on reasonable food. In Phuket nearly all prices are much much higher than in Chiang Mai.
Other places in Thailand such as Chiang Rai, Udon Thani etc. are probably at about the same cost level, at least they can't be much cheaper because the market isn't as competitive and you may pay even more for imported goods.