If you want to transfer money from overseas into Thailand or the other way around, you can use the banks at 'normal' costs but nowadays there are many alternatives that manage to avoid the relatively high standard rates of banks and therefore can be much be cheaper while still being reliable and fast enough.

Contents
Banks in Thailand usually use so-called 'correspondence banks' in other countries to make an international transfer happen. This could mean that some currency conversions go through EURO and others through USD.
There are fees for the sender and fees for the receiver.
If you send money into Thailand, you will get a better exchange rate by sending the funds in foreign currency to Thailand, to convert it by the receiving bank, rather than converting it before sending it.
Fees
Typical total fees for sending money overseas amount to some THB 800-1,200.
In addition, banks charge for currency conversions and make some margin on it.
This makes wiring money through regular banks rather expensive for smaller amounts of money.
Time
Normally about 4-5 working days.

Bangkok Bank has the highest number of international branches overseas amongst the Thai banks, and is therefore able to offer a special service for inwards money transfers only from a limited number of countries:
the US, the UK, Switzerland, Japan, South-Korea and Israel.
Fees
Super cheap rate, about USD 5 per each time, irrespective of the amount of money you send.
Time
Just 1-2 working days
How to?
You transfer the amount in foreign currency to a Bangkok Bank branch overseas. There is a BIC / SWIFT code for these branches and you have to put in a bank account number or assignee in the reference.

Condition: receiver must have a Bangkok Bank account in Thailand.

The money is then first wired into the Bangkok Branch office in that respective country, and then wired into Thailand to the Bangkok Bank account of the receiver.
Full instructions from the US: read
here
.
Full instructions from other countries: read
here
.
This service even works with Paypal. When you select the option to withdraw money from Paypal you can send it to the Bangkok Bank account in the US. Then you can get it into Thailand at minimum costs. This will be much cheaper than using Paypal to get your money into Thailand.
Digital nomads and people working online who receive some of their income through Paypal can benefit a lot from this service.
Note: It's better not to convert the USD into THB because the bank will convert it for me in Bangkok and it'll be a better exchange rate.

Western Union has offices everywhere in the world, and it's main advantage is that it's simple and instantaneous.
The sender just needs your full name as in your passport and the city where you live or will pick up the money. Then the cashier issues a code, which the receiver can use to pick up the money with his or her passport.
Fees
There are fees when sending and fees on the exchange rate.
The total fees could amount up to some 8-10% for smaller amounts. However, some people report that it's cheap to send from the UK, so fees will probably depend on the sending and receiving locations.
Time
Instantaneous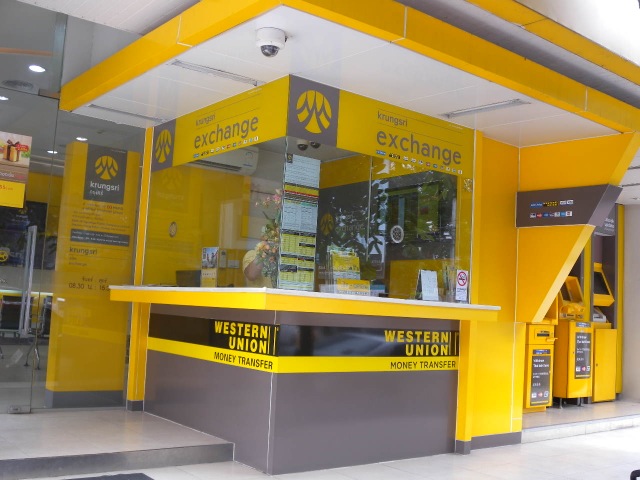 Western Union is everywhere in Thailand and in the world and has one of the most efficient money transfer systems,
but can be more expensive for smaller amounts and certain locations

Paypal works fine for international transfers, however the fee system is a bit complicated.
Fees
Fees depend on where the account of the sender and of the receiver are and could amount up to 2.9%.
You can save on fees when you select the option 'family and friends', rather than 'paying for services or goods'.
In addition to that, Paypal charges quite heavy on the exchange rate.
In total, fees can add up to some 4% or so, making it cheaper than regular banks for small amounts but about the same as for bigger amounts.
Time
Transfers through Paypal are fast, normally within one working day but often instantaneous.
Another great way to wire money internationally, at much lower costs than the banks is through
TransferWise
.
The only requirement is that you have a bank account in the country where you want to receive the funds.
TransferWise works through smart swaps, avoiding the excessive charges by normal banks.
Bitcoin can be used to wire money internationally at very low costs, but it takes some effort to get through the process of working with it. In essence, the value of a Bitcoin fluctuates and you will have to purchase and sell it on certain exchanges. This creates extra risk, perhaps an unnecessary position in Bitcoins, and complications, so for most people this is not really a straightforward way to sell money.

Besides the above mentioned, there are several other online money wiring services that people report to have good experience with: World Remit, UK Forex, HiFX Online, Kapook UK, and so on which operate at similar rates and fees as TransferWise.