Khantoke and Northern Thai Food
---
Last edited: September 05, 2017 at 15:01:50
---
Introduction to Northern Thai Food
Northern Thai Food is distinctly different from 'normal' or 'standard' Thai food that you may already be familiar with, such as Tom Yam Goong or Pad Thai. Also called Lanna food - in Thai: Ahaan Lanna (อาหารลานนา) or even Ahaan Muang (อาหารเมือง) - it is the main food for local Chiang Mai and most provinces in northern Thailand (but not in the Northeast).
Lanna food is different from other Thai food in that it uses many natural grown plants and vegetables, often of the kind that simply grows in the wild, along the fence of your house, or in the pond or canal, while added sugar and coconut milk are scarcely used. This makes it a rather healthy and natural kitchen, without artificial flavorings.
Due to its vicinity to Myanmar and prolonged periods of occupation by the Burmese (in particular by the Ngiew, a Burmese tribe), some dishes of Lanna food were influenced by Burmese cuisine. For example, it is rather common to eat the food with sticky rice or gluten rice, rather than with 'normal' rice.
*** A fun way to try Northern Thai food is to book a Khantoke dinner show ***
Some of the most popular dishes in Lanna food:
1. Khao Soi (ข้าวซอย)
Khao Soi is a curry noodles soup which is definitely one of the most local dishes in Northern Thailand, that isn't common at all in the South or in Bangkok, for example. Perfected by optional additions of lime, onion, chili and pickled cabbage, Khao Soi can easily be found as both street food and in local restaurants throughout Northern Thailand. There are many versions of Khao Soi, some shops use more spices, others use a different kind of noodles and there is even a muslim / Yunnanese version of it. The average cost of a bowl of Khao Soi is only about 30 to 50 baht so that won't break the bank.
Recommend places to try some of the best Khao Soi in Chiang Mai are: Khao Soi Mae Sai, Khao Soi Islam and Khao Soi Pa Lar, but everyone really has his or her own favourite.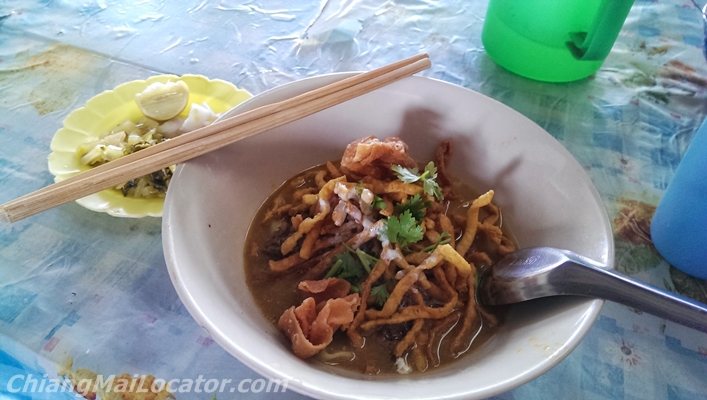 Khao Soi is a "must-try" for everyone who's been to Chiang Mai.
Finish it off with a little lime, onions and pickles, yummie!
---
2. Chiang Mai Sausage or Northern Thai Sausage, in Thai: Sai Oua (ไส้อั่ว)
Sai Oua is a grilled sausage of ground pork mixed with spices and herbs. 'Sai' means intestines 'Oua' means to insert or fill in, hence it's essentially a sausage. Chiang Mai sausage is 'world famous' all over Thailand and you order them a-la-carte in expensive restaurants but also find the same quality in local markets.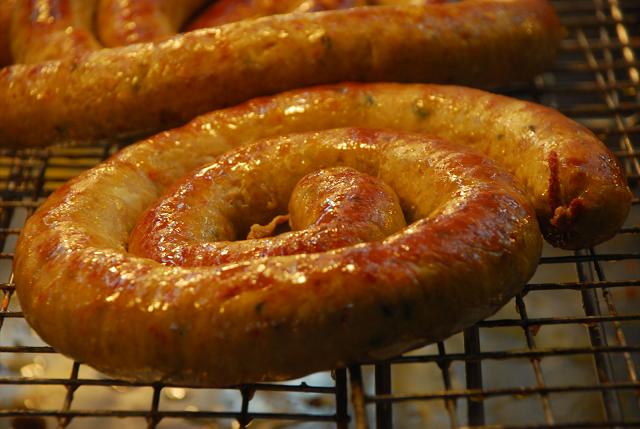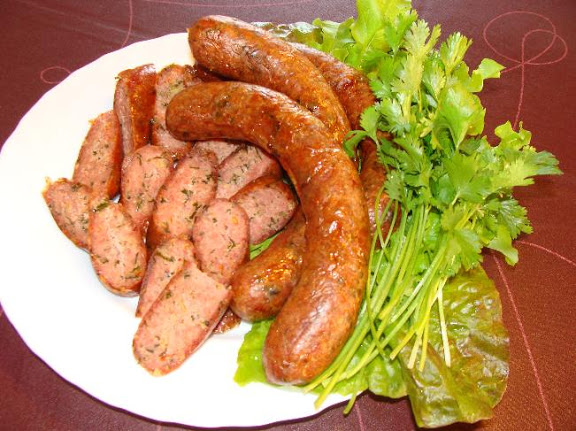 Chiang Mai sausage is a tasteful snack or appetizer for meatlovers
---
3. Kaeng Hang Le or Hin Le Curry (แกงฮังเล)
Kaeng Hang Le is a tender stewed pork curry which is a Burmese influenced dish, and often also simply called 'Burmese pork curry'. Kaeng Hang Le is made of pork, curry paste, ginger, kumin and tamarind juice (not sugar!), which is usually made earlier in the day to be ready to serve later. It's a stew, not an 'instant curry', so unlike green, red and yellow curries with chicken, shrimps or beef added, this type of curry cannot be made 'on the spot'. (In general, curries always get better if they are prepared a while before, so that the spices have can truly merge.)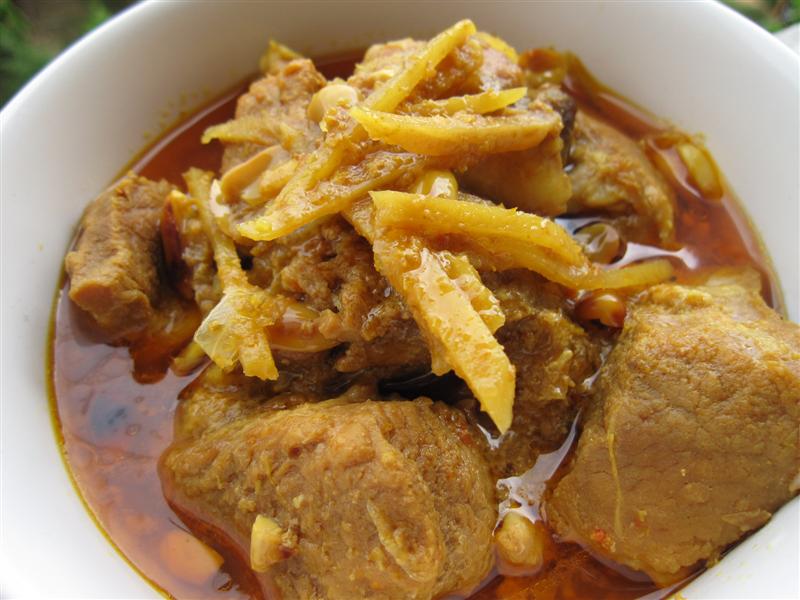 Burmese pork curry is a great stew that rivalles Western style stews in delicacy and taste
---
4. Chin Som (จิ้นส้ม) or Naem (แหนม)
Chin Som is essentially meat, it can be made from pork, beef or buffalo meat. It can be eaten by itself (raw) or be cooked by grilling with the wrapper on it as 'Chin Som Mok' or added into some other dishes such fried egg with Chin Som or fried rice with with Chin Som.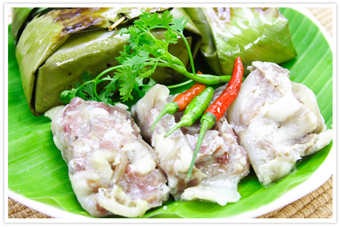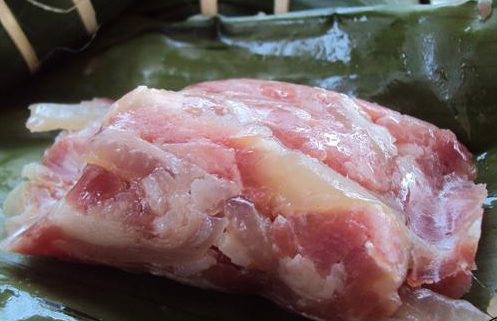 Fancy some tasty meat, either grilled or raw, try Chin Som.
---
5. Khanom Jin Nam Ngiao (ขนมจีนน้ำเงี้ยว) or Khanom Sen (ขนมเส้น)
Going by the name Khanom Jin it would suggest it's a Chinese snack or desert, but it's said that this name was distorted from Burmese origin. Nowadays, it's an immensely common and popular dish for locals. You can find it on any market and often on streets. Khanom Jin Nam Ngiao is vermicelli or rice noodle in a special soup with curry paste, pork or chicken, tomato and ... boiled blood. Take it with the blood, and you can start to call yourself a local

, take it without the blood and you know you're still a visitor.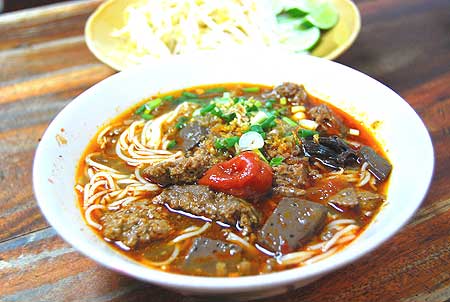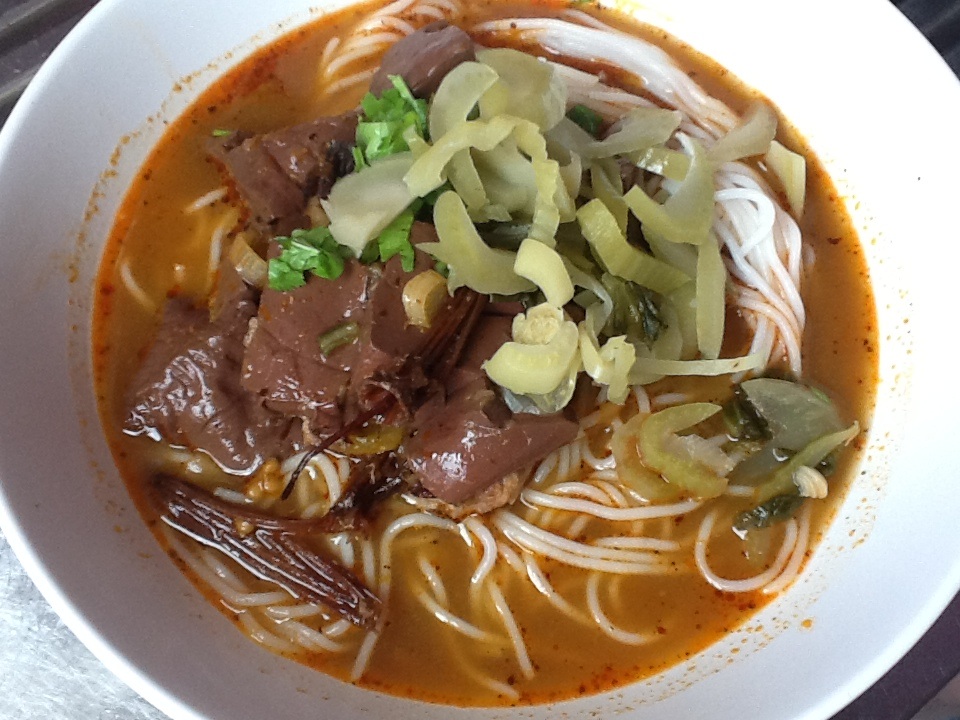 Khanom Jin is a tasty noodles soup that you can find almost anywhere at night time on markets and streets
---
6. Kaeng Khanun (แกงขนุน)
Kaeng Khanun is a young jackfruit curry added curry paste, with pork, tomatoes and Cha Om (Acacia insuavis). Khanun is an auspicious name so the soup made from it is popular at weddings and New Years to ensure prosperity and success.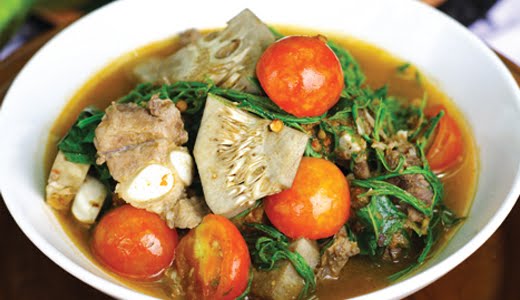 Kaeng Kanum is an auspicious dish served at weddings
---
7. Namphrik Num (น้ำพริกหนุ่ม)
Namphrik Num is a young green chili paste that is usually eaten as a sauce to complement dishes, often vegetable dishes, sticky rice or other food. It is made of roasted young big green chilli's, with chopped fermented fish or roasted shrimp paste or fish sauce added to it and all grounded into a thick paste. Namphrik Num is popular both with locals and visitors, some visitors bring it home as a souvenir or gift to their friends and relatives.
It's suitable for vegetarians if you allow yourself fish sauce.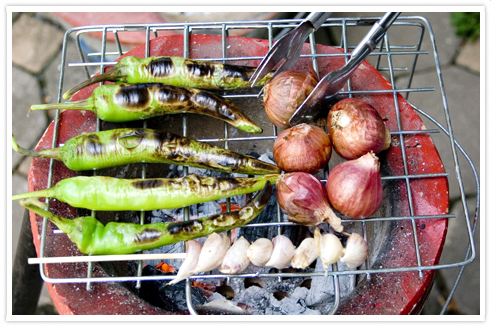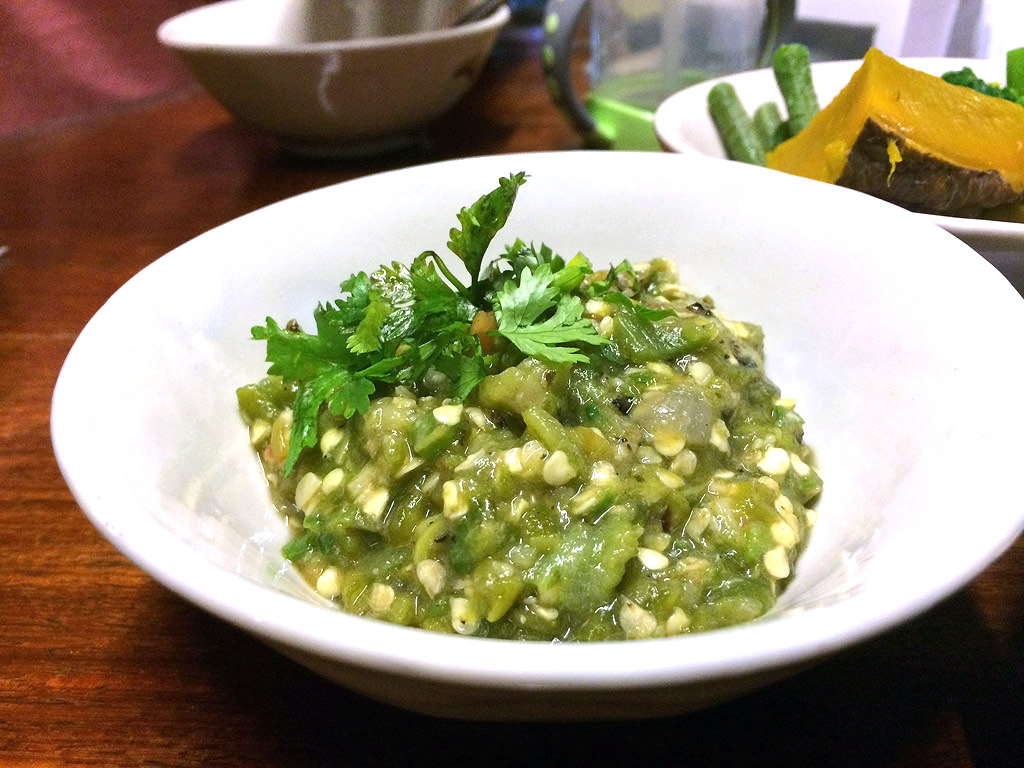 Namphrik Num is the ultimate dipping sauce suitable for vegetarians
---
8. Namphrik Ong (น้ำพริกอ่อง)
Namphrik Ong is another great chili sauce, similar to Namphrik Num, however not vegetarian. Namphrik Ong is made of minced pork cooked in chili paste and crushed tomatoes. Namphrik Ong has a reddish color from the dried chilies and tomatoes with a sour, salty, spicy and sweet taste combined. It is served with sticky rice and fresh or boiled vegetables.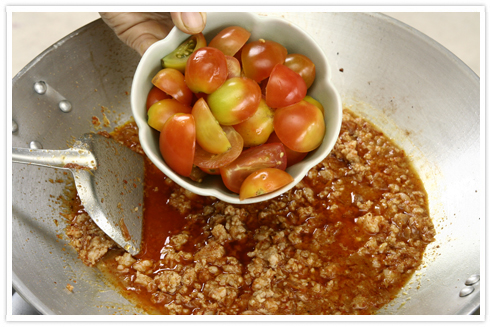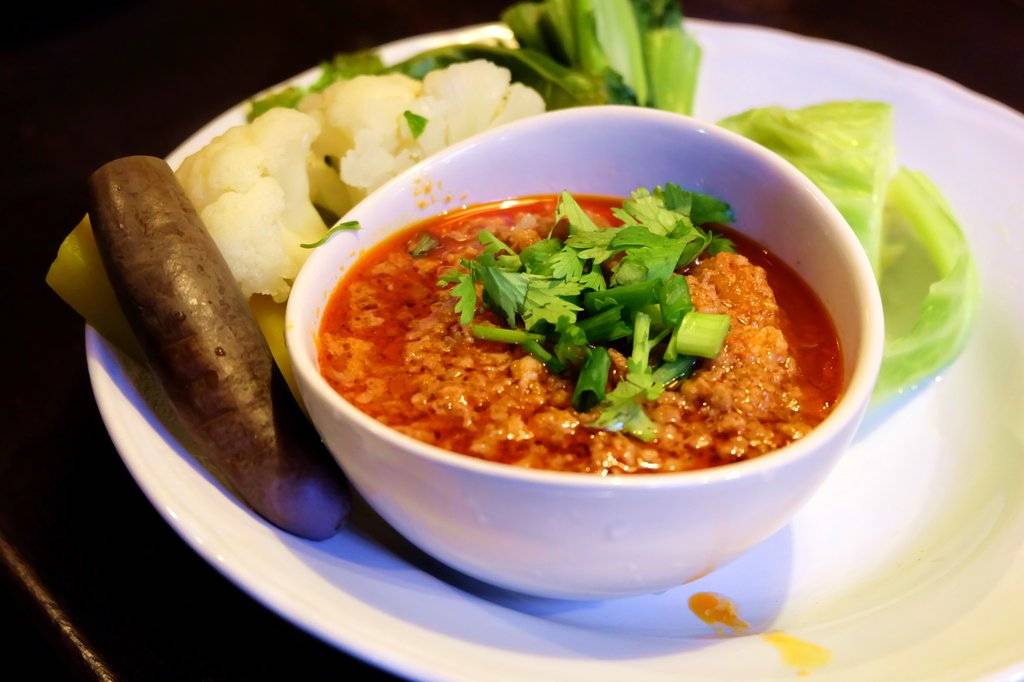 Namphrik Ong is great dipping sauce suitable for meat lovers
---
9. Lap Moo (ลาบหมู)
Lap Moo is another Burmese influenced dish that is popular in every season. Lab (ลาบ) is a way of cooking by finely chopping or grinding meat to be mixed with a spicy chili paste called Phrik Lap and some other optional ingredients. Moo means pork.
Lab Moo in Northern Thailand is different from Lab Moo in the Northeast of Thailand: in Northern Thailand it is made of minced fresh meat (pork with blood and boiled organs which are thinly sliced) mixed with chilli paste for Lap (roasted dried chilies and several kinds of spices pulverized to a powder or paste). Lap is usually eaten fresh (raw) or cooked by stir frying it in a bit of oil.
Lab can be made of pork, buffalo meat, cow meat or fish.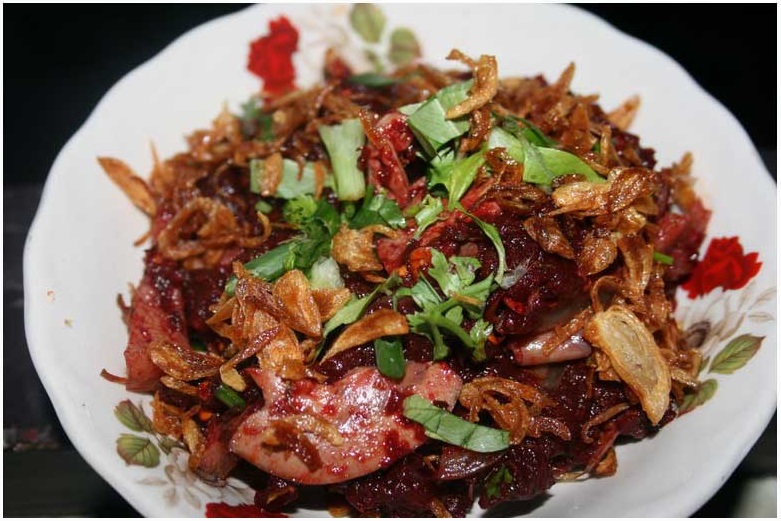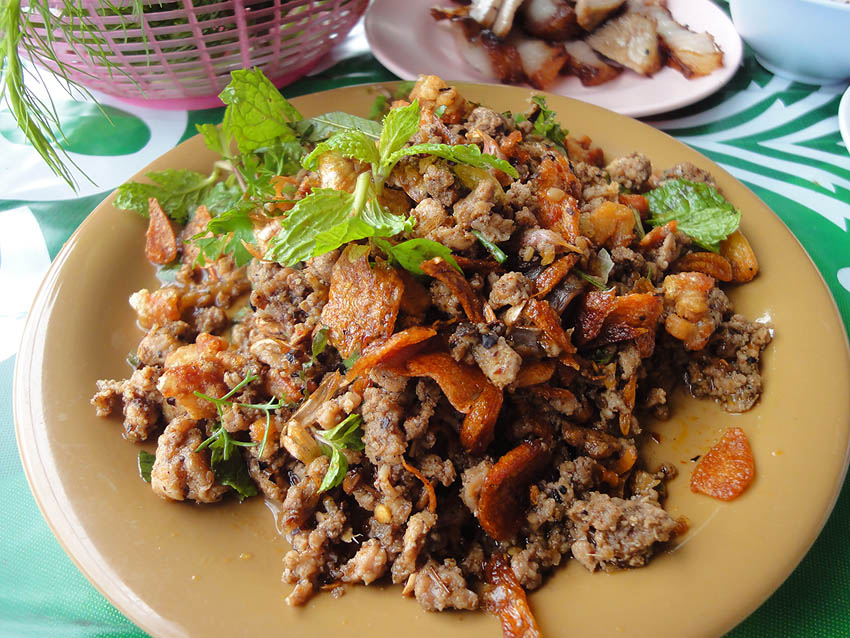 Lab is meat mixed with a special paste
---
10. Kab Moo (แคบหมู)
Kab Moo is a crispy deep fried pork skin. Usually served with Namphrik or eaten as a snack.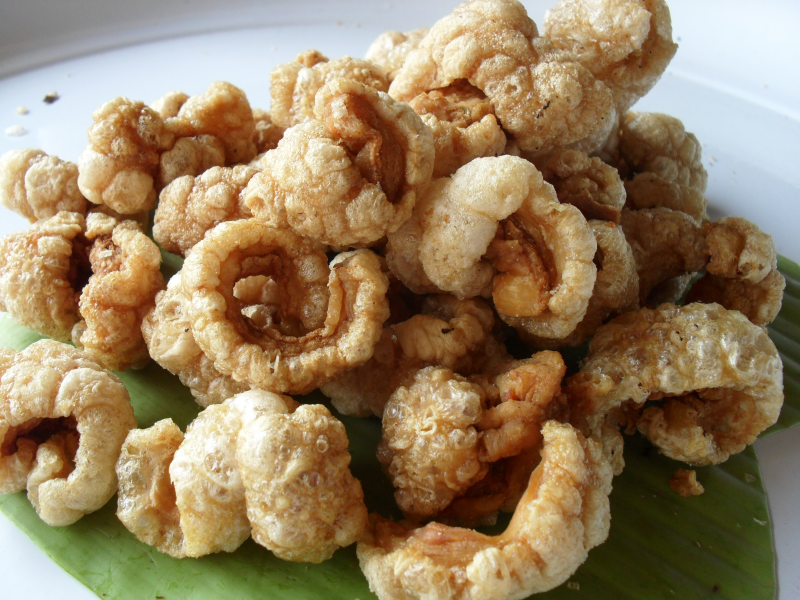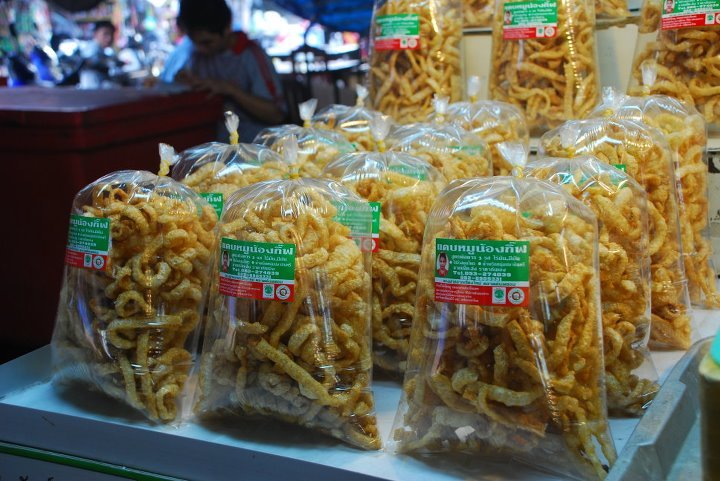 Crispy pork skin is a good alternative to potato chips
---
Video about eating culture of Northern Thai people

Source: Anthony Bourdain: Parts Unknown - Thailand S03E07 (Chiang Mai Food)
Khantoke
Khantoke (ขันโตก) is a small round shaped raised tray made of teak wood or woven rattan. Northern people usually serve food on a Khantoke and eat together by sitting on the floor.
Eating Northern Thai food from a Khantoke while watching a traditional dance show is a good way to get familiar with Northern Thai culture.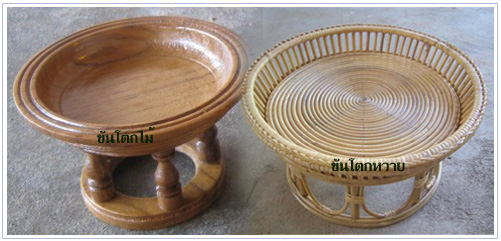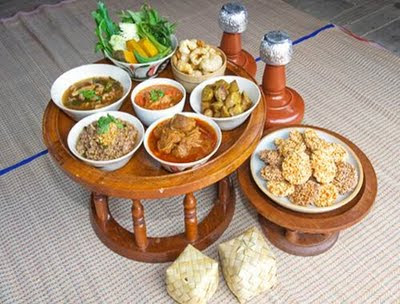 Places to try Khantoke in Chiang Mai
Name

Area

Dinner Prices

Khum Khantoke


Tha Sala, Payap University Area
590 baht per person


Pickup service available

in city area at 100 baht additional per person

Old Chiang Mai


Wualai Street
520 baht per person


Pickup service available

in city area at 100 baht additional per person

Khantoke Palace


Changklan Road
450 baht per person


Pickup service available

in city area, 50 baht additional per person

Benjarong Khantoke


Suthep Road
350 baht per person
No pickup service
Sibsongpanna Khantoke


Suthep Road
300 baht per person
No pickup service
Khantoke Sai Thong


Sankampaeng
Coming Soon

Note:
- All prices are net in Thai Baht for refill buffet excluding drinks
- For most places: Khan Toke dinner start at 6:30 pm, performances start at 8:00 pm.
- Pickup services are subject to additional cost, pickup time is 30 minutes to 1 hour before dinner time.
- Prices are subject to change and will be reconfirmed upon your booking.