Ninety days reporting for Thai visa
---
Last edited: December 30, 2015 at 05:48:17
---
Every foreigner staying on a non-immigrant visa for 1 year can choose not to leave the country during that year, however he/she must still report to Immigration every 90 days. Reporting to Immigration shouldn't take much time when Immigration allows it to be done at a special counter, but sometimes it can still be time-consuming.

It's important not to forget it because a penalty fee will be levied for late reporting (more than 7 days after reporting due date): from THB 2,000 to maximum THB 5,000, depending on how late you are.
Every time you go to Immigration for your non-immigrant visa, you'll get a white paper in your passport telling you when is the next date you've got to report. You can report 15 days before this date and up to 7 days after this date. From the 8th day after the due date, you'll have to pay the fine.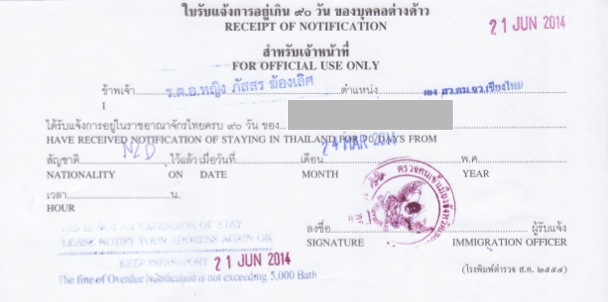 White paper specifying the date on which you have to report to Immigration again.
You can go 15 days before this date or maximum 7 days after. Later than that will cost you a fine.
If, within the period of 90 days you leave the country and return again, your reporting duty to Immigration starts again only 90 days after you have entered the country (because you have already been checked by Immigration at the border).
For example, you are supposed to report to Immigration on April 1, however you travel out of the country before this date and you come back on March 1. Then you don't have to report on April 1 anymore, you simply report at the end of May (to be precise: May 29) which is 90 days after March 1.
1. Go in person
Most people simply go to Immigration by themselves on the day or a few days before reporting needs to be done.
Unfortunately, sometimes there can be enormous waiting queues and you'll be waiting all day, or if you arrive at Immigration too late, you may not get a ticket number for that day and you have to come back the next day.
2. By post
Believe it or not, but you're also allowed to send in your passport by post.
You can do so by sending it by registered post to the old address of the Immigration Office in Chiang Mai:
Chiang Mai Immigration
71 Moo 3, Sanaam Bin Road
T. Suthep, A. Muang
Chiang Mai 50180
You can use EMS (or DHL) and send it in from 15 days before due date.
Include a self-addressed and stamped envelop to get your passport back.

Many foreigners report having done this many times without any problems.
Some people feel unsure to send something as important as your passport, and don't want to have the risk that something goes wrong or is missing and that you then risk overstaying.
3. Using an agent
You are also allowed to authorize someone to report on your behalf, and quite a lot of visa agents offer this service at modest costs.

4. Reporting online
According to announcements by the Immigration Department, 90-day reporting can soon also be done online:
reporting online
, but for the time being only with browser Internet Explorer and it doesn't always work very smoothly.
You will get a receipt with a transaction reference number and a barcode.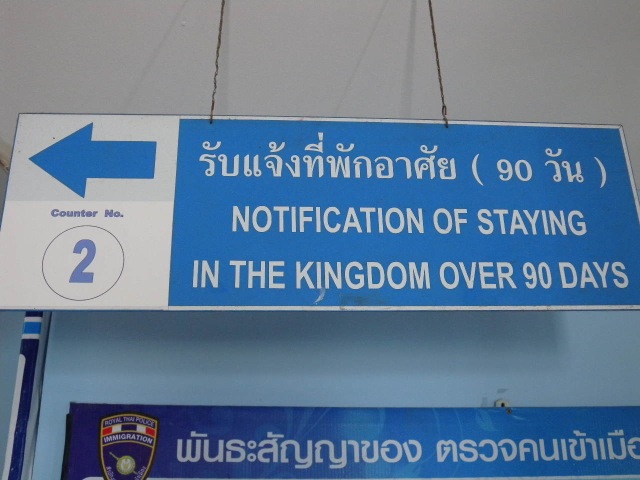 Special counter for 90-day reporting for 1-year non-immigrant visa holders
Costs: THB 1,900 or dependent on the type of Non-Immigrant visa
Tired of queuing up at Immigration? Outsource your visa trouble to us. Want to stay long term in Thailand? Get a 1-year visa with ease.
---
DISCLAIMER: This information was compiled from several sources and best-practises. Policies, prices and procedures of the Thai authorities change continuously. CM Locator accepts no liability for incorrectness of information here. Help us keep this information as update and useful for visa applicants as possible and let us know if you find something has changed.