Why Chiang Mai is the best place to live in Thailand
---
Last edited: May 27, 2014 at 03:58:59
---
Taste and personal preferences can't be disputed, but Chiang Mai is definitely one of the nicest places in Thailand to live in. Unless you can't live without the sight of the sea and beaches, or you crave the cosmopolitan feeling of a big city like Bangkok, you can find almost anything in Chiang Mai that can give you a great quality of life.
What makes Chiang Mai such an attractive and even magical city?
Here are the top 10 reasons for making it your homebase.
1. Ideal size
Officially the country's second largest city with more than 1 million inhabitants (official figures are not consistent), Chiang Mai is the type of city that is not too small not too big (although some people who have known Chiang Mai for a long time regret that it is currently expanding so rapidly). You can reach all interesting areas in town on a scooter within 20min and they are all cyclable on a pushbike. Compare that with Bangkok, where you'll be stuck in traffic for 45 min to get one block further.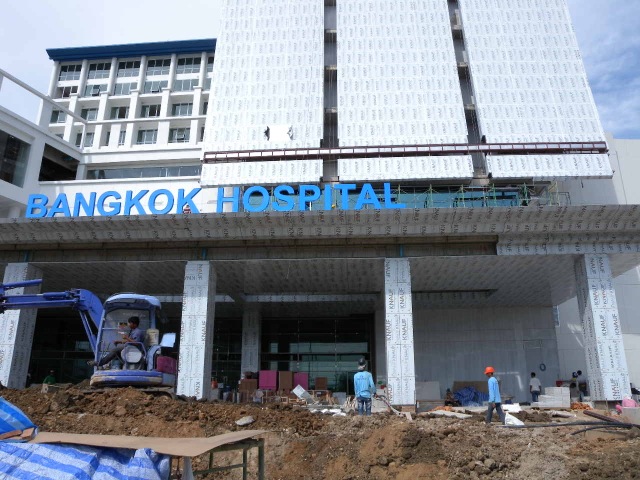 Construction is ongoing for the new Bangkok Hospital, a premier hospital group providing excellent private care. There are already many hospitals in Chiang Mai. Chiang Mai is rapidly expanding in size and facilities these few years.
2. Great facility level and great food
Chiang Mai offers a very high level of facilities, even more so considering its moderate size. There is an ample supply of all kinds of accomodation at very reasonable price levels, and all kinds of facilities such as swimming pools, fitness centers, golf courses, shopping malls, hospitals, western supermarkets and so on.
As for food, Chiang Mai is probably the city in Thailand with the highest density of good restaurants. You can find almost any cuisine, it's easy to reach and it's affordable. The only food which is harder to get in Chiang Mai is fresh seafood.
Read more about food reviews.
3. Low cost of living
Chiang Mai is one of the cheapest places to live in Thailand, and in the world. Many foreigners live fairly comfortably on a budget of THB 20,000 (USD 600) per month, and if you have more you can live like a king. Read more about cost of living in Chiang Mai.
4. Genuine and kind local people
Tucked away in the North of Thailand, away from hard and commercial life in Bangkok and from mass commercial tourism in the South (Phuket and Pattaya), local people in Chiang Mai are amongst the most genuine in Thailand. Although being a major tourism destination in Thailand, local people generally have kept their original identity and treasure their local culture. On the negative side, one can experience it as having a provincial character, but seen positively you can meet many simple and modest local people.
5. Richness of local cultures
Chiang Mai used to be the center of a regional Kingdom called Lanna, with a distinct culture and separate from the great Siamese powers in the south. As a consequence, the density of local culture is much higher than in Bangkok: there are about as many temples in Chiang Mai as in entire Bangkok.
Conquered and influenced by Myanmar in the past, and nowadays a magnet for all kinds of minorities, Chiang Mai hosts a multitude of different cultures, sometimes living in their own neighbourhood but harmoniously with each other: hilltribes, Chinese, moslims, Indians, Jews, Buddhists, Sikhs and many more.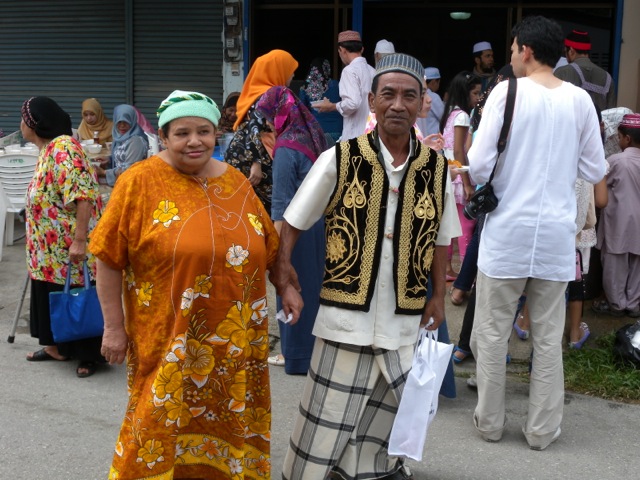 Ethnic diversity other than the majority of Thai Buddhists.
There are no tensions between ethnic groups in Chiang Mai, like in the South of Thailand.
6. Suitable for any lifestyle and activities
You can live almost any lifestyle you want in Chiang Mai: from relaxing, chilling out and doing virtually nothing, to an active lifestyle with yoga and focussed on well-being, or playing golf or any other sports. Possibilities to work and do business are more limited, as Chiang Mai is not a business city, but a lot of foreigners find their own work or ways to earn money. Read more about activities and communities in Chiang Mai and how to make money in Chiang Mai.
7. Beautiful natural surroundings and immersion with nature
Chiang Mai is located in the middle of a few mountain ranges, which you can see in great detail when the sky is clear. It only takes less than an hour drive to be completely out of the urban heat, and experience total nature.
However, within the boundaries of the city, there is nature everywhere, Chiang Mai is probably one of the greenest cities in Southeast Asia (if not, in the world).
Local culture respects older trees, so you often see that entire buildings are constructed in a way as to leave a big tree untouched.
Hence, Chiang Mai offers a unique balance between city life and rural life. Wherever you are, you will always be able to enjoy nature, whether it is a lush restaurant garden during lunch or simply the view on the mountain Doi Suthep from your balcony. Mountain view is a common good in Chiang Mai.
Similar sized cities in Asia often do not display this feature, as they are not as green, think about Phnom Penh where most trees are cut.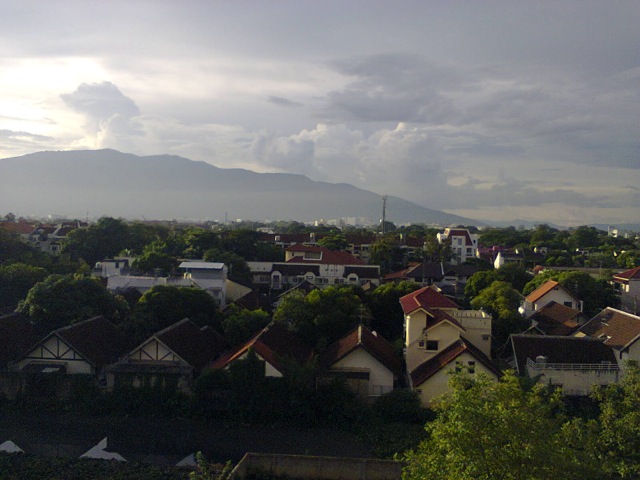 Mountain views in Chiang Mai are a "common good" and there is always a unique balance between nature and city.
8. Mild climate
Even amongst Thai people Chiang Mai is much preferred for its milder climate. Thailand being a tropical country, it can be melting hot everywhere, but Chiang Mai does have some real seasons and even a chilly period in winter. Read more about climate.
9. Safety and atmosphere
Chiang Mai is one of the safest places in Thailand and you can walk around everywhere without being hassled. There is a very low crime rate. Most crimes related to foreigners happen in Pattaya, Phuket and Bangkok. Local and Russian maffia seem to feel more attracted to a 'Miami Vice' lifestyle with beaches and sea in Phuket and Pattaya, than to a mountain retreat in Chiang Mai. Also, for some reasons many foreigners 'jump' from the balcony in these places too.
10. Flight connections
Chiang Mai is, after Bangkok, the best connected city in Thailand when it comes to flights, making it a convenient homebase or travel hub in Southeast Asia. Most major cities in Asia can be reached in maximum 2 stops. Check flight connections from Chiang Mai (coming soon).

Summarized and in all fairness, the only thing that Chiang Mai really lacks are sea and beaches, and that's why a lot of visitors and residents of Chiang Mai make trips to the South now and then to get a bit of a sea breeze. However, located in the middle of several mountain ranges, you can enjoy so much nature and different landscapes within a 1 hour drive that for most people this more than compensates to make Chiang Mai their homebase.