Tien Sieng Vegetarian Foods
---
Any changes about this business?
Contact us
.
---
Address

Phrapokkloa Road, Chiang Mai, Thailand

Phone

(053) 206056, 206070

Coordinates

18.782246, 98.988892
More info
Tien Sieng Vegetarian Foods Co., Ltd.
FOOD REVIEW BY MICHAEL
TEIN SIENG (天香)
Simple vegetarian buffet
Cuisine: health foods, vegetarian
Rating: ★★☆☆☆
Price indication: not expensive; standard meal about 25-30 baht
Open: every day except Sunday for 'breakfast' and lunch, closed around 3pm
This vegetarian is often referred to as "the vegetarian at Chiang Mai Gate", more often than you hear its real name 'Tein Sieng'. Tein Sieng or 天香 means 'Heavenly Fragrance' in Chinese and clearly this place has some Chinese roots. It's a very modest place yet frequented by a loyal crowd of both Thai and foreigners. It's buffet-style so just walk up to the counter, point out which dishes you like on your plate and eat. A standard plate with rice and some dishes is in the order of THB 30.
The food isn't bad, it's rather plain but the kitchen uses Maggi and other hidden sources of MSG here, that are also for sale in the shop. Unfortunately there are no soups, but there are some noodle dishes too.
There are plenty of seats and the staff is simple and modest.
Besides MSG being a main ingredient in the taste of this kitchen, I also regret that no brown rice is served, but plain rice with a few grains of brown rice in it.
Other than that, it's a good and simple place to have a lunch.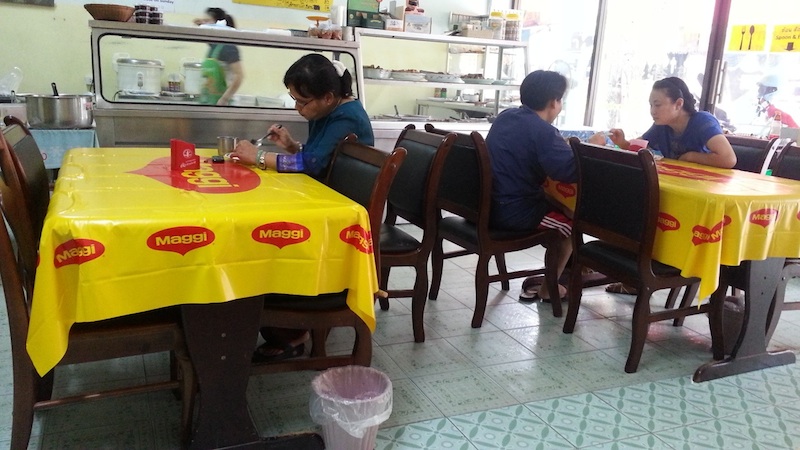 Tien Sieng offers vegetarian food, but the taste is mainly derived from Maggi and additives (MSG)
Map
Video
Tien Sieng Vegetarian Foods photos
Other businesses in this area