A. study Thai language
B. study Chinese language
The reason for this is that while the laws are national, the authorities that approve the school program are local, so there are variations in which schools and which programs are allowed to provide the ED visa. This can depend on different interpretations of the rules by local authorities and it can also depend on the relationship of a certain school with such authorities.
Because conditions of the study program vary amongst schools, you as a foreign student can benefit from that by choosing the program that best suits your needs.
The procedures for student visas are a bit different from other visa. The school you will be attending plays a central role. Together with the school you will have to prepare and submit sets of documents before and during your year of study.
Here are the steps you have to take:

1. SELECT THE SCHOOL AND THE STUDY PROGRAM
Not all schools provide programs that allow for the ED Visa, only schools which have been approved by the Ministry of Education. Most foreigners choose a program based on their interests, the area they (want to) live in, and the conditions of the study.
To make things easy, we have selected a number of good study programs for you in various areas of town, with attractive study conditions.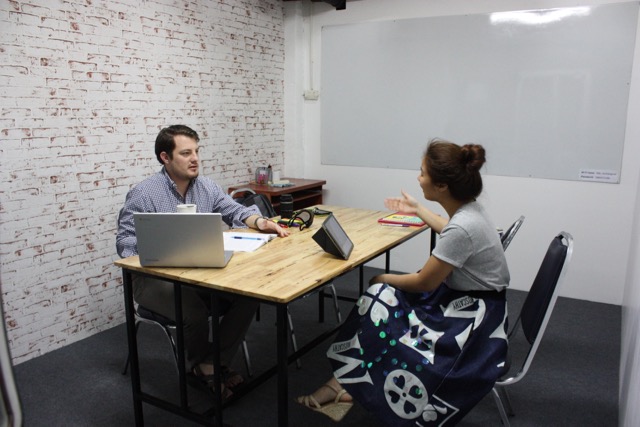 Learning Thai in private class or in group class (in TSL Language School Chiang Mai)
2. APPLY FOR THE EDUCATION VISA WITH THE SCHOOL
You need to fill out a set of documents with the school. You need to submit copy passport and passport photos and you need to specify in which Embassy / Consulate you wish to pick up the first entry of your ED visa.
This means that you cannot just stay on in Thailand if you're applying from within Thailand, you need to travel to a Thai Embassy / Consulate abroad to pick up the first ED visa entry. Most foreigners in Chiang Mai choose to pick up the first entry in Vientiane, Laos, because this Embassy is rather smooth and not so far from Chiang Mai, so it will incur not too high travel costs.
However, if you're applying from abroad, you can save yourself time and money by applying for your ED visa before you enter Thailand. You can then simply pick up the first entry in the country where you are at that moment.
Note that the time needed to process your application is about 3 weeks.
3. PICK UP THE FIRST ENTRY OF YOUR ED-VISA
Go to the Embassy / Consulate that you selected and ask for the ED visa. Bring passport, passport photos, money and proof of income or savings. Some Embassies are stricter than others, it's better to bring sufficient proof of everything so that you can answer in case of further questions.
Additional documentation that authorities could ask for are:
- proof of income: to show that the applicant can support him/herself and doesn't not work in Thailand;
- two year visa history, personal history check and purpose of attending the course.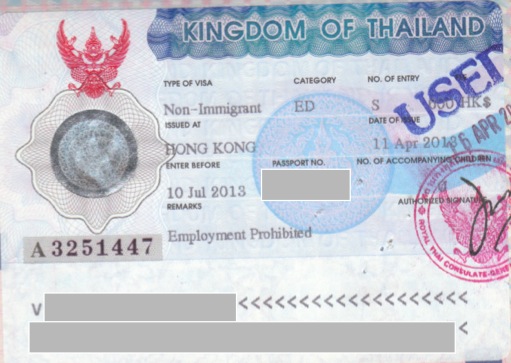 The first entry of your education visa has to be issued from an embassy or consulate abroad
4. ENTER THAILAND AND COMMENCE STUDY
From the date that you enter Thailand, your first entry lasts 3 months.
5. REPORT TO IMMIGRATION EVERY 90 DAYS
Your stay in Thailand starts from the moment that you enter Thailand. Immigration demands that you report to them every 90 days.
About 14 days before your 90 days are up, you should be in contact with your school to prepare documents to report. Some schools are more active and more organised that others, so keep an eye on this calendar yourself. Some schools send admin staff to go with you, others let you pick up the documents by yourself and you have to go alone.
If you report later than 90 days, you have to pay a fine to Immigration. It's better to report early and you're allowed to report up to about 14 days before.
If you study Thai language, Immigration may ask some questions to students randomly to check if you're really studying.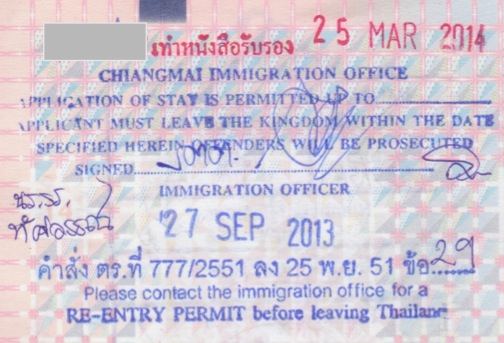 Third entry of the first year non-immigrant ED visa,
officially 180 days (but effectively being 179 days)
4. GET A RE-ENTRY PERMIT WHEN LEAVING THE COUNTRY DURING YOUR YEAR OF STUDY:
If for whatever reason you need to leave the country during your year of study, you need to get a
Re-entry Permit
from Immigration, if not you will lose your visa. You need to apply for a single re-entry or a multiple re-entry permit (different prices) at Immigration.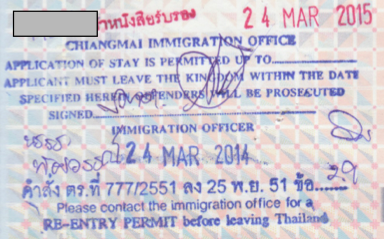 The 2nd and 3rd year you simply get an entire calendar year stamp in your passport
5. APPLY FOR A NEW YEAR OF STUDY
Before your 1-year ED visa expires, you can extend it by applying for a new year of study. Again, you need to pick up the first entry outside of the country. You need a few weeks of preparation time for that.
As of now, the rules are that you can apply for an ED visa with the same school for a maximum of 3-4 years (often depends on the school).
COSTS OF AN ED-VISA
For a 1-year ED visa you need to pay the following fees:
the school fees: this varies per school and per program between THB 15,000 and THB 40,000 for a 1-year study

the fees for the first entry of your ED-visa to be paid to the Embassy / Consulate amount: about THB 3,000

the fees for 90-day reporting to be paid to Immigration: THB 1,900 for each entry, so for a period of 1 year you pay a total of THB 5,700.