Accha Authentic Indian Cuisine
---
Any changes about this business?
Contact us
.
---
Address

Nimmanhaemin Road Soi 5, Chiang Mai, Thailand

Phone

099 -2911551 - 052005328

Website

Coordinates

18.7986458, 98.9689380
More info
Acchá offers authentic Indian food in the heart of Nimmanhaemin, Chiang Mai. Excellend Indian food with an extensive menu, various kitchens within India. If you like pure and delicate taste without (too much MSG), this is a good choice. Prices are higher than average Indian, because in the end they charge service charge and taxes.
Open daily 11am - 11pm
FOOD REVIEW BY INGRID
Rating: ★★★★★
Recommended dishes: everything from the tandoori oven
Price indication: a bit expensive; average meal about THB 400+ / person
Open: every day
Acchá is the first, one and only real Indian in the (Greater) Nimman area I have come across and it is here to stay. All food is good here but sometimes the meat portions can be a little small, especially for lamb, just a few chunks in your Rogan Josh in a lot of gravy curry.
The grill is good, so all tandoori's and bread are good as one can expect from a real Indian.
Accha is now housed a beautil large house in Nimman soi 5, but orginally started in a little hut a few sois down.
Price-wise, Accha can be rather expensive if you're not used to it. Basmati rice is served at 60 baht for a portion, the highest I've ever paid for a dish of rish in Chiang Mai.
Quality-wise, Accha is probably the best Indian in Chiang Mai. Pure, clean, tasty food with a big difference between various dishes. There are about three chefs in the kitchen, hard to beat. Nepalese waiters with good English.
Accha is a must-eat, if only because of the 6 different chutneys that are served for free at every table. Delicious mango chutney!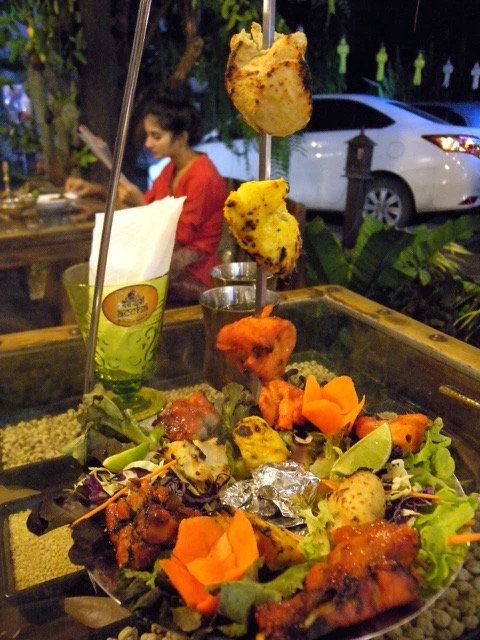 The tandoori grill works fine at Accha
Map
Accha Authentic Indian Cuisine photos
Other businesses in this area