Accha Authentic Indian Cuisine
---
Any changes about this business?
Contact us
.
---
Address

Nimmanhaemin Road Soi 5, Chiang Mai, Thailand

Phone

099 -2911551 - 052005328

Website

Coordinates

18.7986458, 98.9689380
More info
Acchá offers authentic Indian food in the heart of Nimmanhaemin, Chiang Mai. Good Indian food with wide variety, prices are higher than average Indian.
Open daily 11am - 11pm
FOOD REVIEW BY MICHAEL (2015)
Rating: ★★★★☆
Recommended dishes: everything from the tandoori oven
Price indication: a bit expensive; average meal about THB 300+ / person
Open: every day
Acchá is the first, one and only real Indian in the entire Greater Nimman area I have come across in 9 years time and it is here to stay.
Acchá is bit different from the other Indian restaurants that I frequent, it's good but a bit expensive because especially the meat portions can be a bit small.
The grill is good, so all tandoori's and bread are good as one can expect from a real Indian.
Accha is housed in a little hut where all cooking happens, and the tables are spread out in a partly common area in between shops, so this is a nice atmosphere when it doesn't rain, but not ideal when it does.
Price-wise, I found Accha rather expensive considering the quantities you get. Rice is a stunning 60 baht (!), the highest I've ever paid for a dish of rish in Chiang Mai.
Overall, I'd say there are better alternatives for Indian food in town, but if you want to stick to Nimman, this is what you get.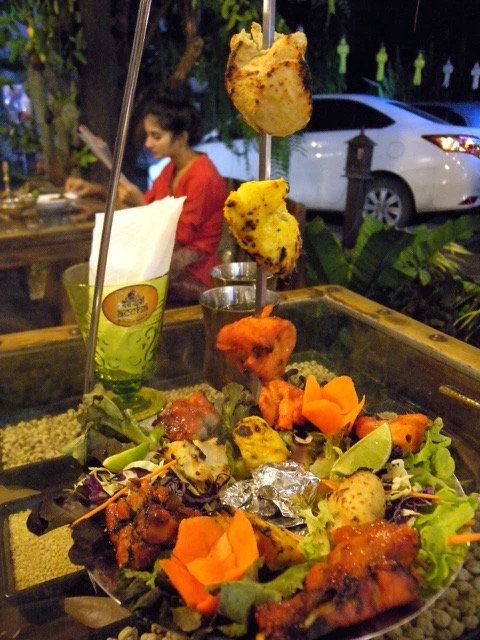 The tandoori grill works fine at Accha
Map
Accha Authentic Indian Cuisine photos
Other businesses in this area