Khao Ngiew Doi Saket
---
Any changes about this business?
Contact us
.
---
Address

25 Moo 3 Tambol Choeng Doi, Amphur Doi Saket, Chiang Mai, 50220

Phone

053 865 508

Coordinates

18.8731155, 99.1365585
More info
Khao Ngiew Doi Saket (ข้าวเงี้ยว ดอยสะเก็ด)
This shop sells Khao Ngiew, a northern Thai dish made with rice and pork steamed in banana leaf.
ร้านขายข้าวเงี้ยว อาหารเหนือทำจากข้าวและเนื้อหมูห่อใบตองนึ่ง ใกล้กับทางขึ้นวัดพระธาตุดอยสะเก็ด
REVIEW BY TASTE GURU KATY
Khao Ngiew Doi Saket (ข้าวเงี้ยว ดอยสะเก็ด)
"Khao Ngiew or Khao Kun Jin is a Northen Thai dish which came from the Ngiew people (Thai Yai). The Ngiew brought many food dishes including Khao Ngiew while they occupied Lanna. Ingredients of Khao Ngiew are steamed rice, pig blood and some mince pork. Mix everything together and season it with salt grounded garlic and fish source. Wrap it in coconut leaf and steam for 15 – 20 minutes. Serve with fried garlic, fried chili and onions. This Khao Ngiew shop is homemade and famous with locals. Located at the intersection to Wat Doi Saket and Doi Saket market. The grandmother who makes this has done Khao Ngiew for more than 50 years! This shop uses good rice which gives Khao Ngiew a good taste.
ข้าวเงี้ยว หรื้อข้าวกั้นจิ้น เป็นอาหารเมืองหรืออาหารเหนือ ที่ได้รับอิทธิพลมาตั้งแต่สมัยที่พวกเงี้ยวเข้ามายึดครองล้านนา ส่วนผสมหลักได้แก่ข้าวสวย เลือดหมู และหมูสับเล็กน้อย คลุกเคล้าให้เข้ากันปรุงรสด้วยเกลือ กระเทียม น้ำปลา เสร็จแล้วห่อด้วยใบตอง แล้วนำไปนึ่ง ประมาณ 15-20 นาที รับประทานคู่กับกระเทียมเจียว พริกแห้งทอด หอมหัวใหญ่ หรือใครจะนำไปทานคู่กับกับข้าวอื่นๆ ก็อร่อยไม่แพ้กันค่ะ ข้าวเงี้ยวดอยสะเก็ดร้านนี้อยู่ตรงสี่แยกทางขึ้นวัดดอยและตลาดอำเภอดอยสะเก็ดค่ะ เป็นร้านที่มีชื่อเสียงคู่อำเภอดอยสะเก็ดมาช้านาน โดยร้านที่ทำก็เป็นบ้านธรรมดา ทำแล้วออกมาตั้งโต๊ะขาย แต่เดี๋ยวนี้คนมาสั่งซื้อหรือมาสั่งให้ทำเป็นส่วนใหญ่ ข้าวเงี้ยวของที่นี่ใช้ข้าวดีนุ่มลิ้น กินอร่อยค่ะ"
In front of the shop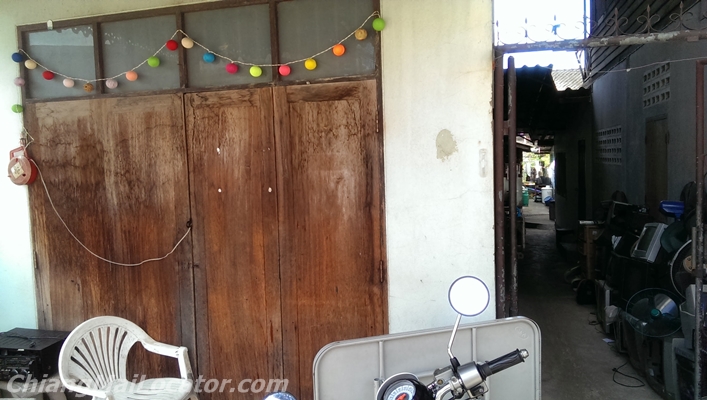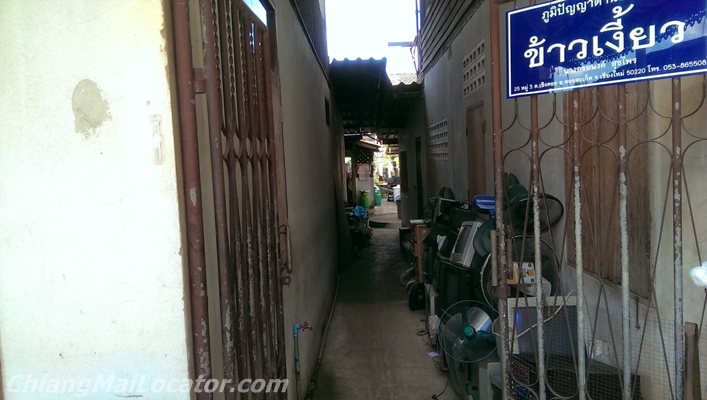 Preparing Khao Ngiew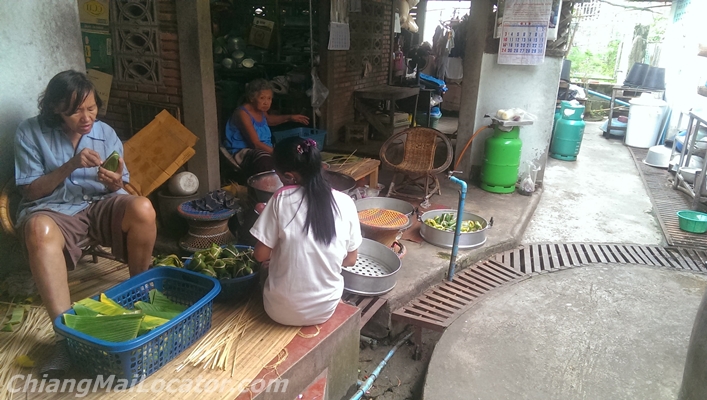 After it is cooked


Served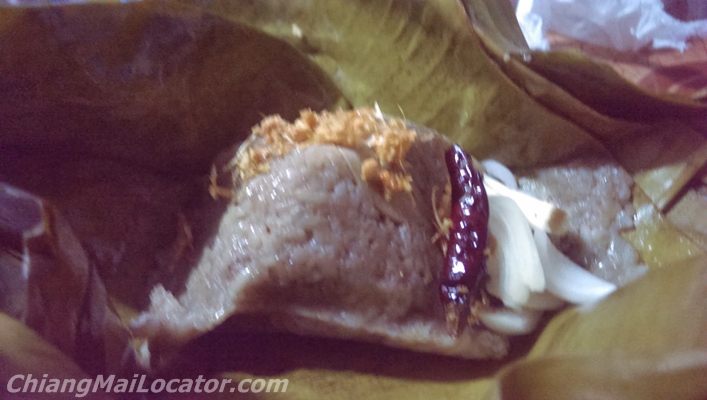 Map
Khao Ngiew Doi Saket photos
Other businesses in this area