Most guys know what a Happy Ending massage is, and many know something more about erotic massage, but not many know the concept of a Lingam massage. It's worthwhile to know the differences and to eventually try Lingam massage.
WHAT IS LINGAM MASSAGE?
The Lingam is a phallic symbol worshipped in Hinduism as a divine generative energy and a symbol of Shiva. Interestingly, even in Thailand and in Chiang Mai one can find phallic symbols named palad khik ปลัดขิก sometimes even in the market (although its meaning has changed in Thailand). Locals trace it back to ศาสนาพราหมณ์ (historical Vedic religion, later Brahmanism) so essentially it has the same roots.
Lingam massage is a Tantric massage essentially in worship of the male genitalia while Yoni massage is a Tantric massage in worship of the female genitalia.
Tantra is a spiritual school originated in India that encompasses a whole lot of things, including Tantra Yoga. One of the main concepts of Tantra is that pleasure is the gateway to your personal development (and ultimately perhaps enlightenment). That all may sound rather elevated but in Tantric massage you wouldn't need to worry about that and neither is there a need for difficult exercises or folding your body in impossible positions.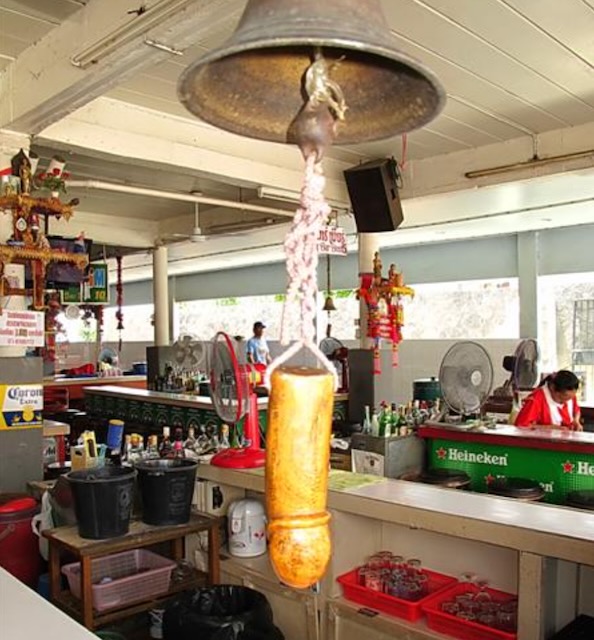 Phallic symbol in the market in Thailand
HOW IS LINGAM MASSAGE DIFFERENT FROM OTHER GENITAL MASSAGES?
There are various kinds of genital massage and they clearly differ in concept, objective and massage techniques:
1. HAPPY ENDING MASSAGES
The quality of Happy Ending massages varies greatly from a lousy HJ in say Loi Kroh road to a wonderful sensually uplifting experience as provided in one of the top shops in town.
Girls in the mediocre Happy Ending massage shops think there is only one target and that is to get you to ejaculate, they usually have no understanding at all about the process and about what is sensuality, even though they have wanked thousands of dicks.
Girls in body-to-body massage parlours also generally lack that feeling for sensuality, even though they are already naked and use their body and boobs to massage you.
Girls in the best massage shops in town (notably All about Touch, Senz~ Diva, Daisuki and Dream Massage) have been trained to build the tension and use sensuality in their own style to in the end let you come, so if they are doing the job right, their target is not only to make you come, but also to make the journey towards it as pleasant as possible.
2. KARSAI MASSAGE
This is a therapeutical massage, purely physical, with the objective to clear blockages, not to make you come (although that often happens because the customer can't control himself).
The massage style is not sensual, psychological, emotional or spiritual at all.
Read more about Karsai massage
3. LINGAM MASSAGE
Lingam massage distinctly differs from the above categories both in concept, objective and techniques.
First of all, the objective of Lingam massage is not necessarily to make you ejaculate or even orgasm (which are two different things, by the way). Ejaculation or orgasm may happen or it may not, either outcome is fine. The concept of Lingam massage is more spiritual / emotional / etherical: it is to use pleasure as a gateway to develop yourself (in the broadest sense of the word). If done properly, Lingam massage may clear emotional blockages, bring you to a new level of orgasm (with or without ejaculation), energize you and/or make you more aware. Or .. you just have a very pleasant, caring experience because that is the stage you are in and that is what you can take at that moment. Every outcome is fine.
Again, it's better not to be fixated on achieving certain targets because that in itself will block the natural flow of the process.
During Lingam massage, the masseuse will use different techniques from a normal happy ending massage, for example the hand technique will be less focused on wanking but more applied in caressing ways, and include more advanced techniques like edging.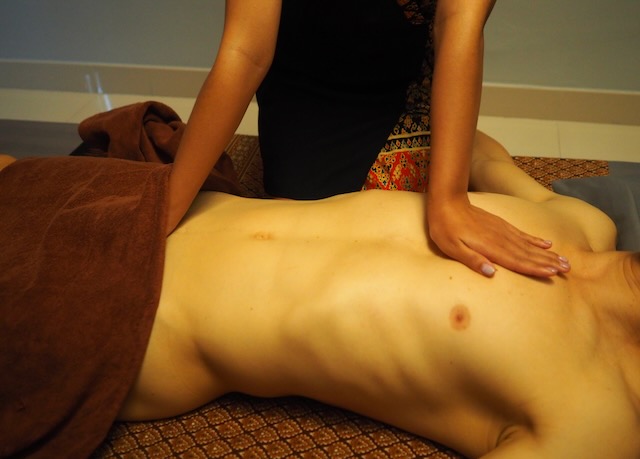 In Lingam massage, the therapist connects to the heart and to the genitalia
LINGAM MASSAGE PROVIDERS IN THAILAND
Because Tantric massage requires a certain mindset and awareness (both from the giver as well as from the receiver), it is very very hard to find in Thailand. Although Thailand harbors deep and ancient spiritual roots, nowadays the deeper meanings have mostly been forgotten and 'new' spirituality or even modern psychology have hardly been adopted because Thai education, culture and society are so shallow. Even if a business is serious about training its staff, it's difficult to bring more depth to the practice.
So usually when the word Lingam or Tantric massage is advertised in Thailand, it is used interchangeably with erotic massage or handjob massage, which it isn't, but the advertising shop doesn't know. This is more so than in the West, where you can find some solid Tantric schools.
So the most genuine Lingam or Yoni massage you can find in Thailand is usually conducted by foreigners, if you try Lingam massage by a Thai person you generally have to accept a somewhat more simplistic approach.
That's also not bad for a start, because in the beginning you may not want to be so serious or spiritual anyway.
Most shops that advertise Lingam massage in Thailand use it in one sentence with erotic massage or HJ, because they don't know the difference.
In Chiang Mai, the only shop taking Lingam massage seriously are Senz~ Diva Massage and All about Touch Massage. Even so, you should consider the treatment here a light version of a true Lingam massage. Go here to enjoy the caressing attention for your male energy without the rush towards ejaculation.
IS IT FOR ME?
Lingam massage is certainly not suitable for everyone. If you're just dead horny and you need a young sexy girl either for sex or for a sexual massage, don't go for Lingam massage. Just do your thing, feel less of an urge, and then perhaps the next day try Lingam. It's probably a good day to try Lingam massage on a day that you don't have a desperate desire to ejaculate, but you feel you would appreciate the care and attention for your genitalia, to feel your sexual energy rise without the obsession of letting it explode immediately.
What does help greatly to get the most out of Lingam massage is an open mind, a desire to experience whatever may arise during the session, deep breathing and making connection with the giver. This is also why Lingam massage is not for everybody: ideally, both the giver and the receiver must have a certain mindset, if not the session becomes empty and more or less the same as a Happy Ending massage.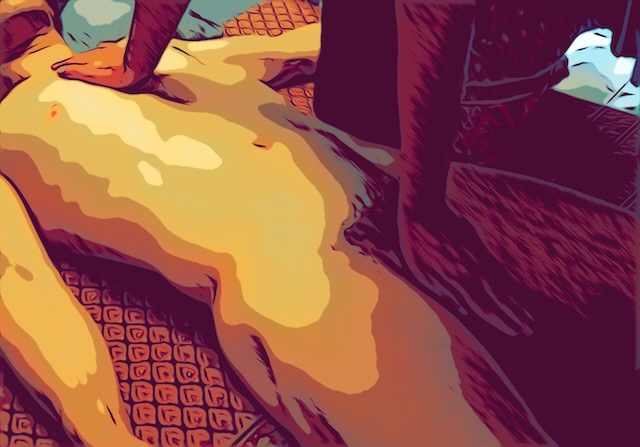 HOW TO PREPARE & GET MOST OUT OF YOUR LINGAM MASSAGE
There isn't much to do to prepare for Lingam massage, but just make sure not to have a heavy meal or allow at least 2 hours to digest a meal before a Lingam massage.
The following things may help to get a better and deeper experience during Lingam massage:
Don't expect too much, just relax and enjoy the treatment and all the attention for your genitals
Share any issues you have with the therapist
Allow pleasure to come but don't rush into a habit of wanting to ejaculate fast
Keep breathing, inhale deeply and calmly
If you can, try to see in your massage therapist the Woman of all Women, a Goddess, the Embodiment of all of Femininity. This is very Tantric and can help to transform your energy and the exchange of energies.
The last item on the list is also about making connection between the giver and the receiver, and IMHO this becomes easier if you feel some attraction to the masseuse. If you're a trained Yogi you can probably see a Goddess in every woman, but for us, normal mortal beings, it's easier if you naturally feel she is beautiful. Beauty is the link that transforms your perception and changes your energy, so we as guys should not be ashamed or superficial to feel attracted to beautiful women.
For this reason, having Lingam at Senz~ Diva is a good try, because the girls are charming and have basic training. In the end, that may bring you further than having a Lingam massage by a 40+ year old who has great finger techniques but lacks deeper understanding and you don't feel that much attraction to.