Icha Icha Chiang Mai
---
Last edited: October 08, 2020 at 07:22:09
---
Recommended by erotic massage lovers
ICHA ICHA CHIANG MAI is unique, bringing to you the best Japanese AV erotic experience in Chiang Mai.
A must for erotic massage lovers, especially those who haven't been to Japan. 'Icha Icha' is a Japanese colloquial expression for flirting.
อิชา อิชา มาสสาจ เชียงใหม่ (มาสซาส / นวด) イチャイチャ チェンマイ
---
ICHA ICHA CHIANG MAI offers this unique combination of a Japanese inspired concept and Japanese management with Northern Thai staff to let you live the dream. Let a hot sexy Thai girl slide her way over you in soapy bubbles on an airbed, slowly turning you on, to let you finish off full swing, not just by hand.
Set up professionally by experienced business people, ICHA ICHA surely will offer you something different than the average body-to-body massage parlour in town.
Why prefer ICHA ICHA?
Clear, transparent menu with full service option always included. Never walk out with the feeling of frustration!
Cute and pretty girls, trained by management.
Icha Icha aims to recruit mainly fresh new girls, not long-time veterans and offer fresh faces regularly.
Plenty of nice VIP rooms with great facilities. The airbed is ready to slide!
Use of real nuru gel to enhance the sensual experience. Not that not all B2Bs use nuru gel in Chiang Mai. In Icha Icha, 1 liter of nuru gel is used per customer (!), so it's going to be a juicy experience!

MENU
Soapy body to body massage on an airbed including full service (sex):
THB 2,700 for 1 hour
THB 3,200 for 1.5 hour and 2 shots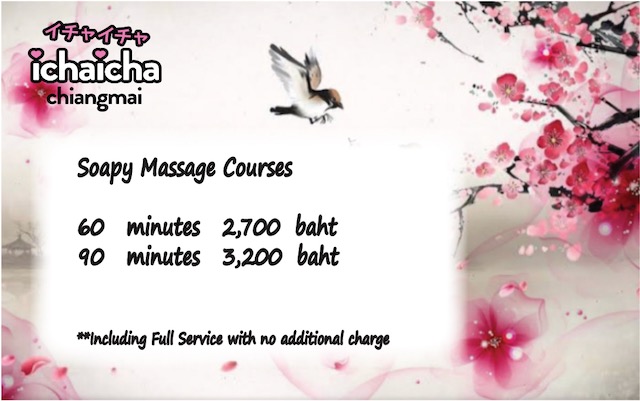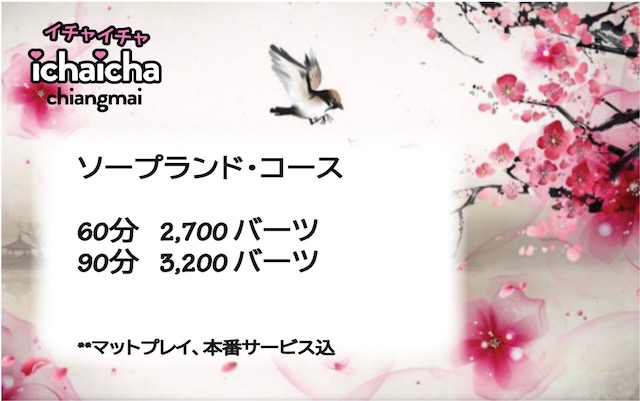 SPECIAL DISCOUNT UNTIL JULY 15: 500 BAHT OFF EVERY PACKAGE
No additional charges, clear upfront pricing.

---
COVID 19 UPDATE: ICHA ICHA TAKES PROPER CARE OF HYGIENE
---
GIRLS
There are some 5-10 pretty girls working here at various times of the day.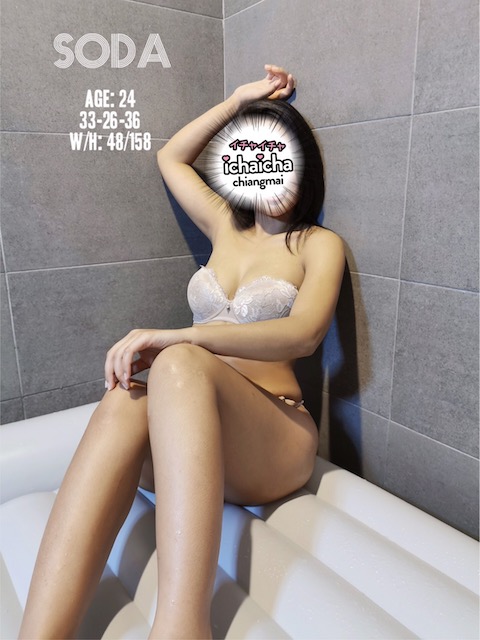 Icha Icha see more hot girls below
OPENING TIMES
11:00 - 24:00 hrs

CONTACT DETAILS
Phone: +66 (0)63-412-5002
LINE: ichaichacm
Email: ICHAICHACHIANGMAI@GMAIL.COM
Twitter: @ichaicha_cm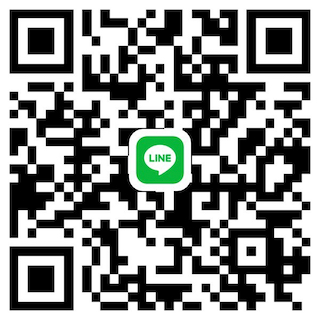 QR code LINE ICHA ICHA
LOCATION
Address: 73/2-3 Charoen Prathet Rd, Chang Khlan, Mueang Chiang Mai, Chiang Mai 50100
​GPS coordinates: 18.784475, 99.003038
ROUTE DESCRIPTION: Simply follow Charoen Prathet road (the road on the westside of the river near the night bazar) just a bit past the Iron Bridge and you'll find it on your right. Just a few houses past SK Money Changer.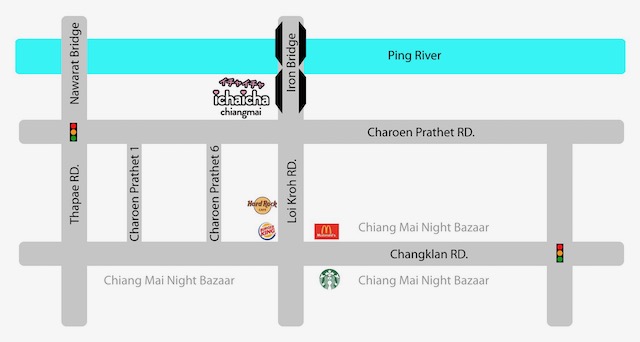 Having trouble to find it? Try this INTERACTIVE MAP:
FACILITIES
Two spacious townhouses have been turned into a stylish Japanese soapland with 12 VIP play rooms, airconned and fully private. There are large shower compartments in all rooms to allow for the soapy play on air mattress.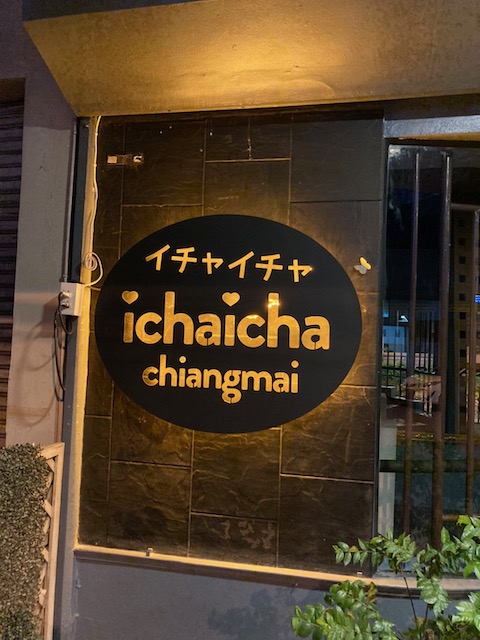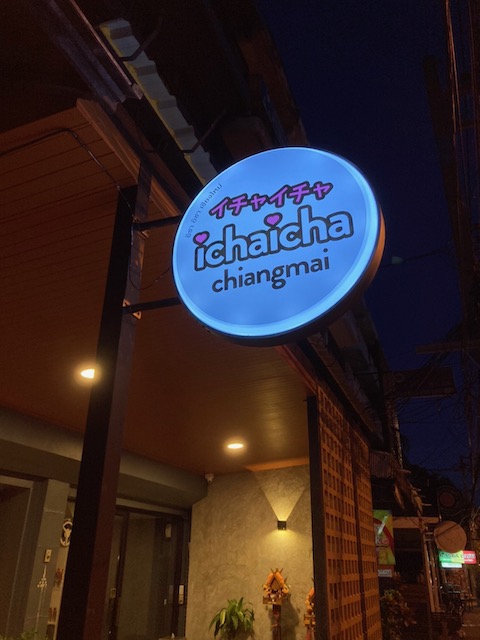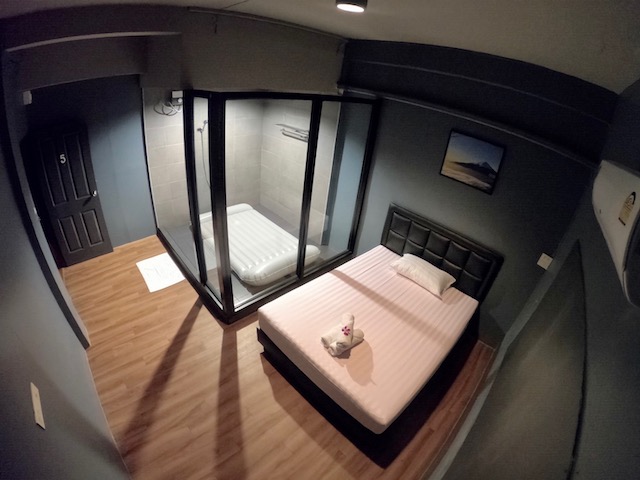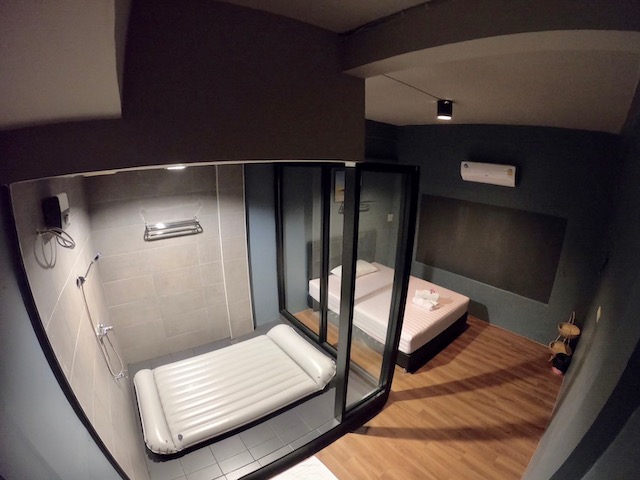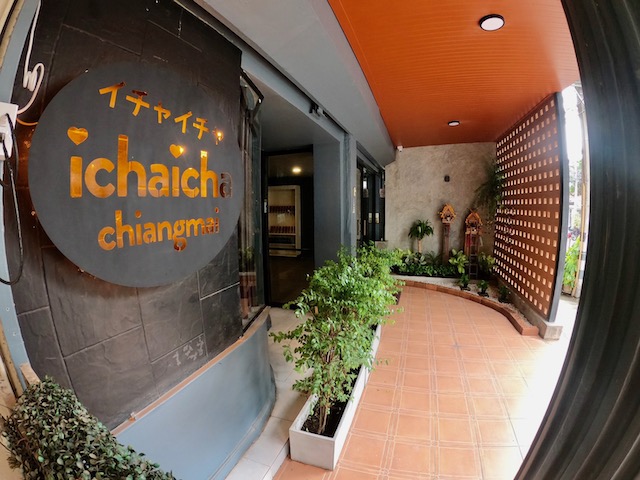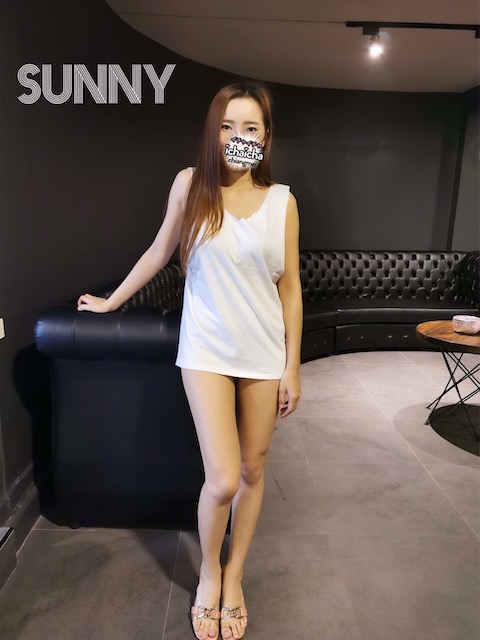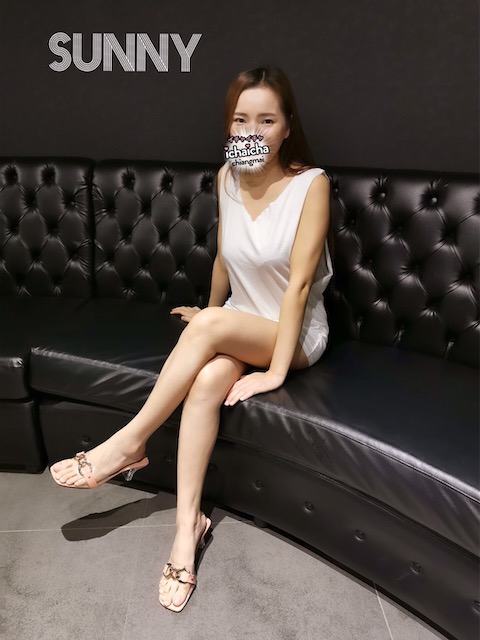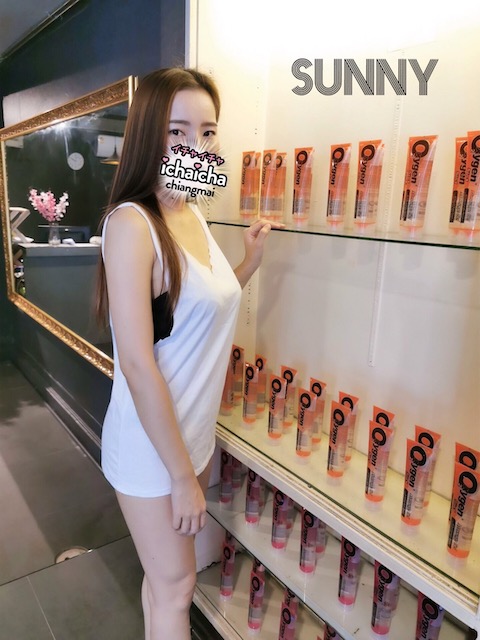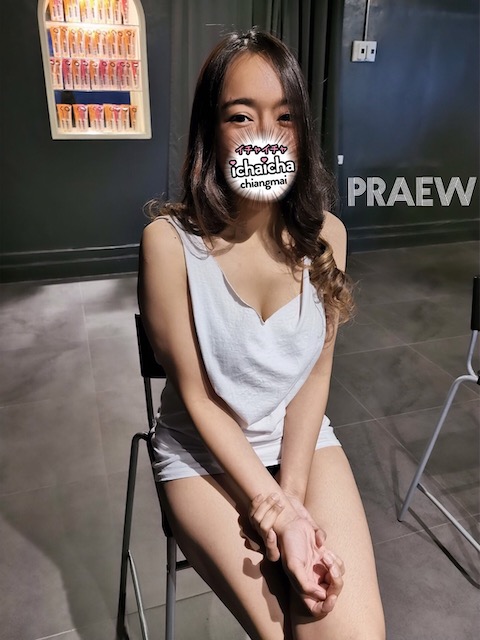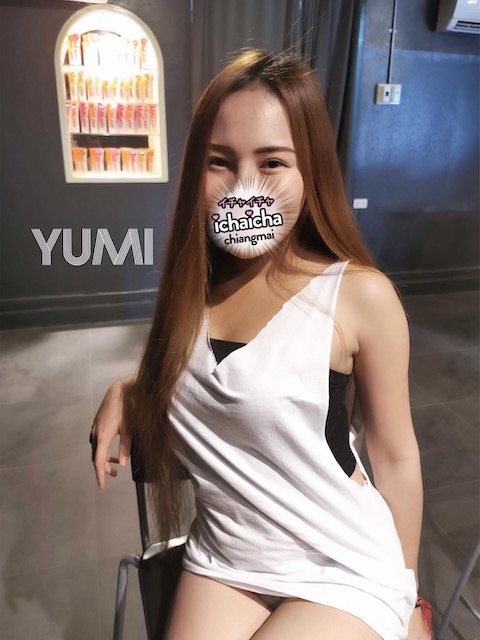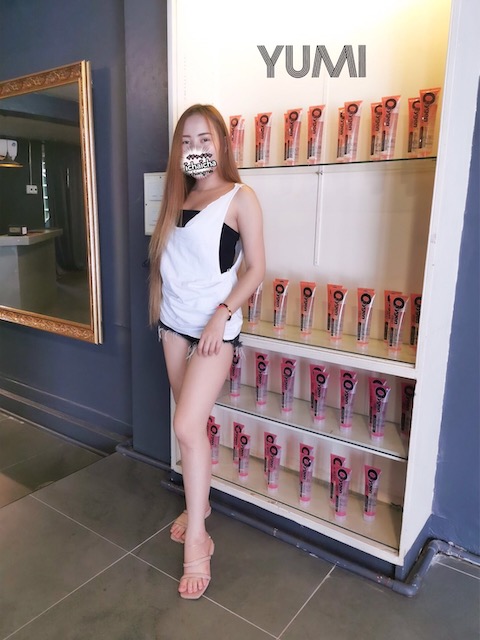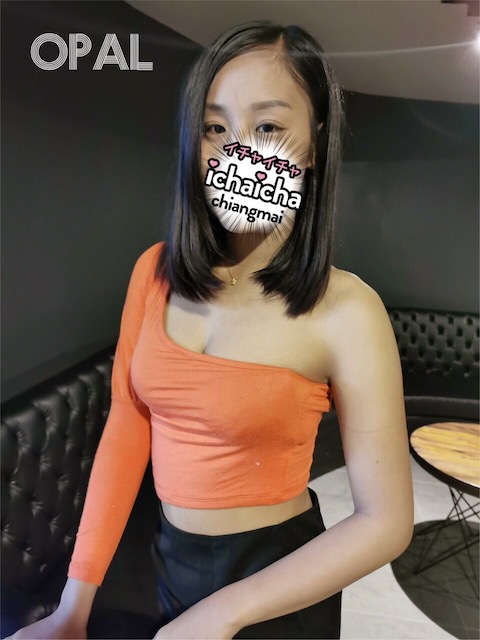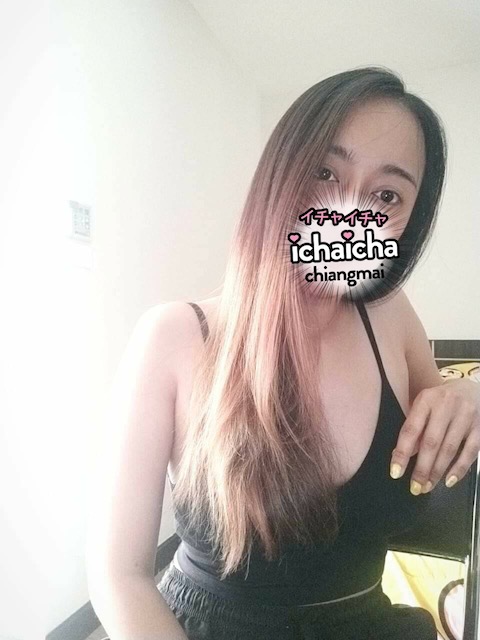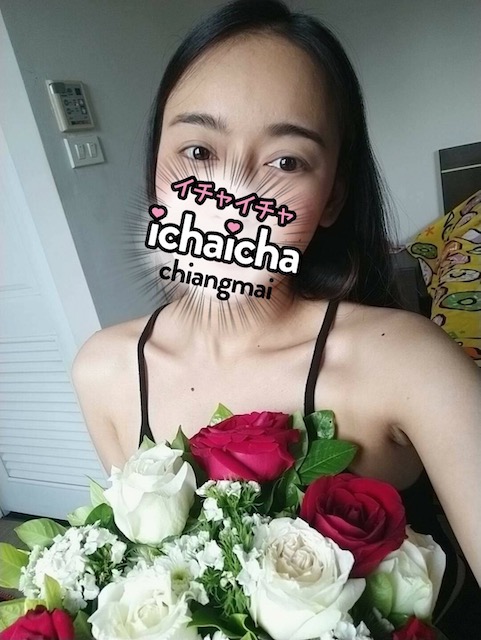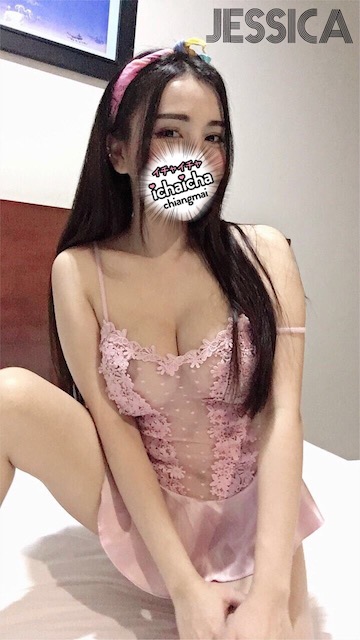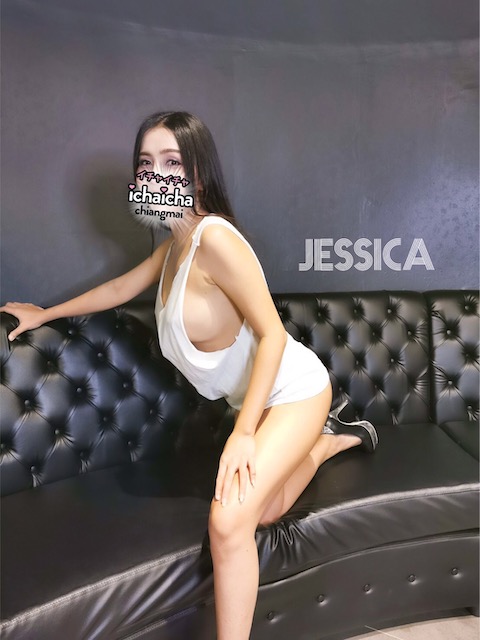 REVIEW
Icha Icha, a relative newcomer since Sep 2020, undoubtedly already belongs to the top of erotic massage parlours in Chiang Mai. Icha Icha's signature treatment is the Japanese AV experience, a true nuru gel sliding and teasing experience on an airbed that in some ways was also provided in Thai soapy massage parlours (hence the name 'soapy'), but became forgotten, perhaps because most Thai working girls rush to get the deed done to kick the customer out and move on to the next.
Nothing like that here: from the moment that you enter until you leave, all is done properly, there is no rush, no cutting time, no cutting service, all is done with a smile and no steps are skipped. In fact, if you visit Icha Icha, I recommend getting most out of it and go for the 1.5 hour package instead of the short 1 hour. Even if for physical reasons or because of age you have trouble to cum twice in a short time, you can enjoy all of what the girl has to offer without any rush. Unlike in average establishments where the girl is often quickly moving on to wanking without any proper introductory body-to-body massage, in Icha Icha the girls follow a well-designed program so that every minute of your treatment is worth the money: never a dull moment.
My girl started by giving me few moments of relaxing Thai massage, then she showered me (there is an option to be showered standing or laying down on the airbed), after that follows the well-done rubbing and sliding on a high quality airbed with no less than a full bottle of nuru gel, the slimy substance that resembles and feels like bodily fluids exerted during sexual intercourse. Be careful not to slide off the airbed because it was the most slippery experience I ever had and let the girl hold you in her firm grip.
Only then, after all this, follows the more explicit sexual part where you can do her once or twice, but this is after she's made you so horny that you can't stand much time without it anymore.
It's amazing but all of this fits in 1 hour, that's why I suggest you really should take the 1.5 hours for a little more, it just gives you more time to play around and with her skills, the girl is probably able to extract a second shot out of you so you walk out like a zombie.
What else characterizes Icha Icha is the service mind of all the staff from the moment you enter, the level of detail, and the superclean and new facilities.
Overall, I'd say Icha Icha is a must try if you ever wanted to go to a body-to-body massage and especially if you have ever imagined yourself in the role of a Japanese porn player.
---
OVERVIEW OF SENSUAL AND EROTIC MASSAGES IN CHIANG MAI:
Having trouble to find other places? Become an Insider and get full access
to other male entertainment places and more.
---
This information was outsourced and compiled by our partner cmXlocator. For more information, please contact cmXlocator@gmail.com or become an Insider member here to get full access to all Male Entertainment info. Copyright cmXlocator
---