Advertisement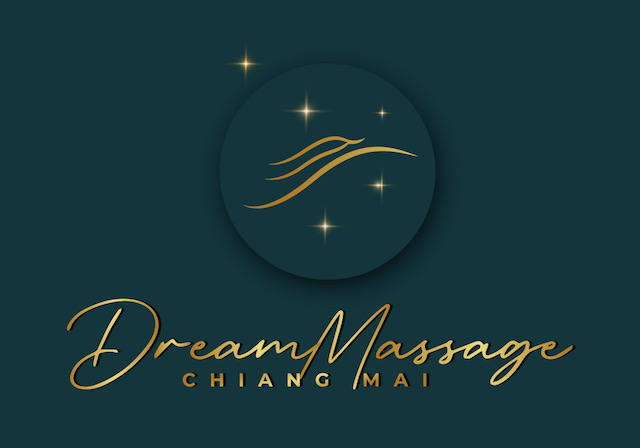 Tucked away in a forgotten soi like an Edelweiß on an alm lies Dream Massage in the charming Santitam district of Chiang Mai. Judging from its facade, it looks like just another little Thai massage shop, but inside hides an amazing depth both in size and in services, only known to the real massage lover.
ร้าน ดรีม มาสสาจ นวดเพื่อสุขภาพ (มาสซาส / นวด) เชียงใหม่
---
LIVING THE DREAM AT DREAM MASSAGE
Dream Massage is unlike the average Happy Ending massage parlor you find elsewhere in town. All staff in Dream Massage are young, cute, service-minded and have been trained not only in basic Thai massage skills, but also in the art of getting you turned on during the massage. So not just a happy ending, but happy-all-the-way. Dream Massage is well managed and closely monitors the performance of the girls, so Dream girls make an effort to please.
Besides that:
You can choose the girl, but if you don't choose, the shop will go by queue.
The shop is located in a quiet, discrete location.
All rooms are completely private and have air-conditioning.
The shop also provides outcall services.
---
HAVING A MASSAGE AT DREAM MASSAGE IS THE ULTIMATE WET DREAM
---

Introductory video of Dream Massage
MENU
Dream Massage offers an interesting menu of massage packages: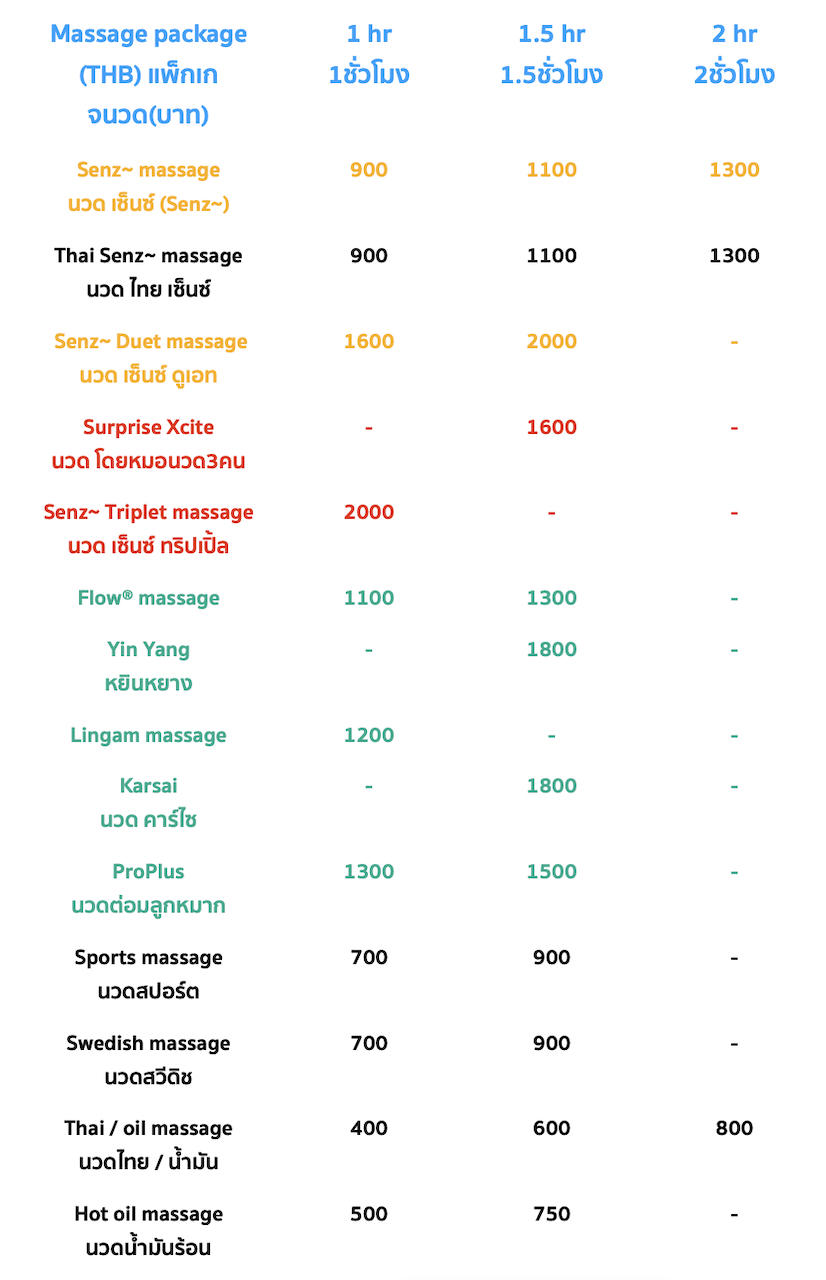 SENZ~ DUET - What can please your senses more than 2 girls playing your body like an instrument and slowly bringing you to a climax? Senz~ Duet is a song that you will want to shout from the roofs.
SENZ~ TRIPLET - Can't get enough of a good thing? Try three!
PRO PLUS - If you want to take your pleasure one more level up, try the PRO PLUS package which is a Senz~ massage plus a real prostate massage. Prostate massage can be beneficial to male health and it can be extremely pleasurable. Note that this is not a suitable package for you if you already have a prostate problem, such as prostatitis, in which case you should consult your doctor.
SURPRISE - This is an exciting package for the daring customer: put yourself in the hands of no less than 3 masseuses while being blindfolded!
 Each masseuse performs her own style on you in a half-an-hour session building the tension up to a remarkable climax in the last session, so there are 3 separate sessions of half an hour, not 3 girls massaging you at the same time (that is the Senz~ Triplet package).
 The Surprise package will allow you to focus more on sensations, feelings, desire and imagination to surrender to the experience of touch and ultimately leading you into Bliss. The surprise element is that you don't know which of the lovely masseuses available in the parlour will put their hands on you!
 Guess the right ones afterwards and you will get a 200 baht discount.
YIN YANG - This is a highly interactive and connective package that takes interesting turns: first, the girl will give you a Senz~ Massage during 45min. After that, you both reverse roles: she lays down and you massage her during the other half of the treatment! This package is of course not suitable for those who just want to chill. It is suitable for those seeking more exchange of energy in a giving-and-receiving manner. For gentlemen only!
Please note: you may choose the masseuse, but she has to consent to do a Yin Yang massage with you, if she doesn't want it another package might be more suitable.
 Please understand that in Thai culture, it is rather confronting for a Thai woman to allow a stranger to touch her body, so please do not feel insulted if the massage therapist does not (yet) feel comfortable to do Yin Yang with you at first. In that case, opt for a Senz~ massage this time and perhaps she may feel comfortable to try a Yin Yang with you in the future.
Finally, please note that the girl does not take her shorts off. You may alter the timing and sequence of the parts of the package in mutual consent.
KARSAI - Karsai is an ancient Thai genital massage, both suitable for men and for women. It's primary aim is to clear blockages but obviously it can feel quite pleasant too to have someone focus on your pelvic area for a long time. Karsai can be supportive for all kinds of problems that men may experience, such as erectile dysfunction, blockages of ducts, premature ejaculation and so on. Note that from a therapeutical point, it's better not to ejaculate during or at the end of this treatment, but that if you can't take it anymore the happy ending can be included at no extra charge.
LINGAM MASSAGE - Lingam massage is a Tantric massage of the male genitalia. It is different from a normal happy ending massage in that it requires a different mindset both from the giver and from the receiver and uses different techniques. Try this if you can enjoy a caressing treatment for your genitals and for your soul if you don't have an urgent need to ejaculate.
Please note: since a true Lingam massage can be rather deep and there is a limit to the knowledge and skills we can convey to staff, please consider this as a light version of a serious lingam massage (a Lingam style massage).
Read more about Lingam Massage
SPORT MASSAGE AND SWEDISH MASSAGE are different from normal oil or Thai massage. Thai and Thai style oil massage are based on acupuncture points and 'sen' lines along the body that are being pressed on for some time. Sport and Swedish massage uses different techniques that more focused on muscles rather than on points and lines. Sport massage and Swedish massage are good after heavy sports (and ideally in combination with a sauna) and can also offer some relief to office syndroms.
FLOW® MASSAGE - FLOW® massage is a mix of Hawaiian Lomi Lomi massage and Senz® massage. Lomi Lomi massage makes more use of the lower arms and elbows, which is less precise than fingers can reach but it creates a slightly different feel. Mixed with Senz@ massage, Lomi Lomi naturally becomes a fluid massage with sensuality.
 Flow@ massage is suitable for those who like Lomi Lomi style massage.
OUTCALL MASSAGES are provided within the city for the Senz~ Massage, Duet Massage and Sport Massage packages only. Travelling fees for the staff 200 baht.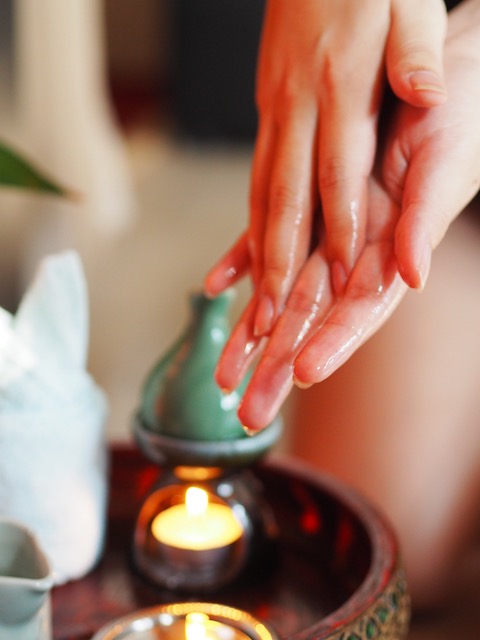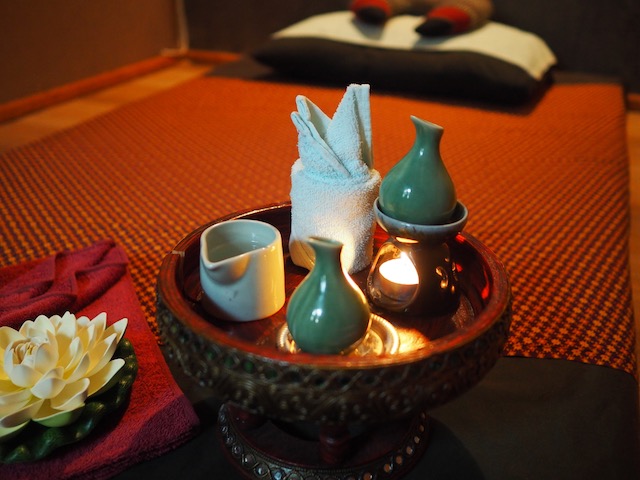 PLEASE NOTE: NO BODY TO BODY MASSAGE, NO SEXUAL SERVICE, NO "FULL SERVICE"
STAFF
Dream Massage has about 7-10 charming young girls at the premises ready for service.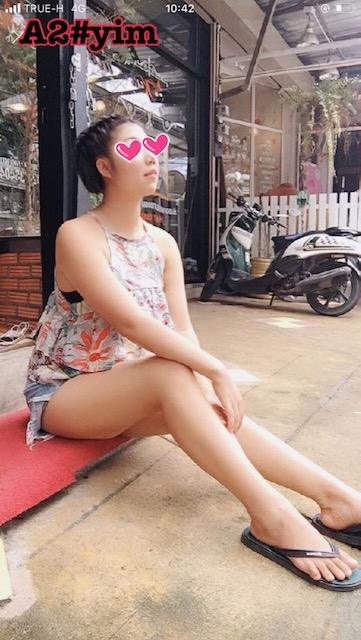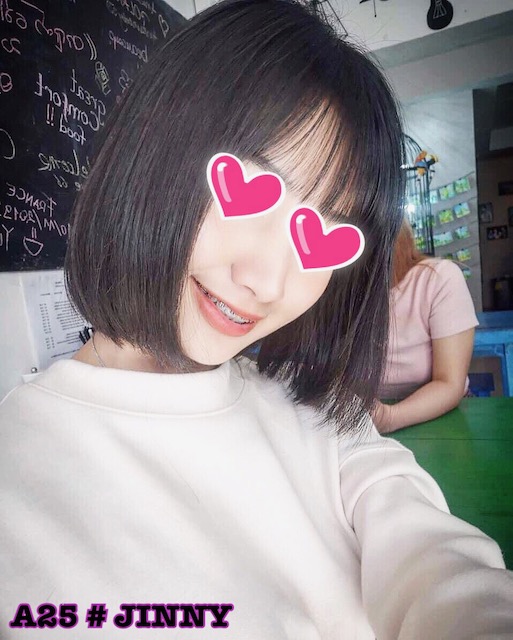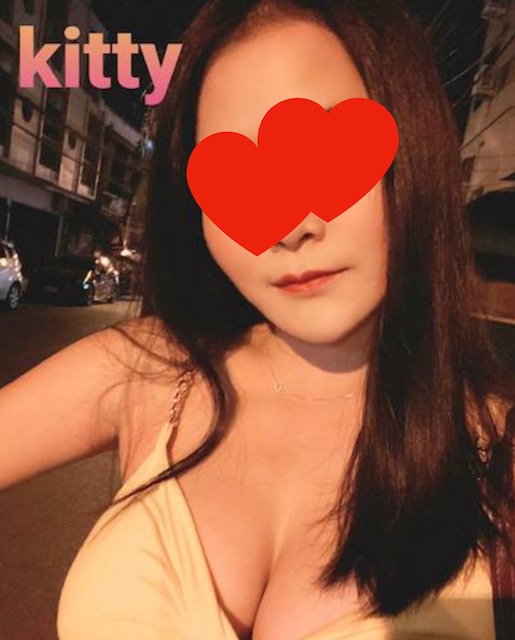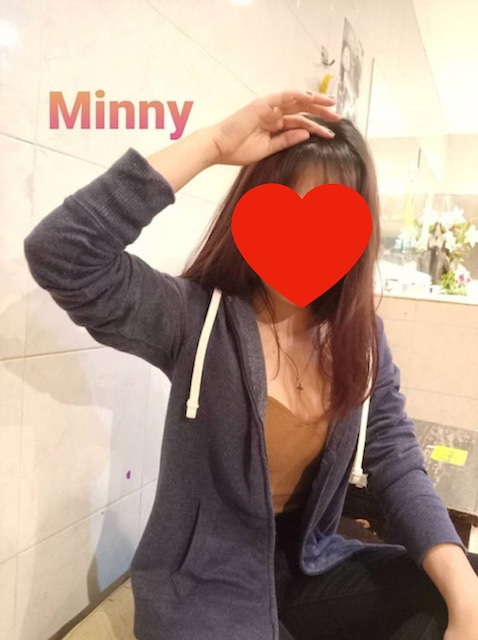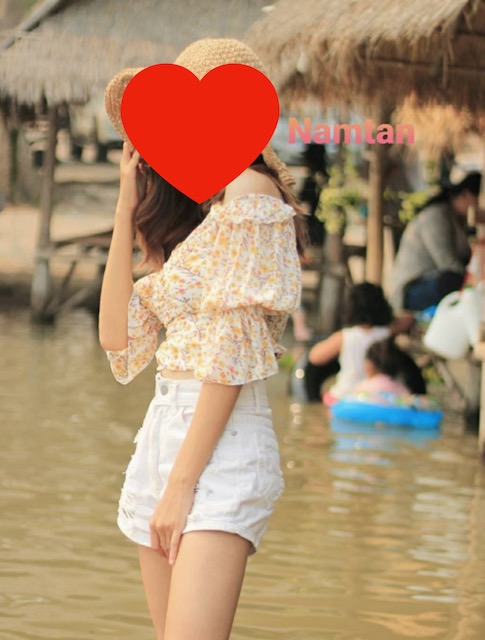 NOTE: Not all staff are working all the time. You are welcome to walk-in, but not all staff may be available all the time without a booking.

The easiest way to make a booking is to add the shop's LINE contact, this way you'll receive pictures of the available staff and you can make a booking.
LINE ID: butterflynoi (or use LINE link: https://line.me/ti/p/sRnx6T-zdj)
WeChat Id: aunyong1234
KakaoTalk id : senzaunyong
Phone: +66 (0)950847540
Whatsapp: +66 (0)950847540
Alternatively, just walk in and choose the girl of your liking. Of course, depending on availability.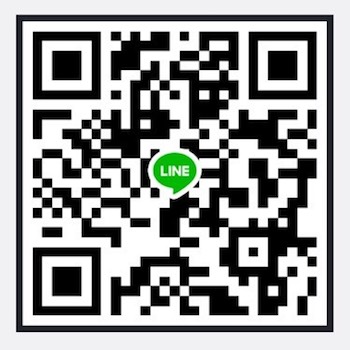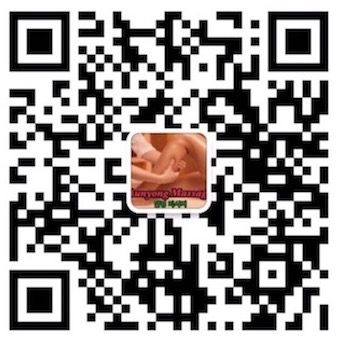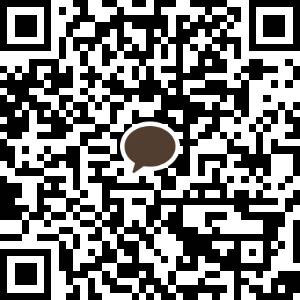 QR codes Dream Massage of LINE, WeChat and Kakaotalk (from left to right)
OPENING TIMES
Every day (including Sunday, Monday and public holidays unless announced here) from 10:30 hr until 23:00 hr.
LOCATION
Address: 22/8 Santiluk Road, Tambon Changpuak, just off Hussadhisawee Road, near the north-west corner of the moat
​GPS coordinates: 18.801118,98.978461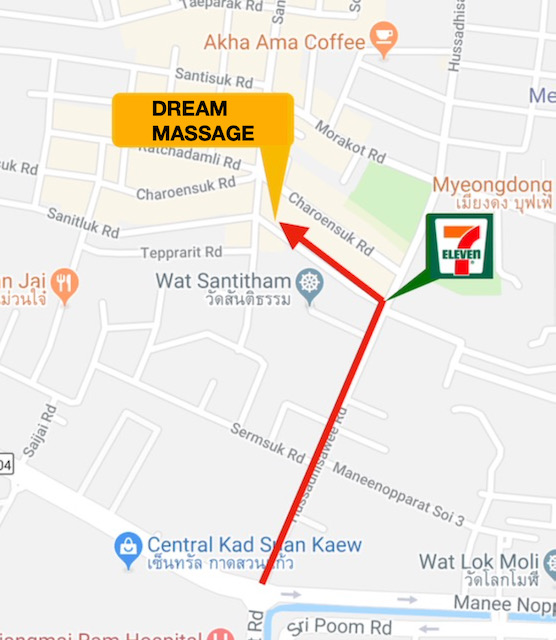 Route description: From the northwestern corner of the moat, take Hussadhisawee road up north and follow for a few hundred meters until you see a 7Eleven at your left. Turn left into the soi just before the 7Eleven. Follow the soi almost to the end, and you'll see the shop at your right.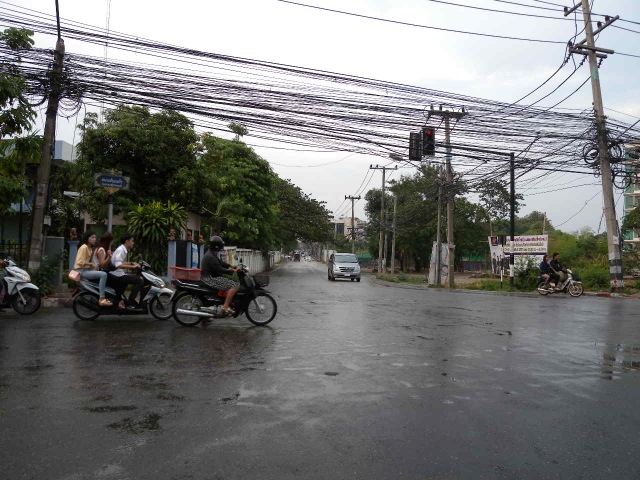 From the northeastern corner of the moat, follow straight on in northern direction, towards Santitam.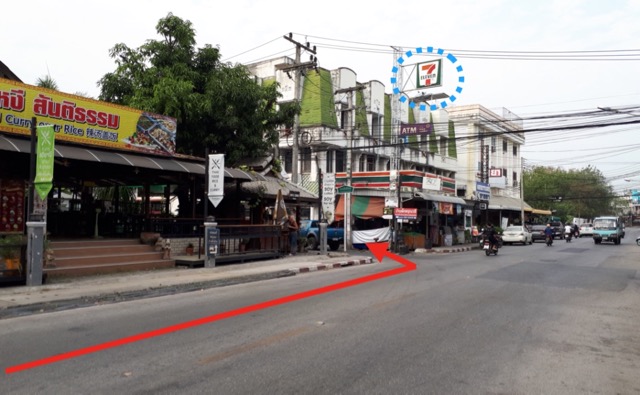 Turn into Santiluk road when you see 7Eleven, and follow the street for a few hundred meters, nearly until the end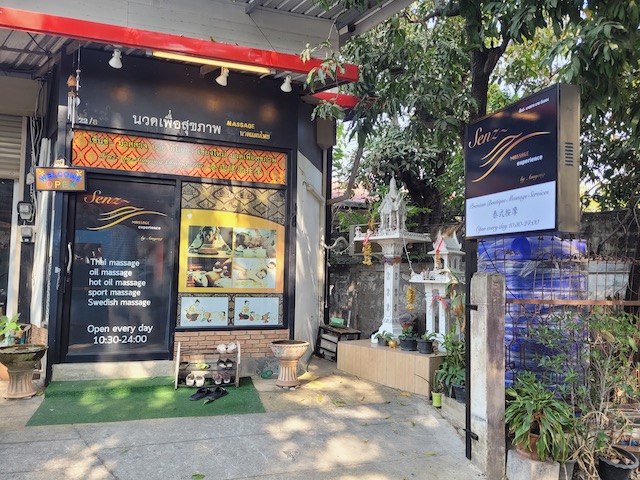 You have arrived!

For Grab, simply select: Yawk Bar. It's a few shops on the right from there.

PARKING: There is limited parking available in front of the shop for motorcycles and more along the road. Cars can be parked along the roads in the neigbhourhood. If you can choose your vehicle, to park a motorcycle is more convenient in the densely built Santitam area.

FACILITIES
Dream Massage is located in a cute little house that looks rather small from the outside but has an amazing depth and offers 6 private rooms (gypsum walls, curtain doors). Nice neat and warm atmosphere, very clean. Semi-airconned. The shop intends to insulate spaces soon to provide a totally sound proof experience.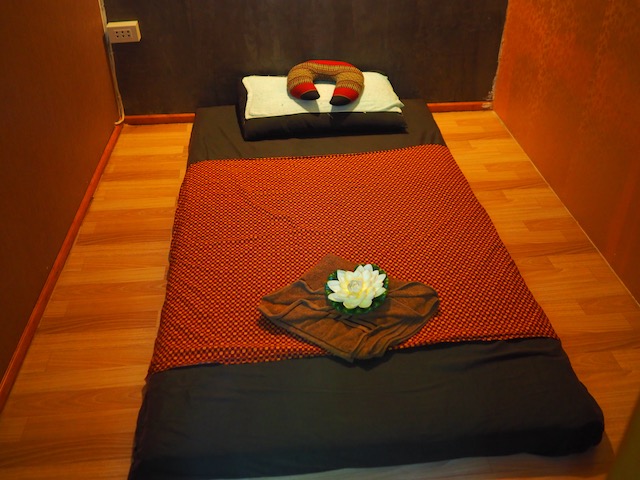 KARSAI WITH MEMI, CHABA OR MILK
Memi is a warm-hearted, motivated Karsai therapist. She amazes many a customer with her splendid Karsai massage, especially she's driven man crazy hitting the right spot at the prostate. Go for it!
Chaba studied her Karsai at first in Malaysia and then studied with Memi. Milk studied her Karsai in Taiwan and then continued with Memi.
In the beginning part of the Karsai massage in Dream, the customer can choose either hot stones or Gua Sha. Hot stones are used to warm up certain energy points of the body. Gua Sha is a Chinese therapy that helps to relieve aches of the body in a similar way as cupping does that. Gua Sha will leave some red marks on the skin of the belly and back, if you don't like that you can choose the hot stones.
One advantage of having Karsai in Dream Massage is the Happy Ending is included in the price, if you wish so. From a therapeutical perspective it is recommended not to ejaculate during the session, but some customer can't stand that, in that case the therapist will give relief.
Note that none of the therapists at Dream have done a separate Chi Nei Tsang training, if you like Karsai Nei Tsang (Karsai with a proper Chi Nei Tsang base) you can consider booking Molly or Koya at Senz~ Diva Massage.
QUALITY EXPERIENCE ASSURANCE & GENTLEMAN BEHAVIOUR
Dream Massage strives to provide the best service to its customers. The shop has devised various ways to do so, by training staff in all processes of client interaction, by working on skills, by improving its management and booking system etc.
Dream Massage values happy and satisfied customers who become regular customers and refer friends too and is always open to your questions, comments or complaints.
At the same time, please respect the staff. A gentleman receives the best treatment. You can also reach Dream Massage directly at senzaunyong@gmail.com.
Read more about how to become a preferred customer
REVIEW
Cute little shop with amazing service. Took the oil massage with Hana. Nice private room with proper massage bed, a relief from the usual mat on the floor. Pleasant relaxing music at the background. Oil massage was thorough and passionate, as was the juicy part in it. Meanwhile a pleasure to chat with therapist about everything that keeps you busy in life. Truly relaxing. Hope that the other therapists are as good as her.
Thomas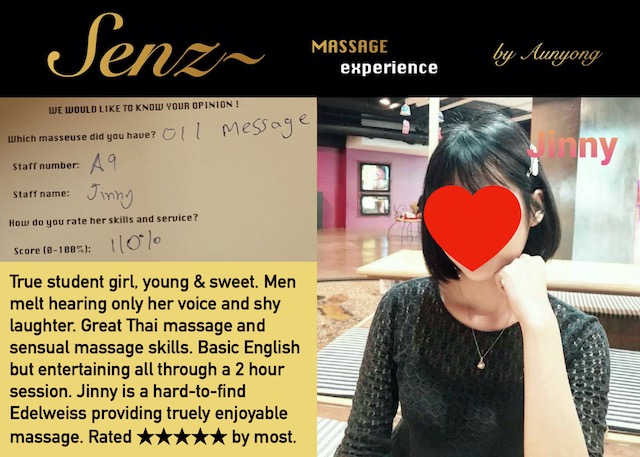 ---
OTHER SENSUAL AND EROTIC MASSAGE PLACES IN CHIANG MAI: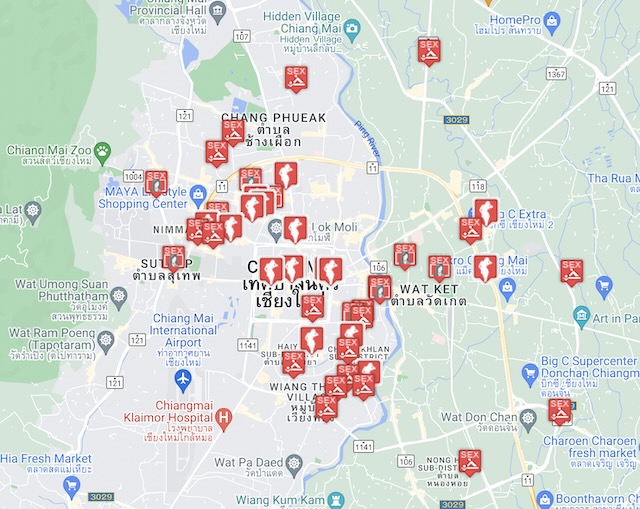 Having trouble to find other places? Become an Insider and get full access
to other male entertainment places and more.
---
This information was outsourced and compiled by our partner cmXlocator. For more information, please contact cmXlocator@gmail.com or become an Insider member here to get full access to all Male Entertainment info. Copyright cmXlocator.