(Highly recommended by massage lovers)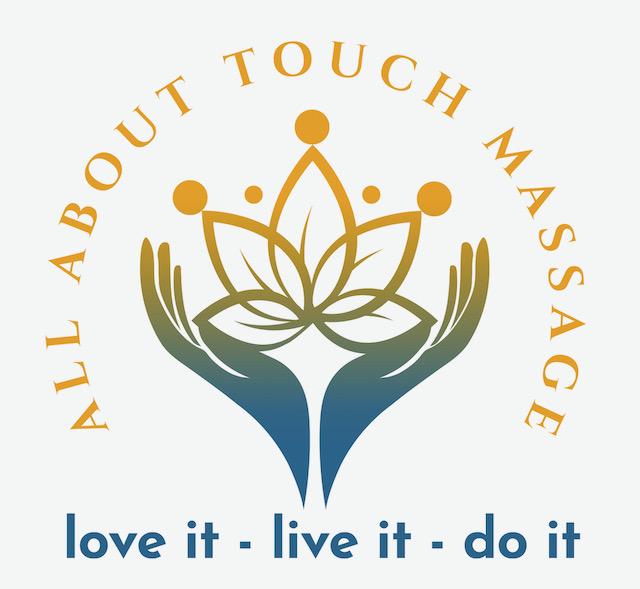 All about Touch Massage is a unique massage and spa parlour at the outer parts of the trendy Nimmanhaemin area, fully catering for the needs of the distinguishing gentleman and lady.
As the name suggests, All about Touch spans a wide range of services, all with the magic of touch in mind. What is great about this place is that it offers both treatments for pleasure and for healing, often seemlessly blended together. Whether you like to be thrilled by a tantalizing touch in a soft sliding sensual oil massage, a refreshing body scrub, a sensual dance massage, or a teasing slab treatment, the girls in All about Touch are here for you to arouse your pleasure. If you seek healing, there are various interesting packages too.
清迈泰式现代按摩
ร้าน ออ อะเบาท์ ทัช มาสสาจ เชียงใหม่
---
WHY ALL ABOUT TOUCH MASSAGE IS IN ITS OWN LEAGUE
From the beautifully designed building and facilities to the innovative menu and the attentive services, it is hard not to become impressed by this unique boutique business. Every detail of the business has been thought-through, and the business is always happy to hear your suggestions to improve. No wonder most visitors become a life-time fan right after their first visit.
What also sets this business apart from most others, is that it continuously invests in its staff literally every month, by sending them to reputable schools (often at the cost of the business), giving them in-house training and training with other paid courses.
In All about Touch Massage, you can expect:
A good selection of cute, young girls with least a basic level of general massage skills
Irresistable sensuous massage skills
Completely private, new and clean airconned rooms
Cute spa and scrub rooms with nature view
Internationally unique massage packages
Discrete entry to the building away from the busy areas
Active management to maximize customer satisfaction
MENU
All about Touch Massage offers by far the most interesting massage menu in Chiang Mai with some unique packages that you will not be able to find anywhere else in Chiang Mai, or even in the world for that matter. All catered to the distinguishing gentleman and lady's pleasure and health.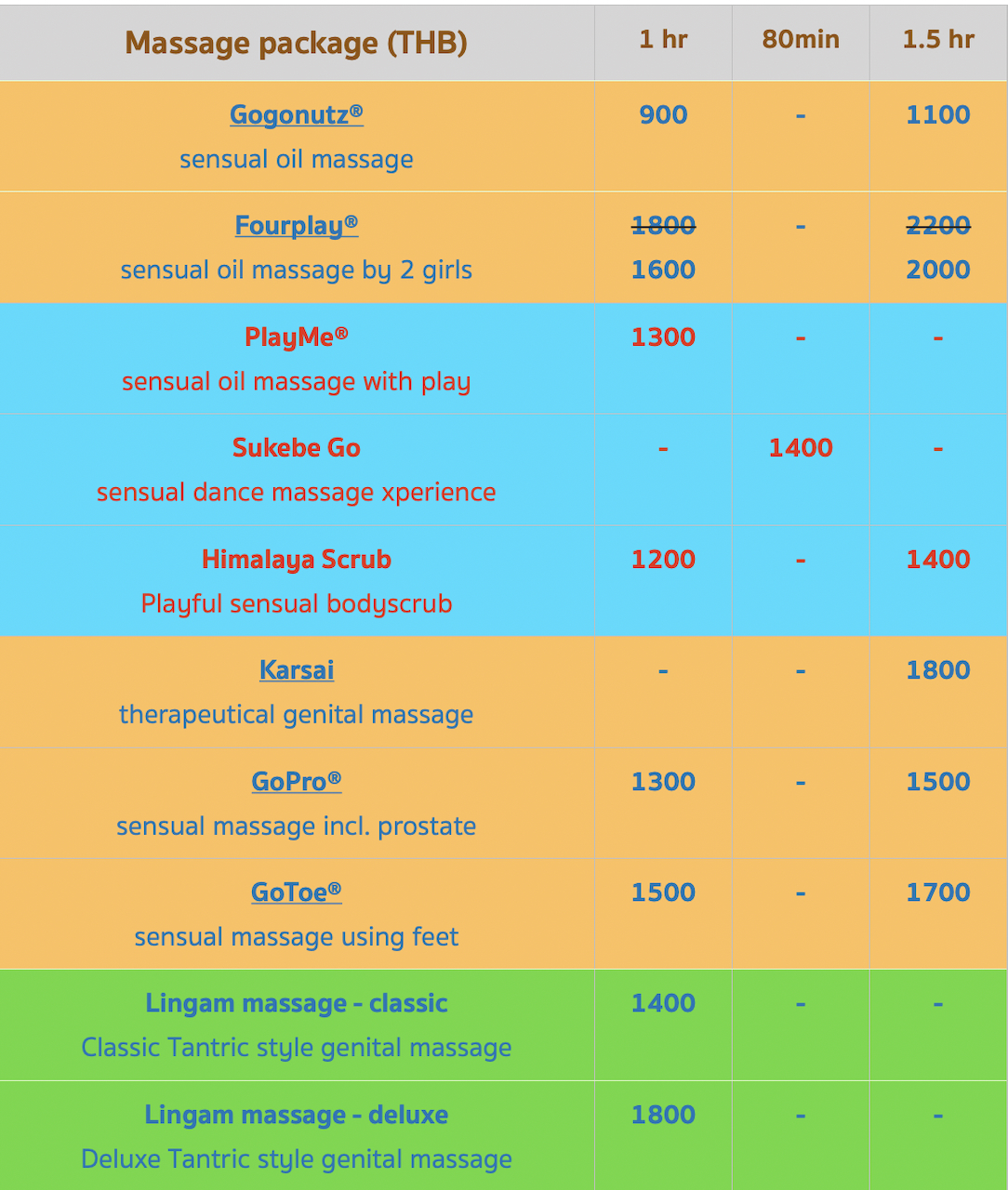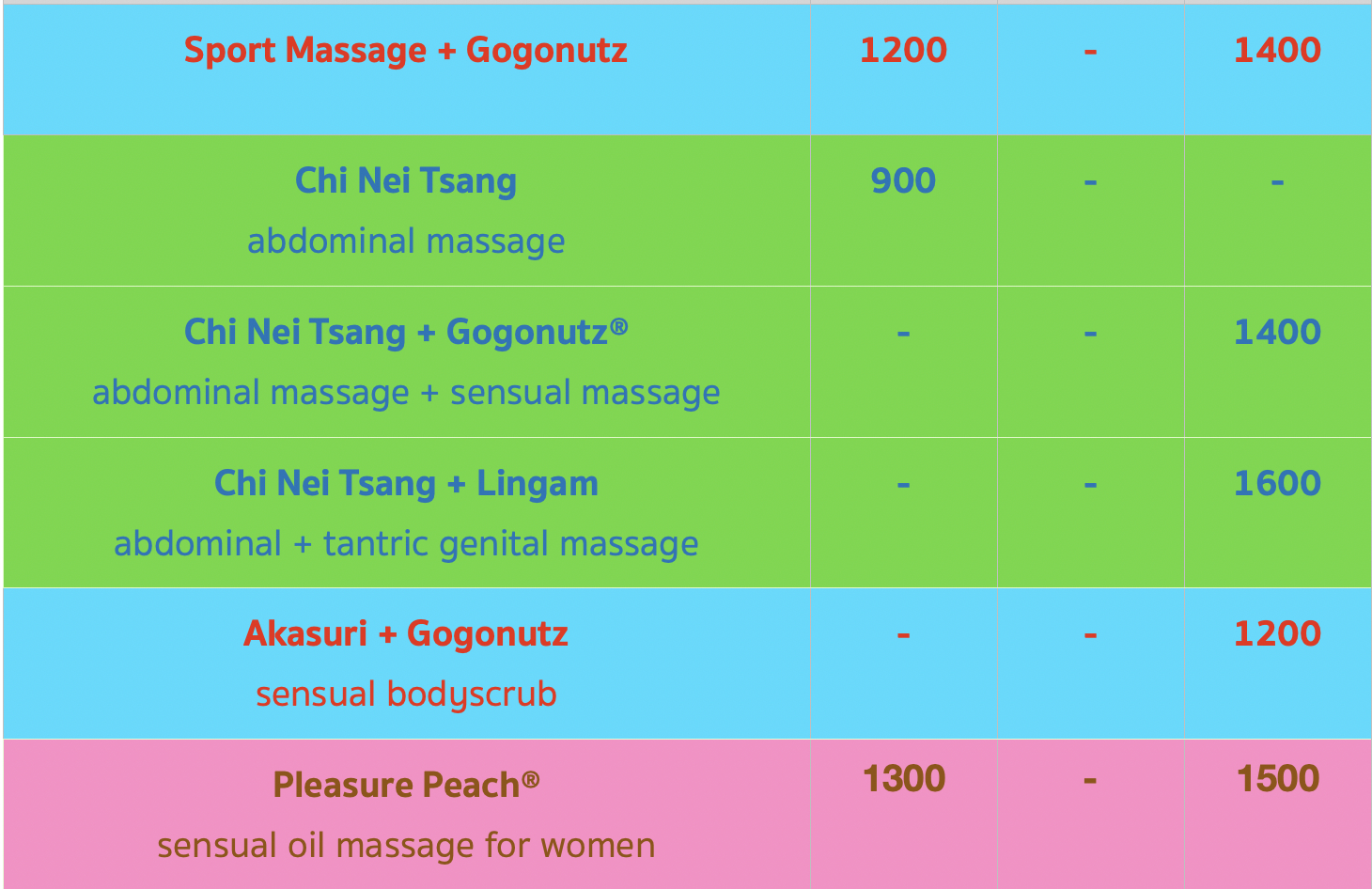 GOGONUTZ® MASSAGE - Sensual oil massage that makes most men go nuts, hence the name Gogonutz®. What's great about this package is that it will empty your nuts, so there's no need for awkward discussions anymore. Just relax and let the hands of the masseuse do their job. Gogonutz@ is also the base for most other packages.
FOURPLAY® is a Four Hands Gogonutz® massage, especially suitable for those who can't get enough of a good thing. What can be more pampering than being massaged by two girls at the same time? Especially when the rhythm of 4 hands intertwines, one pair takes on the hard parts, the other pair gently strokes the soft parts, one pair is obedient, the other dominant, you can surrender totally to the reign of hands.
PLAYME® is a playful package that includes soft elements of fun, teasing, light bonding, spanking and so on which flow over into a Gogonutz massage. It is not a hard-core SM session, although in essence it contains more or less the same elements that can make a session exciting and fulfilling. There is no entirely fixed script for PlayMe®, how the session evolves can depend on the interplay of her style and on your fantasies. For most customers, 1 hour of PlayMe is enough, but you can also choose 1 hour and 20 min if you want to take things more slowly or if you want to ask the girl to act out some of your phantasies.
SUKEBE GO is a sensual massage dance xperience that combines Sukebe Pole Dancing® with sensual Gogonutz massage in one session. You decide together with the girl how much Sukebe Pole Dancing® versus how much massage you will enjoy during the session. Some customers get addicted to Sukebe Pole Dancing® right from the start, because it is something you cannot find anywhere else. Sukebe Pole Dancing® was invented by one of the founders of All about Touch and was first presented to the world in March 2022. "Sukebe" 「スケベ」is a Japanese word meaning "perverted" or "lewd", perhaps freely translated as "kinky".
---
ALL ABOUT TOUCH MASSAGE IS PROUD TO OFFER TO YOU THE WORLD'S PREMIERE IN SUKEBE POLE DANCING®
---
HIMALAYA® SCRUB is an interactive fun spa package that starts with a scrub treatment to make your skin smooth and then blends more teasing elements including a happy ending. To spice up the treatment, staff is dressed in an elegant bikini dress and you are allowed to spray water on her with a water pistol as a sign of appreciation ;).
GOPRO® MASSAGE is a combination of Gogonutz® and Prostate massage. There are spots on the prostate which are referred to as men's P-spot, in analogy to the female G-spot, and when triggered in the right way, it can make you go off like a rocket.
PLEASE NOTE: The prostate will be massaged internally, so the girl will put her finger in your ass (with a glove). The prostate cannot be massage for too long, just for some time, so this is a combination of general sensual massage and prostate massage. If you have prostate issues, please inform the receptionist first. The prostate should not be massaged if you have prostatitis.
Read more about Prostate massage here
GOTOE® MASSAGE is a sensual massage that includes the use of feet.
KARSAI is an ancient Thai genital massage aimed at clearing blockages in the scrotum, ducts, testicles and penis. It is a genuine therapeutical massage conducted by a trained practitioner. Prostate massage is a natural part of the Karsai treatment and the prostate can be massaged not only massaged for pleasure but also to improve your future sexual performance, for example.
Most schools of thought in Karsai suggest it's better not to ejaculate during the treatment to allow the therapeutical effect of the massage to sink down, but most customers can't stand the pressure and then all therapists in All about Touch will offer relieve at no extra charge.
---
ALL ABOUT TOUCH OFFERS THE RICHEST PALETTE OF WAYS TO BE TOUCHED IN CHIANG MAI
---
LINGAM MASSAGE - Lingam massage is a Tantric style massage of the male genitalia. It is different from a normal happy ending massage in that it requires a different mindset both from the giver and from the receiver and uses different techniques. Try this if you can enjoy a caressing treatment for your genitals and for your soul if you don't have an urgent need to ejaculate. Lingam comes in a classic form and in a deluxe form, the latter is more intimate. If you're healthy, you may be able to experience several orgams using edging-and-waving techniques, making this a very worthwhile package.
PLEASE NOTE: Lingam Deluxe is only by mutual consent, so the girl will confirm only when you are in the shop.
Read more about Lingam massage here
CHI NEI TSANG - Chi Nei Tsang is an abdominal massage of the internal organs in the belly area. This area is very important for good health because it stores a lot of energy (Chi) that can be blocked. The belly area is often called the second brain of our body. It is usually neglected in standard Thai massage practice because the massage therapist needs throrough training and knowledge to treat this sensitive area. All about Touch has several certified Chi Nei Tsang practitioners.
It is a wonderful experience for the body to be finally touched there where nobody every touches, the massage relieves stress in the area and detoxifies.
Chi Nei Tsang is the perfect base for a subsequent Karsai massage or Lingam massage.
NOTE: Please do not have a heavy meal just before the treatment or allow at least 2 hours to digest your last meal.
Read more about Chi Nei Tsang here
AKASURI is a Korean style body scrub that aims to cleanse the skin of dirt and old skin cells. The masseuse uses a mix of cream, honey and salt to scrub and let your pores go open, then flushes away the old cells. You should notice that your skin has become much smoother after the Akasuri treatment. Besides that, for an (older) guy, it can be a particularly pampering experience to surrender nude as a baby to the hands of a young girl cleaning the dirt of little bad boy.
Akasuri ideally combines well with a Gogonutz massage.
PLEASURE PEACH® is a sensual oil massage for women including Happy Ending by a female masseuse. Depending on availability, it's also possible to book a male masseur.
Read more about sensual massages for women
---
NOTE: THE SHOP DOES NOT PROVIDE SEXUAL SERVICES, NO "FULL SERVICE"
Check out other businesses for such services.
---
OUTCALL: outcall massage is possible for locations not too far from the shop (mostly within the city) at an additional 200 baht travelling fee (estimate). Note that not all staff are available for outcall and that this is not an escort service. If you visit the shop for in-house massage, you will be able to choose more girls and more packages.
For outcall, always respect the girl. Read more about Outcall Massage Manners.
STAFF
All about Touch Massage normally has about 7-12 charming young ladies available in the shop. There is no queue system and you are expected to choose the masseuse that you want. Note that each masseuse is different, some girl is more cute, another one massages stronger, another one is fun to talk to etc. If you have certain preferences, it's best to ask the receptionist.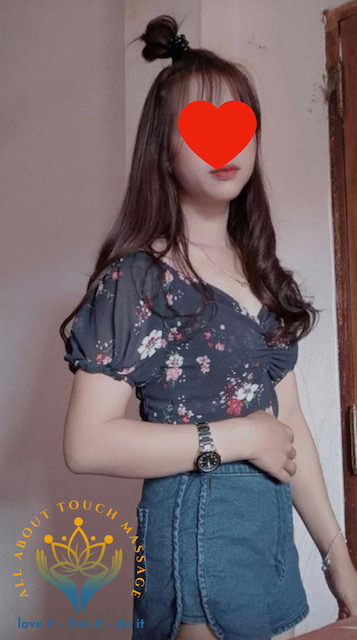 You are welcome to walk in and see which girls are available, but if you want to be sure of a certain staff, it's best to book in advance preferably through LINE (smartphone application) or by phone call.
Phone: +66 (0)842431928
Whatsapp: +66 (0)842431928
LINE ID @781wreta
https://line.me/ti/p/i6qrmN9h1K
WeChat: aatcnx
Kakaotalk: aat.cnx
---
NOTE: please arrive in time, the receptionist can hold your booking for 10 min, after that the staff will be available to accept other (walk-in) customers.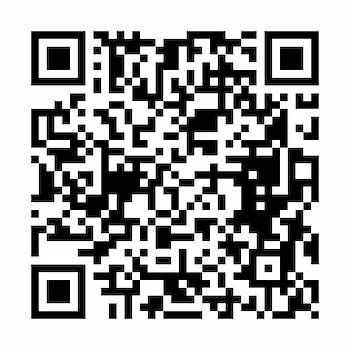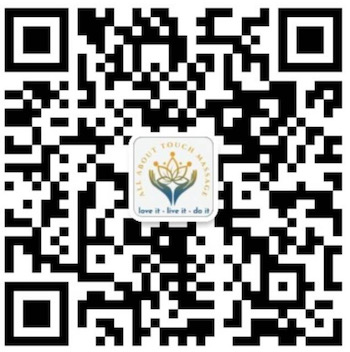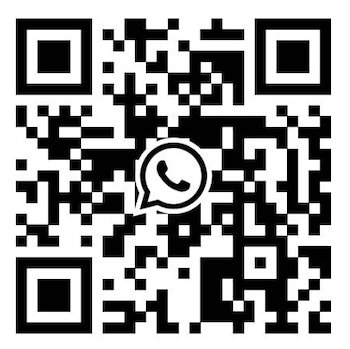 QR codes of LINE (left) and WeChat (middle) and Whatsapp (right) for All about Touch Massage
Add this LINE to get updates about which staff are working.
GROUPS (> 3 persons at the same time): Please note that All about Touch Massage has sufficient capacity to receive a large group of people at the same time, but it's best to book in advance. If you walk in with a group of people (more than 3 persons), we cannot guarantee that enough rooms and staff are available at that time.
OPENING TIMES
Every day (including Sunday, Monday and public holidays unless announced here) from 10:30 hr until 23:00 hr.
NOTE FOR LATE NIGHT CUSTOMERS: For the convenience of late customers, the shop can motivate some staff to work after 23:00 at an extra 200 baht fee (goes to the girl, not to the shop). So if you wish to have a massage that starts after 23:00, the price will be increased with 200 baht. If your massage starts before 23:00 and there are still staff available, the price is the same. Also note that most staff will only be willing to massage for 1 hour after 23:00hr, not for longer.
LOCATION
Conveniently situated at a discrete location at the outer end of the Nimman area, at about 10min walk from the center of Nimman. Simply head eastwards to Sirimangkalajarn Road, take soi 3 of Sirimangkalajarn road all the way to the end and you will find the shop at your left.
Address: 23/2 Sirimangkalajarn Road soi 3, T. Suthep, A. Muang Chiang Mai 50200
​GPS coordinates: 18.795869, 98.973519
Parking is possible along soi 3 or around the corner. Please note that parking in Nimman area is always limited so it's easiest to come by motorcycle or by foot. There is limited parking for cars in the neighbourhood.
NOTE: There may be some dogs walking around the streets at certain times of the days. They belong to neighbours and are harmless but don't address them in a way that triggers them. The best way to deal with Thai dogs on the street is not to give them attention, not look them into the eyes, just walk slowly (like Thai people) and ignore them.
FACILITIES
All about Touch Massage is based in a cute townhouse off the main road. The building has beautifully been refurbished, with no less than 12 fully private massage rooms with aircon! If you ever want to come with a group of friends, no problem about the space, just make sure you make a booking to reserve the girls. There are ample clean and new bathrooms on each floor. Clean cotton sheets and towels are always provided.
Besides this, there are 2 cute semi-open air scrub rooms with a view. Here, the spa-like packages are done that involve water and scrub materials.
Some of the rooms have been adapted to cater for the PlayMe® and Sukebe packages.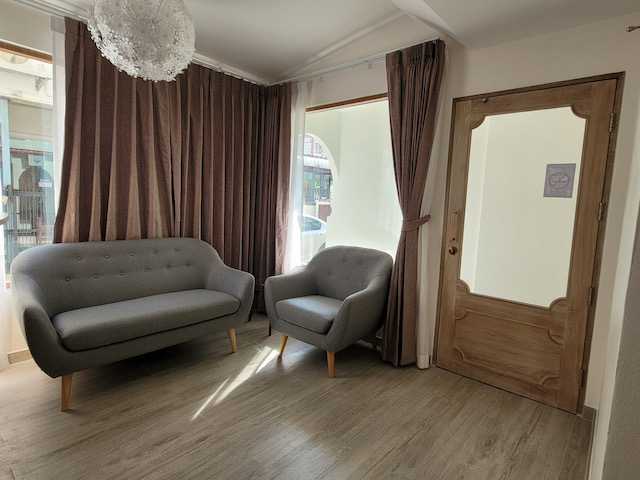 The moment you enter, you feel welcome in the cozy lobby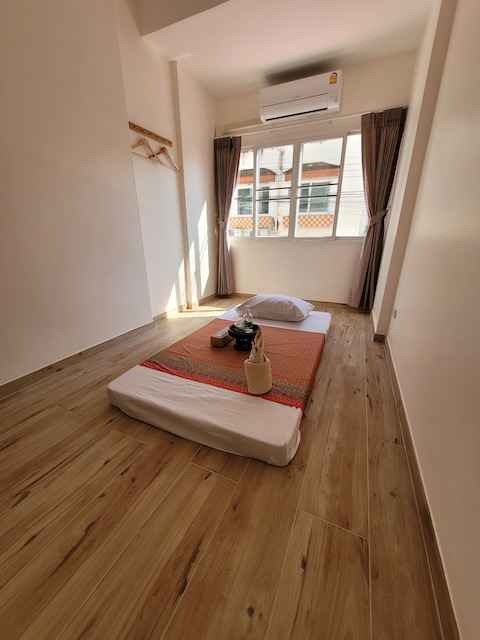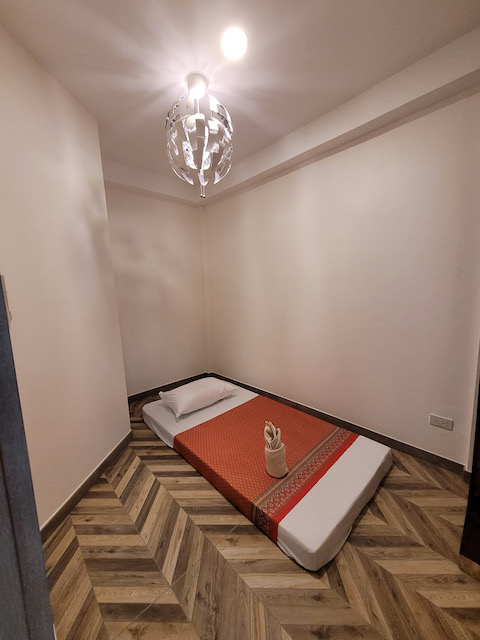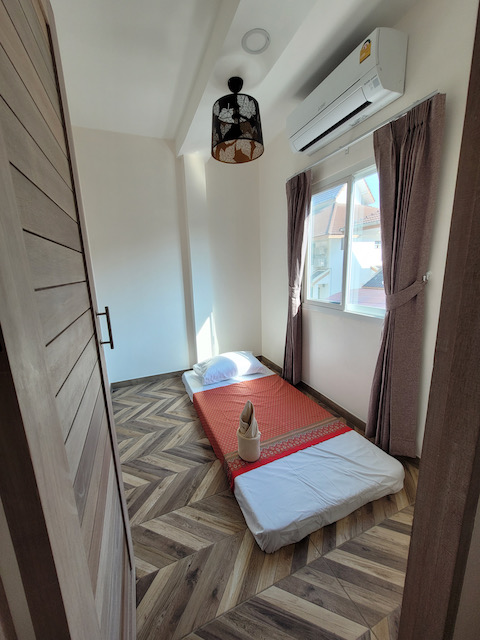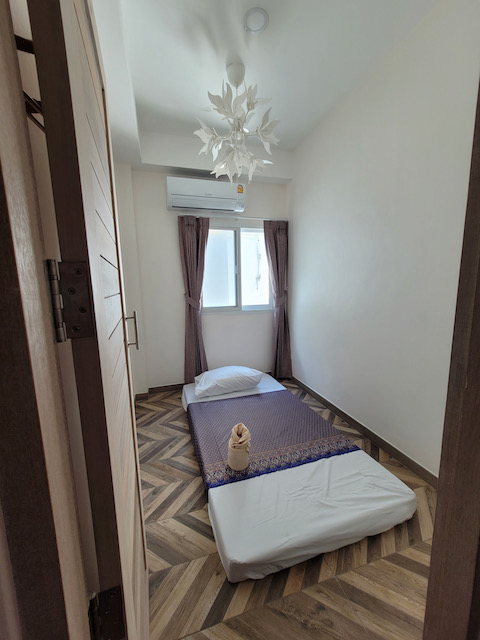 Fully private, clean and well decorated massage rooms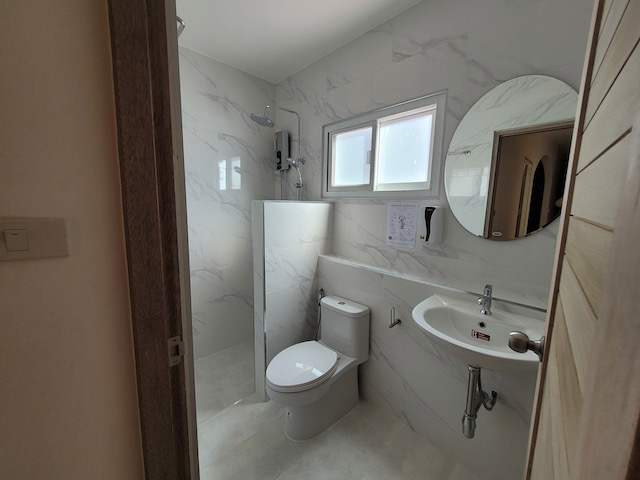 New, clean and luxury bathrooms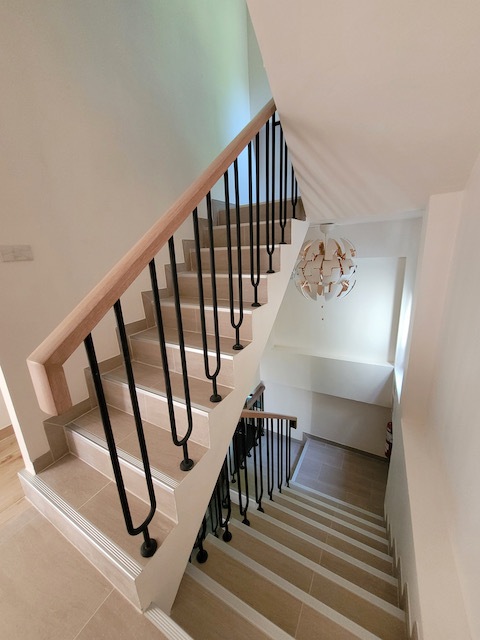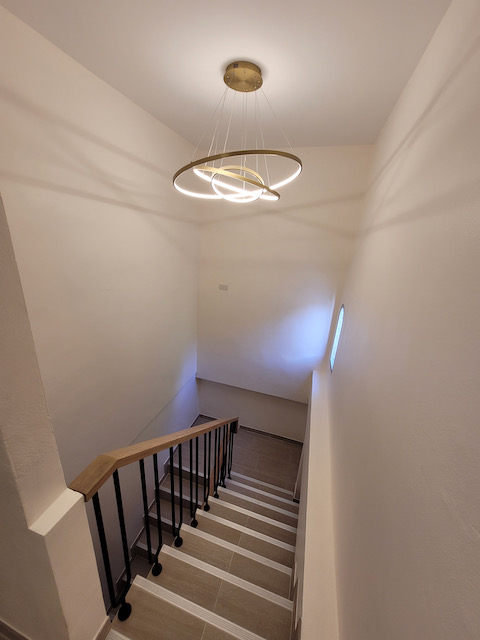 Wonderful ambiance bringing you up to higher levels of excitement
All about Touch Massage strives to provide the best service to its customers. The shop has devised various ways to do so, by training staff in all processes of client interaction, by working on skills, by improving its management and booking system etc.
All about Touch Massage values happy and satisfied customers who become regular customers and refer friends too and is always open to your questions, comments or complaints.
At the same time, please respect the staff. A gentleman receives the best treatment.
Read more about how to become a preferred customer.
SHOP POLICY: If for any reason you do not like the massage style of the girl, you are allowed to change within 10 min to another girl (if available) for the remaining time without charge.
All about Touch Massage can also be reached by email at aat.cnx@gmail.com.
PAYMENT METHODS
Cash is always best, but All about Touch can facilitate various other payment options:
creditcard or debitcard payment: 7% fees (due to charges from Thai banks)
Paypal to aat.cnx@gmail.com, 7% fees (due to charges from Paypal)
WeChat Pay / Alipay 7% fees (due to charges from Thai banks)
PromptPay by Thai banks
Bitcoin or other top cryptocurrencies: please notify the receptionist a bit in advance because this process requires some more details and checking
---
STAFF FOR KARSAI NEI TSANG AND CHI NEI TSANG MASSAGE
KARSAI AND CHI NEI TSANG WITH YUYIE
Yuyie is without a doubt one of Chiang Mai's most promising massage therapists. Well-prepared with a solid Thai massage training in 2019, she continued Karsai studies with Tangmo in the style of the Pathum Thani school and completed a Chi Nei Tsang abdominal massage training in the Tao Garden style in 2022 and also did an additional specialised Karsai course with Ong Massage School in 2022. She then did another Karsai training with Ausika school in Bangkok. This probably makes Yuyie the most diversely trained Karsai massage therapist in Chiang Mai, with training and knowledge from so many main schools in Thailand! It also shows her desire to be able to give a true healing therapeutical massage to her customers.
Only active in the massage world for just a few years and still young, she is already one of the most gifted and most dedicated massage therapists in Chiang Mai. Now people can study what they want, but if their heart and attention is not there, in the end they won't reach high. That is not the case with Yuyie: she is full attention and care and puts her heart into the treatment. This is why she has healing hands and the pressure is always right and she can touch you in exactly the right spots. True healing can only occur from real attention and care, not just from the right technique alone, and Yuyie is able to combine both.
Yuyie is both good in massage for pleasure and in therapy massage, but her true calling is in the latter and for sure she has a long and shiny career ahead of her.
Since giving a Chi Nei Tsang and Karsai Nei Tsang treatment require a certain concentration and physical endurance, Yuyie only accepts a limited number of bookings per day, so make sure to secure your session in her busy day schedule.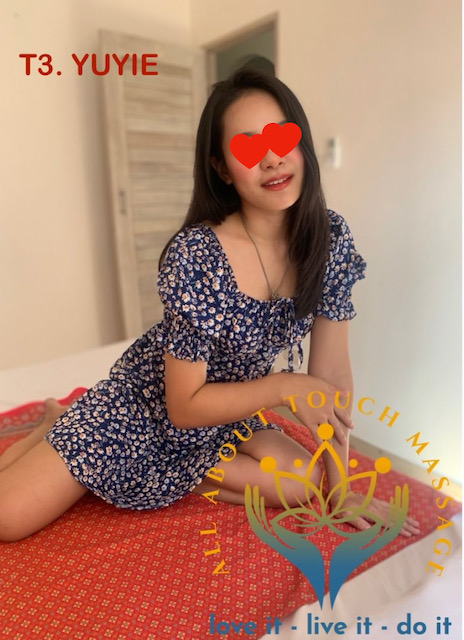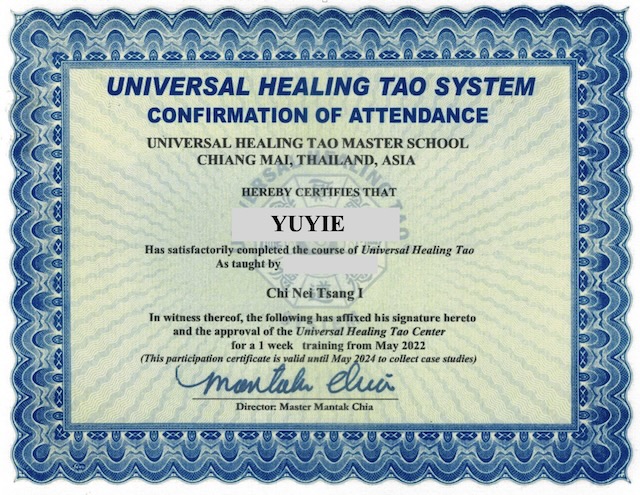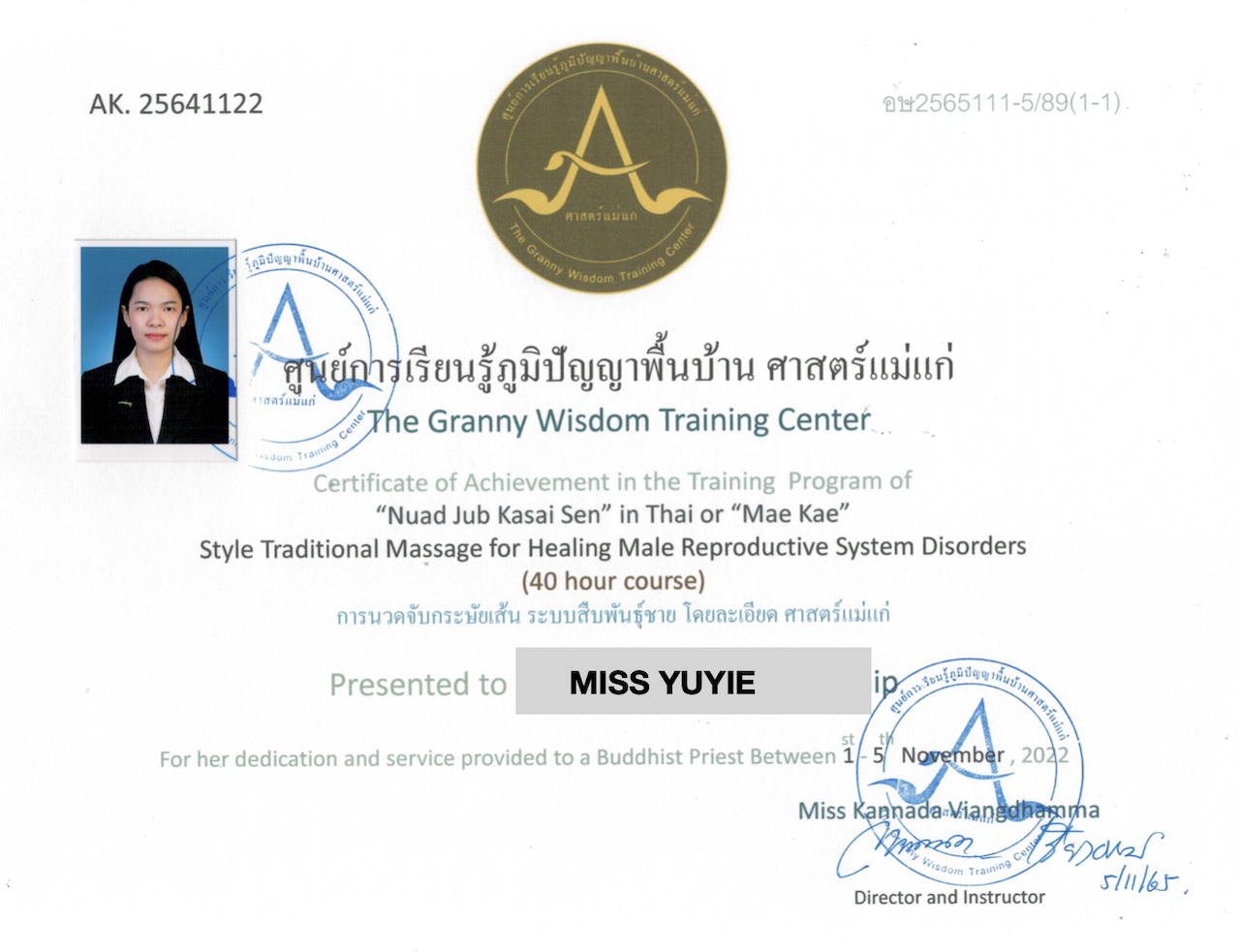 ---
KARSAI WITH SKY
Sky studied Chi Nei Tsang and Karsai Nei Tsang at Ong Massage school and also learned Karsai from Breeze in the Pathum Thani school style, so she is well versed in the art of Karsai and Chi Nei Tsang from all main styles. Sky is one of a kind, with her excellent English language skills and unique mindset, she is very entertaining.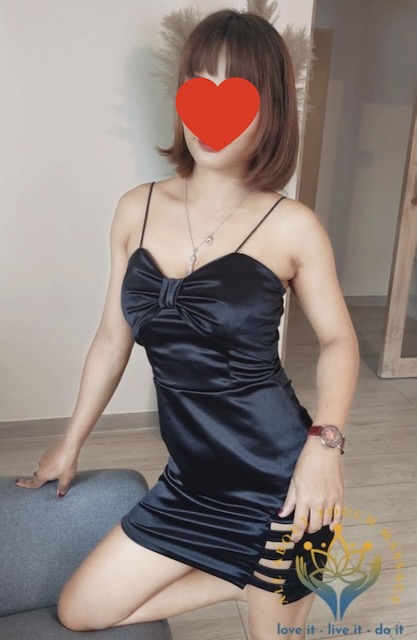 ---
KARSAI WITH SANDY
Sandy studied Karsai Nei Tsang at Ong Massage school, both for male and for female. Sandy has a great eye and feel for detail and is lovely and dedicated to her customer. The Ong Massage school massage style is very therapeutical and focuses only on health issues, so if you also enjoy a playful element, tell Sandy during the massage so that both health and pleasure are dealt with.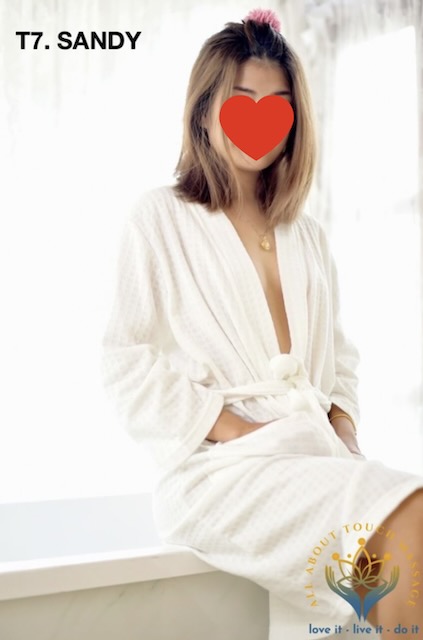 ---
KARSAI WITH NADEAR
Nadear provides a wonderful Karsai massage treatment that is worth it every stroke. Nadear is a student of khun See in Bangkok, who learned Karsai from various schools and sources. Besides that Nadear also studied Lanna style Karsai with master teacher Mae Miaew in Phayao. Nadear's style of Karsai is very thorough, with clear points and techniques that are very practical and focused on treating a certain problem. If you choose Nadear, don't eat anything just before the session, let your meal digest at least 2 hours before, because if you allow, she can exert quite a bit of pressure on the belly area during the Chi Nei Tsang part of the treatment. Also, if you do have any issues, you may experience some pain during the treatment to relieve and cure the issues. Of course, Nadear will adapt her treatment according to what you are willing to take, but in the original way it can be quite sensitive in case of real issues. So this is not just a soft caressing play towards a HJ like you find in some fake Karsai treatments, no, Nadear is really working on your genital health.
Part of the treatment consists of a real and thorough internal prostate massage, where Nadear will penetrate you from the back. This position is also very suitable to treat sciatica (pain along the main sciatic nerve) that can arise from office work.
Nadear is a very talented therapist and an eager student who no doubt will keep learning and already at her relatively young age you will notice that she's very knowledgable about your genital health.Besides that, she is a lovely person that you will not be able to say no to when she asks if you want to be relieved with a HJ at the end. Contrary to most schools of thought in the world of Karsai, in Nadear's style of Karsai massage, it is believed that men should ejaculate at the end of the treatment to check the quality of the sperm. This is perhaps a Chinese influence (traditional Chinese medicine or TCM) where the therapists can derive from the color, smell, viscosity and transparency of the sperm if there is a problem in your sperm bladder, your prostate and so on.
Bear in mind that Karsai is a natural healing method void of any chemicals or quick result bearing Western medicine (such as alpha blockers) and that for real issues, it is recommended to have one or more repeat sessions after 3 days or so.
Summarized, Karsai massage with Nadear is not only a pleasure (for the eyes and for the heart), it is also a true healing and health supportive treatment that you will want to have again and again, even if completely healthy.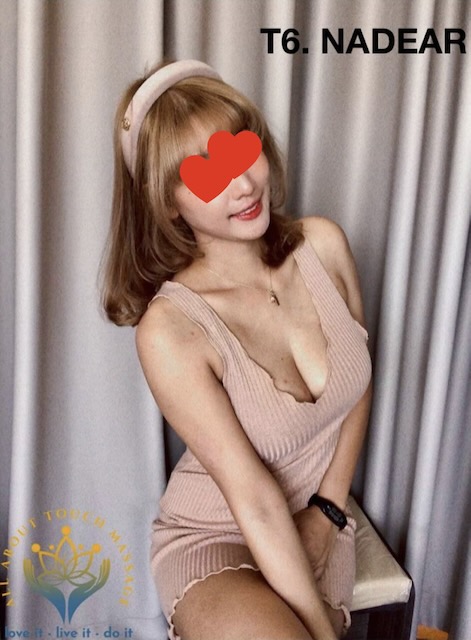 ---
KARSAI WITH GRACE
Grace studied Lanna style Karsai from master teacher Mae Miaew in Phayao. This is a style of massage that works mostly on energy lines and pressure points and originally does not have much contact with the genitals. Also, the body should be covered during Lanna style Karsai treatment to allow for proper pressure on the body. Lanna style Karsai can be effective and healing but naturally does not feel very exciting like other styles of Karsai, so if that's an important reason why you want to try Karsai, you can ask Grace to add that element into the treatment.
Grace has a good and firm touch and is able to exert quite some pressure on energy lines. She's dedicated all through the treatment and is continuing studies with teacher Mae Miaew to help cure real issues with the genitals.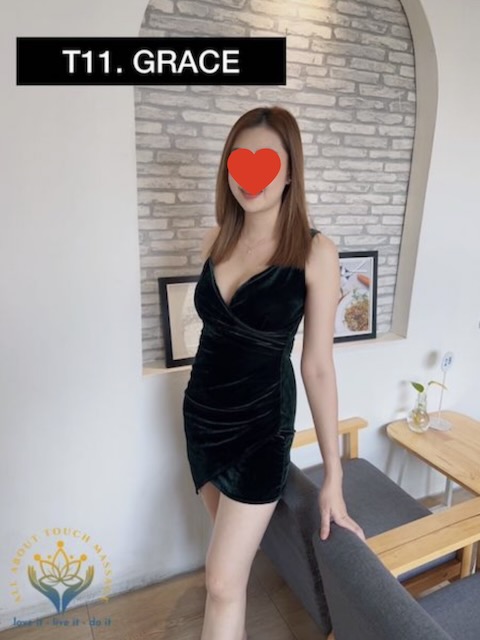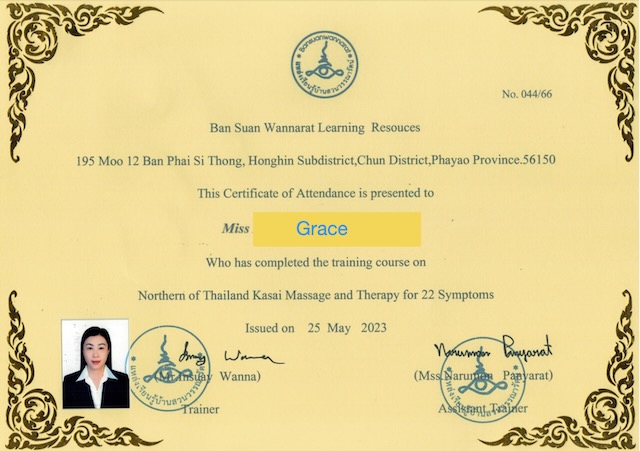 ---
KARSAI WITH ALICE
Alice studied Lanna style Karsai from master teacher Mae Miaew in Phayao. Alice has a firm and sure touch.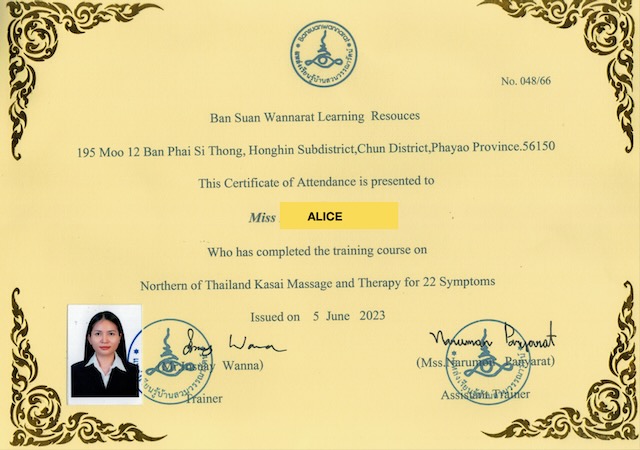 ---
KARSAI WITH DARA
Dara studied Lanna style Karsai from master teacher Mae Miaew in Phayao. Dara has a firm and sure touch.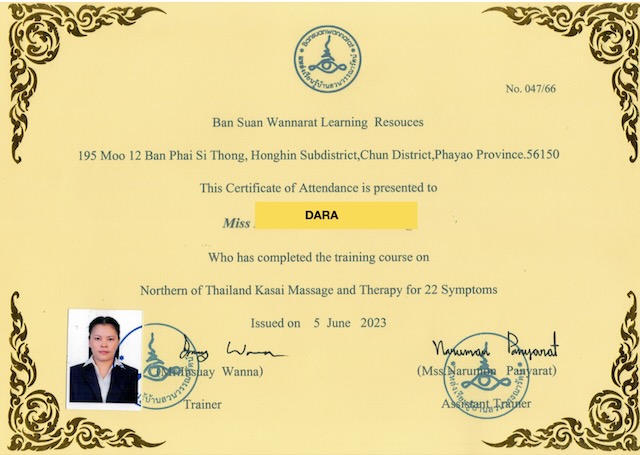 ---
WHAT OTHERS SAY ABOUT ALL ABOUT TOUCH MASSAGE CHIANG MAI
---
OTHER SENSUAL AND EROTIC MASSAGE PLACES IN CHIANG MAI: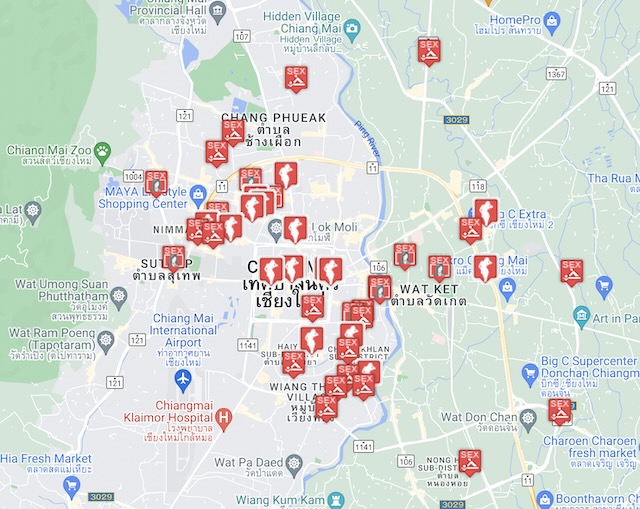 Having trouble to find other places? Become an Insider and get full access
to other male entertainment places and more.
---
This information was outsourced and compiled by our partner cmXlocator. For more information, please contact cmXlocator@gmail.com or become an Insider member here to get full access to all Male Entertainment info. Copyright cmXlocator.
LEAVE A COMMENT BELOW (PUT IN YOUR REAL EMAIL ELSE COMMENTS WILL BE DELETED)