Aloha Massage Chiang Mai
---
Last edited: February 13, 2019 at 07:08:05
---
Advertisement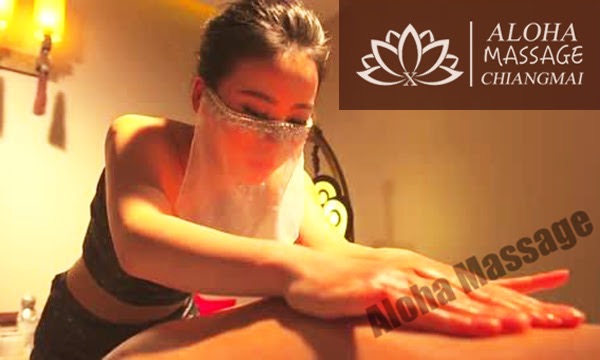 About Aloha
Speaking of Chiang Mai
Has always been
a small representative of Thailand
Although there is no
Bangkok or Pattaya's
indulge in a wanton life
But have a
Chic massage parlour
Concealed in this fresh town
For men
What's true enjoyment?
Someone chooses Hj shop
But most of them are
Skimps her work
Someone chooses 'BANG BANG'
However, after a 'twitch'
But there is no Satisfaction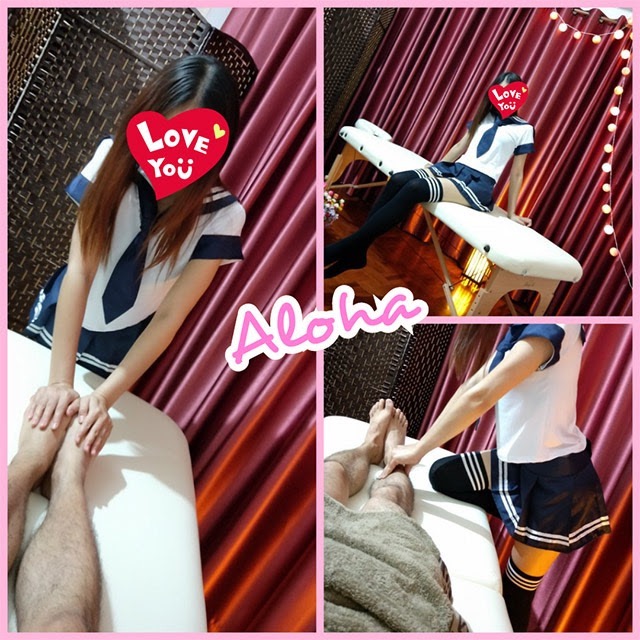 Maybe
What you need is
Let you have an
Endless Aftertaste
Enjoy both body and mind
So…Aloha Born


Aloha Masseuse

Northern Thai girl…
Gentle and considerate
fresh and refined
Have a sense of service
Not only quality cultivation
but also professional
The focus is Pretty~
Full of thick Thai style!
Will give you girlfriend-like care

Professional and regular service
In Chiang Mai
No hot sunny beaches
No noisy red light district
it's easy to think of porn when talk about massage
Understand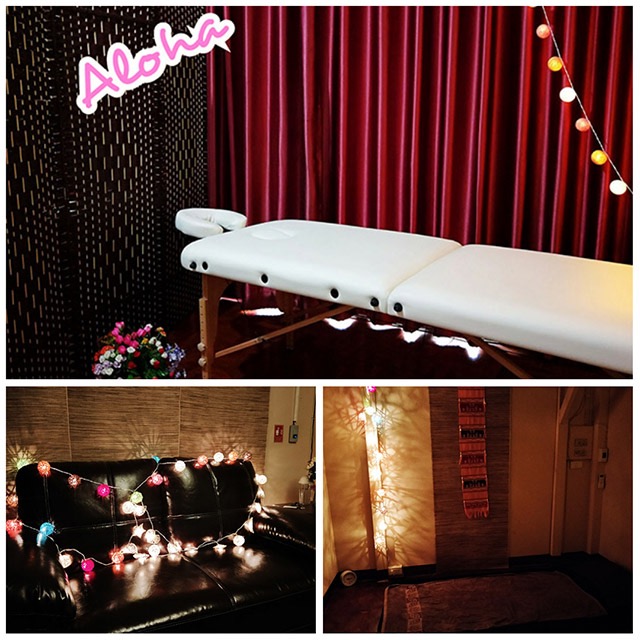 But still need to declare
This is a professional massage salon
No 'Bang Bang'
Only here
Pure and lovely Thai girl
Use their magical hands
Give you a endless aftertastes feeling
finally
You will find
Not only does the body get soothed and relaxed
Even the mind is relieved!

MENU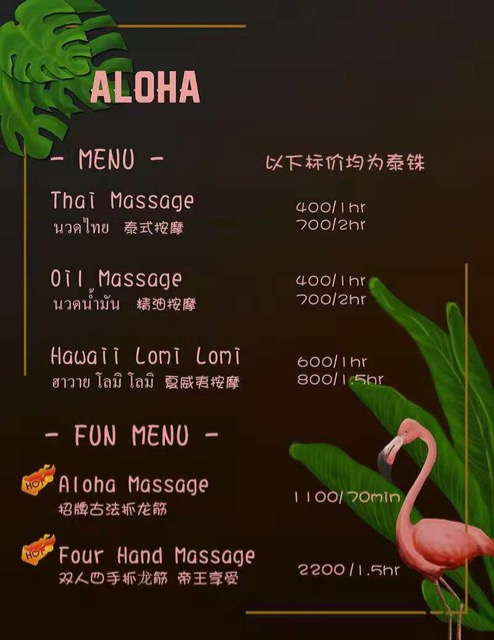 ★Aloha Massage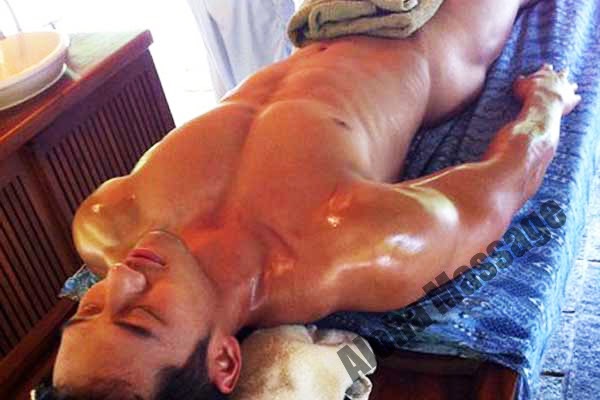 Do the best with hands. This may be a delicate service you can't experience elsewhere.
(no extra fee)
★Hawaii Lomi Lomi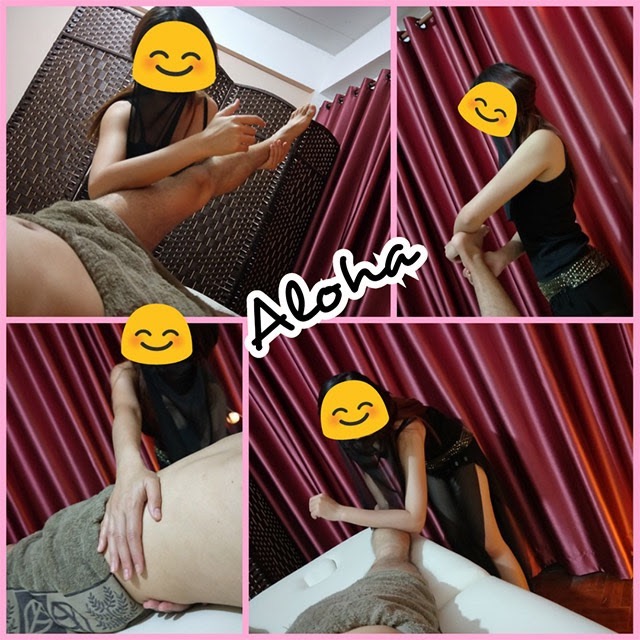 Lomi Lomi Massage is Hawaii's native massage style. It's an incredible full body massage in which the entire body is massaged simultaneously in a continuous movement. The masseuse will use long-flowing deep strokes that will run along the entire length of your body from head to toe in one continuous motion, working both on top and under the body. Lomi Lomi massage is like the sea: the masseuse will embrace you in the rhythm of waves of the ocean, a rhythm which sends deeply relaxing sensations to your brain. Lomi Lomi massage is a fantastic treatment to obtain full relaxation.

BOOKINGS & CONTACT
The easiest way to make a booking is through LINE (smartphone application) or call.
LINE ID: 0952386661
Phone: +66 0952386661
Wechat ID: maybe8677
Whatsapp: +66(0)952386661
NOTE: please arrive in time, Aloha Massage can hold your booking for 10 min, after that the staff will be available to accept other (walk-in) customers.
OPENING TIMES
10.30-24.00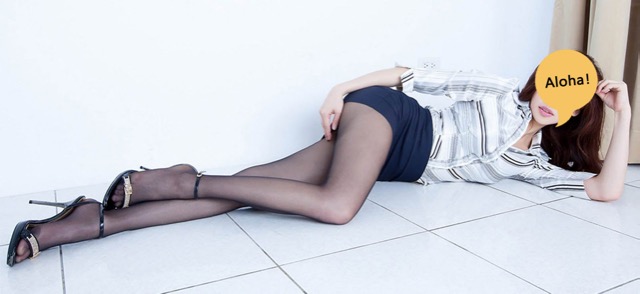 LOCATION
Address: 49/8 Road. Suriyawong Sup-district. Hayya District, Muang Chiang Mai 50100, Thailand
GPS coordinates: 18.774717, 98.989646
ROUTE DIAGRAM
Google Map / Grab :Aloha Massage Chiang Mai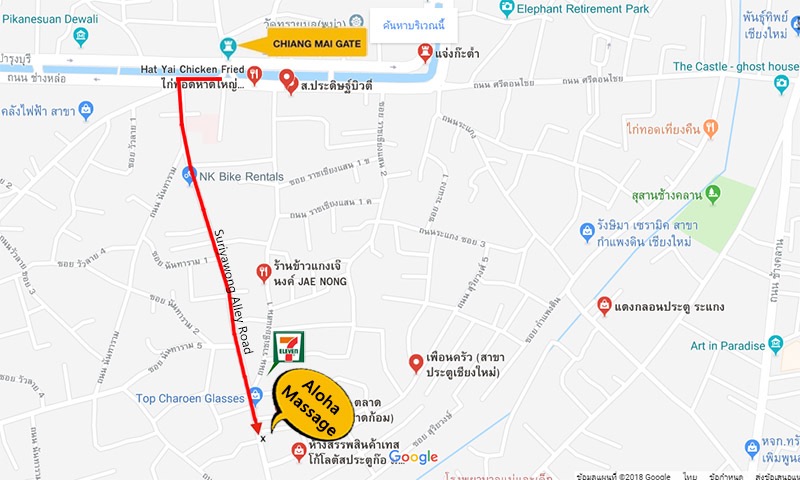 Route description: Driving on the outer road of the moat, turn left into Suriyawong Alley from Chiang Mai gate, which heads straight south. Follow for a few hundred meters, you will pass a 7Eleven on your left. A little further on, on the left, you'll find the shop.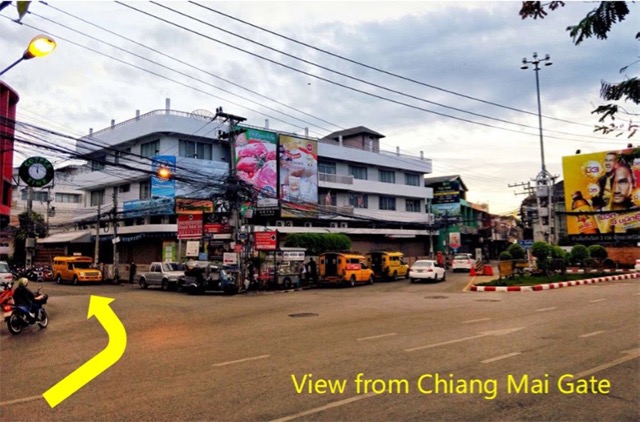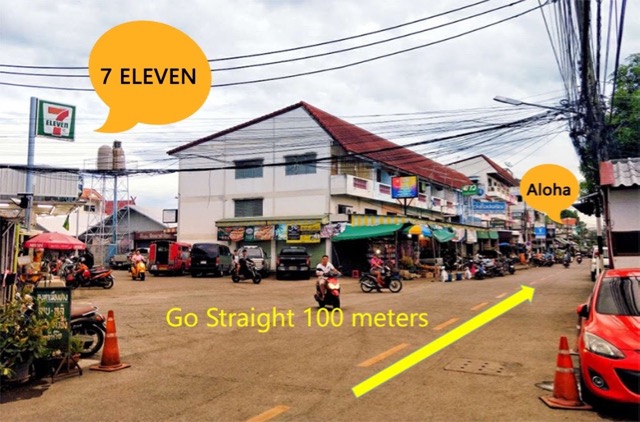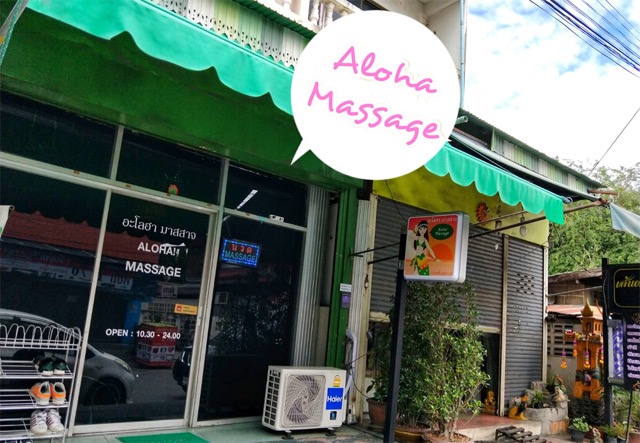 FACILITIES
Aloha Massage is located in a 4-story town house with ample private VIP massage rooms with aircon. There are shower rooms and all facilities are clean and cozy with a sense of privacy. Fresh cotton sheets and towels are provided for each massage.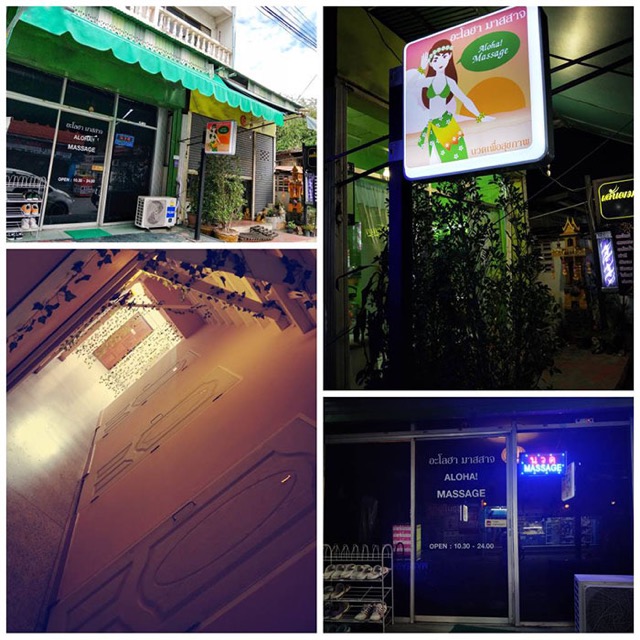 QUALITY EXPERIENCE ASSURANCE
Aloha Massage takes your massage experience seriously! The shop aims to provide high-quality services at affordable prices. Aloha Massage hopes to see you back as a returning customer.
Any questions, comments or complaints are always welcome at alohamassage666@gmail.com or through the above contact channels.
---