Aloha Massage Chiang Mai
---
Last edited: August 23, 2020 at 07:29:54
---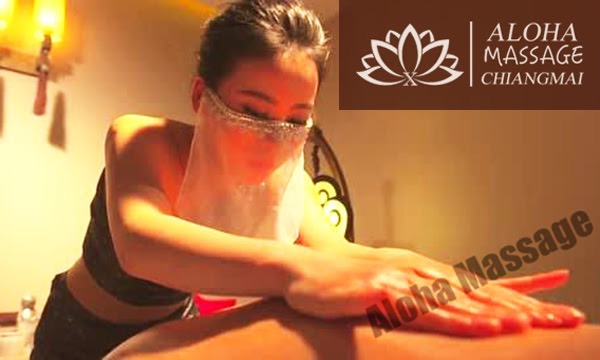 ---
AVERAGE TREATMENT BUT BAD PRACTICES BEHIND THE SCENES
Aloha Massage is one of many happy ending massage parlours in Chiang Mai. When the shop started back in around 2017 or so, it had a real potential to grow into something worthy of regular visits because of the Chinese management that is usually more aggressive to become successful than Thai business owners. But that's also precisely what eventually made the business fail, as Chinese businesses often don't know how to stay on the right side of business ethics.
As a one-time visitor, this shouldn't bother you too much as long as you don't believe a word of what the shop has put out on the internet and if you just see the massage for what it is: a handjob massage, nothing more, nothing less.
อะโลฮา นวดกระปู๋ เชียงใหม่ (มาสซาสแอนด์สปา)
STAFF
The staff are friendly, they are somewhat more trained than average but in the end it really depends on how much effort a girl wants to make so overall your experience could be average or good, it all depends on the girl, same as in most places. Most of the girls working here are a bit older (30+), there are only a few younger and prettier girls (20+) working part-time and here again, the shop has been overselling in posting fake pictures of pretty staff who are actually not working there at all. So double-check your booking before visiting the shop, as the main purpose of faking staff on its profile is of course to lure customers to walk into the shop and for them to accept less attractive staff because you can't be bothered to go somewhere else anymore.
The older staff generally have better skills than the younger staff, so if you care more about hand technique than looks, go for the veterans.
MENU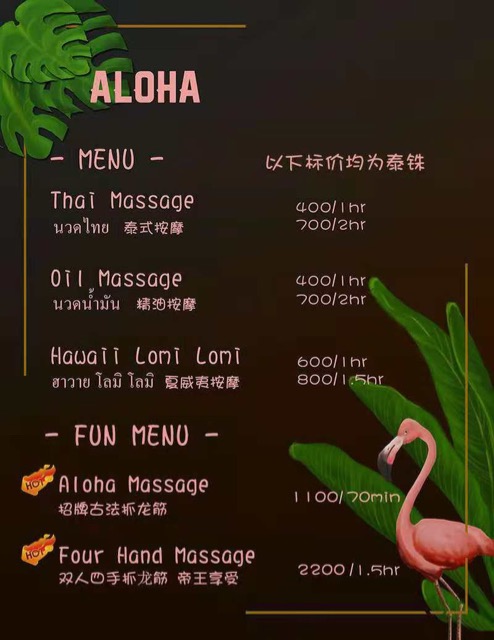 "Aloha Massage" - THB 1,100 / 70min : This is basically an oil massage with a happy ending included in the price. What's a bit different from normal HJ massages is that you will be asked to sit up like a doggy for a few minutes while the girl does some teasing from behind. Some girls do the teasing in a nice way, others may do it mechanically just because the boss taught them to.
Where the shop goes wrong is that it tries to oversell this service as a medical or therapeutical prostate or Karsai massage, which it is surely not. For a genuine prostate or Karsai massage, the staff need some proper training and/or certificates and Aloha staff don't have that. This is where you as a customer could feel disappointed or cheated.

TIP:
If you want to have a real prostate or Karsai massage, you better take one at Daisuki by Lolita, where staff are certified and or trained to perform a real prostate and Karsai massage.
Read more about Prostate massage and Karsai Massage
---
NOTE: HAVING A KARSAI MASSAGE OR PROSTATE MASSAGE BY AN UNQUALIFIED PERSON MAY CAUSE DAMAGE TO HEALTH
---
If you want to have a happy ending massage just because you like a certain girl at Aloha Massage, you better take the regular oil massage and tip the girl directly whilst in the room. Overall, this will be cheaper for you while you get the same or a better treatment and you will enable the girl to earn more in the end, rather than let the profit flow to the shop.
Note that the price of THB 1,100 for the so-called Aloha Massage is a bit expensive, you get the same for THB 899 all included at Daisuki by Lolita without a hassle (which leaves you more room to tip the girl to take off her bra, for example).
Hawaiian Lomi Lomi Massage: This could have been a unique and interesting service that doesn't exist in Chiang Mai, but the Lomi Lomi as performed in Aloha Massage is kind of lame, it basically feels like a soft oil massage partly executed by the elbows, but it really doesn't go deep.
In fact, it's an interesting idea but why on earth would you want to have a Hawaiian massage carried out by a Thai girl who generally doesn't understand any foreign concept and will be hard to be trained in it? Besides that, Lomi Lomi is actually less sensual than an oil massage with the hands and fingertops in sensitive areas, so overall I wouldn't recommend anybody to take this rather expensive massage package.
​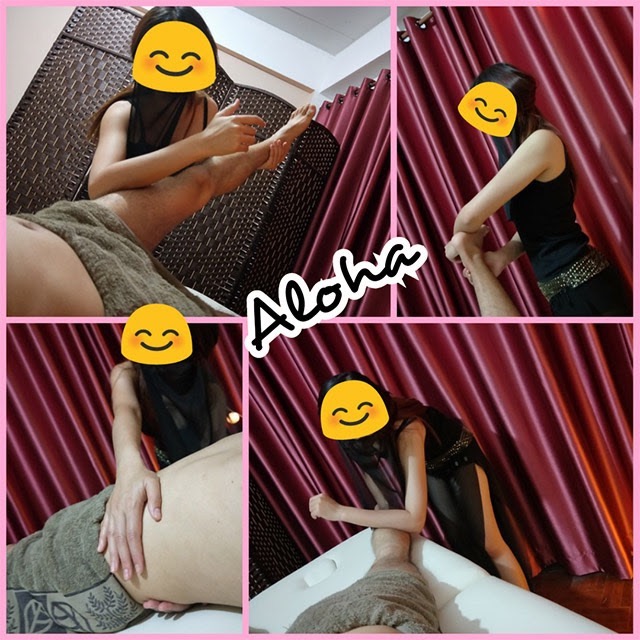 Four Hand Massage: This is the so-called Aloha Massage done by 2 girls. There is definitely a pleasure in having two girls spoil you at the same time! If you find two girls you like at Aloha Massage you could give it a try, but again I'd just ask if I could have an oil massage by two girls and then tip them directly or have it at Daisuki by Lolita for a lower price.

OPEN
Shop is open from 10:30-24:00

FACILITIES
Aloha Massage is located in a 4-story town house with quite a lot of space but sadly the business hasn't invested in creating a sufficient number of private VIP massage rooms, so there is a chance you'll have your oil massage in a curtain room or 'semi-private' room and you can hear your neighbour being wanked off, which happened to me once (!) and I can assure you it is a terrible experience that you don't want to have

.
Another frightening thing that happened to me in Aloha Massage is that, after the Happy Ending, the girl comes back with a bucket of water and a small wet towel to wipe off your little ones from your belly, which obviously will make you wonder how clean that towel really is and how many previous customers were 'cleaned' by it, perhaps even on the same day! Not just me, but also a few of my mates got this unpleasant surprise right at the moment your relax hormons kick in after you've shot your DNA in the air. I'd say, toilet paper does the job, but that's something they still have to discover at Aloha Massage.

MANAGEMENT
Physical management in the shop is mostly absent, the girls and the receptionist are usually left alone and are mostly unaware of their management overselling, so don't blame the girls for it if you didn't get what was really promised. The owners are quite active on the internet, though, and in that way are spreading a lot of fake information.
As one of the partners is mainland Chinese, this explains a lot about the 'different' business ethics.

CONCLUSION
The main reason to go to Aloha Massage would be because you like a certain girl: perhaps she's young and cute or she's older but she has a certain good hand technique, so you heard of. But there are other massage parlours that provide the same service at a lower price and have enough pretty girls or girls with skills, so if you're not into a specific girl, I'd try those first.
A main reason not to visit Aloha Massage is because the shop has a long history of not being straight with its customers, partners and staff. When that's the business ethics of a shop, although it may not immediately affect you as a first-time customer, eventually it will because the shop values short-term profit-seeking over the long-term satisfaction of customers.
In short, Aloha girls are okay, it's just a pity about the owners.
If you're into sensual massages, there are plenty of alternatives to Aloha Massage. Here, I've recommended Daisuki Massage a few times, not so much because Daisuki is cheaper, has better facilities, younger and prettier girls and has really invested in its staff by providing them with real training and certificates, but mainly because it has better business ethics. Besides that, insiders know that Aloha has copied most of its menu and concepts from Daisuki, and usually it's better to go with the original brand rather than with a copycat, especially if the price is similar.
Review by Ethan
---
This review was compiled for CM Locator and is based on feedback from several members and visitors. The website does not take an official stance towards any business listed and makes every effort to verify information to protect the interests of readers, still you visit at your own risk. Any feedback about this business?
Having trouble to find it or want more information? Sign up for Insider Guide and get a full route description and more.
---
This page contains more content accessible for Premium Member. Please check out our
Insider Guide
and become Premium Member.