REPEATEDLY REPORTED FOR BAD BUSINESS ETHICS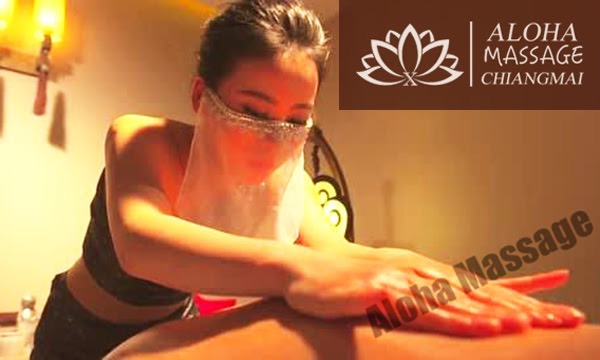 Aloha Massage is in many ways one of Chiang Mai's most deceitful happy ending massage parlours. When the shop started back in around 2017 or so, it had a real potential to grow into something worthy of regular visits, but sadly it faltered because of poor business ethics.
อะโลฮา นวดกระปู๋ เชียงใหม่ (มาสซาสแอนด์สปา)
ALOHA: IS IT WORTH IT?
As a first time visitor to Chiang Mai, Aloha would certainly not be on my list, as there are enough better alternatives for a happy ending massage.
The main reason to go to Aloha Massage would be because you like a certain girl there, after you've come to accept the shop's misleading advertising and practises, and you simply forget about the shop's menu and tell the girl to do a long extended handjob massage on you. But again, there are better alternatives for that.
WHAT'S ON OFFER?
Aloha's one and only pillar of existence is a glorified handjob massage, usually performed mediocre. In it's menu, it's called Aloha massage and costs THB 1,100. It's a 70 min oil massage that includes a happy ending.
In it's advertising, Aloha promotes it as an exquisite handjob and even claims it is a Karsai massage or a prostate massage, with plagiarized texts from this website. The truth is that none of Aloha's staff have been properly trained or certified in Karsai massage therapy. When asked, staff don't understand what they are doing, what is Karsai or what is prostate massage, they just perform the steps that their boss has taught them.
So what's the deal? The girl will do a normal, average oil massage that can feel a bit boring when it's too soft and repetitive. Nearing the end, she will ask you to sit up in doggy, she'll do a few strokes from behind along your thighs (this is the so-called "prostate massage"). You then turn over and she does a few strokes on your balls (this is the so-called "karsai massage"). Then follows some mechanical teasing and finally she just wanks you off. This is Aloha massage, nothing more, nothing less.
Is it good? Well, it's better than the average handjob massage along Loikroh road, with its annoying 'do you want special?'. But it's not really good and it's certainly not a true Karsai or prostate massage, far from that and in fact it's a total joke compared to shops which have really invested in their staff and training course and are able to offer the real thing.
Besides that, sensuality: zero. Building up excitement: zero. Creativity: zero.
The one good thing about the Aloha massage package is that you're sure about the happy ending and that the girls are okay with stroking your ass, which most Thai massage girls don't like (but they don't dare to go one step further to perform a real internal prostate massage).
The bad thing about the Aloha massage is that the girls perform it so terribly mechanically. They are following the steps that their boss taught them, first this, then that, a bit of mechanical teasing here, a bit of stroking there, there is absolutely no sensuality and no creativity left for the girl to make you feel excited.
I've tested this with 5-6 girls in Aloha and they're all the same, they all follow the 'official steps taught by the boss', without understanding anything about prostate massage, Karsai massage, sensuality or what men really want.
So is Aloha massage worth it? I'd say no. With an all-in price of THB 1,100, it's more expensive than its competitors. But worst, it feels mechanical, not sensual. The only reason to go is because you like this or that girl, and you simply let her deviate from the "program" and tell her what to do.
Going around the book isn't appreciated: if you want to book a Thai or oil massage at the reception, you'll encounter quite some resistance, the receptionist will be pushy to sell the Aloha package, and the girls won't be happy to serve you, even if you intend to tip the girl yourself.
So what's on offer is really not the 'exquisite handjob', Karsai massage or prostate massage the shop is advertising with, but rather a glorified handjob.
Read more about Prostate massage and Karsai Massage
---
WITH FAKE PROSTATE MASSAGE AND FAKE KARSAI MASSAGE
ALOHA IS ONE OF THE BIG CHEATS IN TOWN
---
POOR BUSINESS ETHICS
Now you know what's on offer, you can choose to take it, leave it or alter it, but the one thing that may still disappoint you as a customer is the shop's continuous poor business ethics:
Many of the pictures of girls and facilities the shop uses in online advertising are fake. So if you expected to book this pretty girl, too bad, she isn't there. If you thought the room would look like a 5 star hotel, too bad, it's not like that. The reason why the shop uses fake advertising is simply to lure you in, when you're there, you probably can't bother to go somewhere else is the idea. This is common practise in China, where the management of Aloha comes from.
Some pictures of the girls are heavily, heavily modified with an app, even without the girls themselves knowing, and then used for advertising. I've showed a Tiktok video to a girl working in Aloha and she didn't even recognize herself!
Unlike advertised or claimed, there is no Karsai massage, prostate massage or men's health massage. It's all fake.
Not treating the staff fairly: one customer reported trying to book a girl for oil massage, the receptionist said this girl does not accept oil massage, only Aloha massage. Later in the room, the girl said she'll take any massage. So the shop is not allowing their staff fair chances for work.
OTHER FACTORS
Aloha Massage has rather basic rooms on the ground floor (used for Thai and oil massage only) and curtain rooms on the 2/F which look okay but in the end are not 100% private, especially if there is a customer next to you. There is only one private room on the 3/F, which is fine. So this is a rather big disadvantage of the parlour, there are are so few really private VIP rooms. Only if it's not busy, you will feel private enough in the curtain rooms. The rooms on the G/F aren't used for Aloha massage.
Overall, it's a nice building and the facilities are kept super clean, there is a pleasant ambiance of little lights, music and smell.
The booking system of Aloha sucks: add their LINE and wait for days before someone responds, despite all the advertising.
GIRLS: only about 2-3 girls at the premises, average to cute, age around 30, skills average
MENU: Unfortunately, the shop was not able to make other items on the menu thrive, such as the so-called Lomi Lomi massage, a Hawaiian style massage, obviously because it's too hard to thoroughly train staff for that. There is an extended handjob massage on the menu that's just a bit longer and uses hot oil, but more expensive.
Aloha massage is run by mainland Chinese management that has poor business ethics. The main service on the menu, the Aloha Massage package, is a bit expensive for what's being offered, although it's better than what you will find along the tourist roads. No genuine Karsai massage, prostate massage or men's health massage is being practised.
The shop mainly thrives on first-time Chinese customers who are fooled by the shop's fake advertising.
There are several much better alternatives in Chiang Mai, notably Daisuki Massage by Lolita (which has from the start been the prime example that Aloha tried to copy), Dream Massage, All about Touch Massage and Senz~ Diva Massage. All of these shops outperform Aloha in many ways and often at lower prices.
Review by Hunter
---
Having trouble to find it or want more information? Sign up for Insider Guide and get a full route description and more.