More info
Mokaru Spa offers erotic massages in "Japanese style".
Previously this shop was named Kane Spa, which offered erotic body-to-body massages and full service packages but the new shop doesn't do that anymore.
Mokaru มาสสาจ & สปา เชียงใหม่ (มาสซาสแอนด์สปา / นวด).
REVIEW MOKARU SPA
Originally started as Kane Spa with body-to-body massage packages, this shop transformed to a "Japanese style" erotic massage without body to body massage and without full service in May 2023. According to the staff, the new partner is either Thai or Japanese, because the menu and style suggest Japanese influences.
I give it the benefit of the doubt because there are some words on the menu that suggest something new and I want to find out what: there is a so-called Kimuji คอร์สคิมูจิ and a so-called Hayaii package คอร์สฮานามิ on the menu. According to the receptionist, it's a best-seller.
I choose the Kimuji menu because it's supposed to be the most extensive and lasts 1hr 10min.
There are only 4 girls to choose from and they look (much) less good than on the pictures that were sent to me, I stick with the one that I booked before coming not to cause a fuzz. She takes me to a room outside of the lobby, it's rather basic and a bit too light. She lets me sit down on the bed and washes my feet, as it is done in many regular Thai massage shops. Next she takes me to the shower room which is adjacent. She washes me but keeps her clothes on.
I am then told to sit down on what is supposed to be a Sukebe chair, but I've seen better in my life. It's basically a black toilet seat on foldable legs and it doesn't look to luxury. I take care not to touch the inside of the toilet seat with my genitals, because who knows how many other people did it. She starts to wash my balls and dick while sitting from behind. It's not unpleasant but I've had better. She presses a few points, wanks a bit, but avoids the anus, which is definitely not very Japanese.
As my penis grows erect, I bend forward to avoid it hitting the edge of the toilet seat from below. The structure is made of plastic and metal and I can't trust that it's thoroughly cleaned especially from below where different components are put together.
After like 5min, the special treatment is over and I am moved to the bed.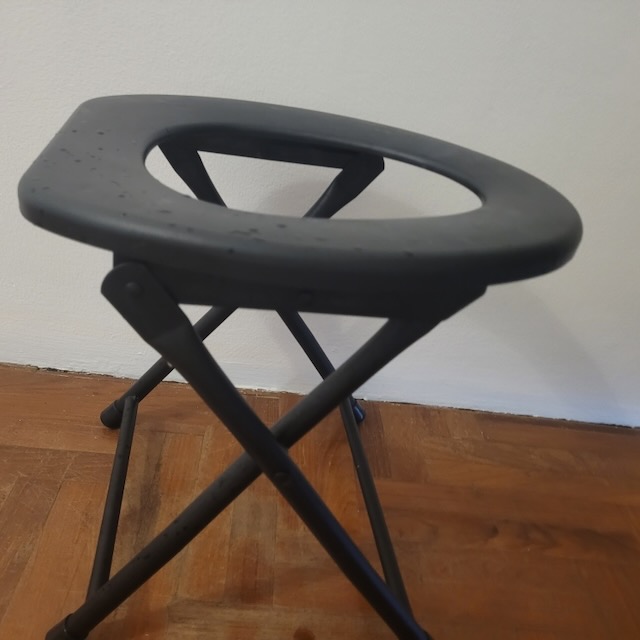 Rather basic Sukebe chair that your dick doesn't want to touch from underneath
A soft oil massage continues without any play, "turn over please", and then starts what the shop calls Karsai: a few strokes here and there, some pulling of the balls, some pressing of lines, but surely not a real and thorough Karsai treatment.
I didn't feel any excitement so far and even this part is not exciting as it simply flows over into a plain HJ. I'm not sure if the owner is Japanese, Chinese or Thai, but whoever designed this package has no idea about sensuality because the entire treatment is void of it.
I don't bother to come and just cut the treatment short because it's in fact rather boring.
Asked about the shorter Hayaii treatment, the girl says that's only doggy style 'Karsai' on the bed. I know enough, this type of fake Karsai treatment was also glorified in Aloha Massage, an unreliable shop elsewhere in town.
If you want to have a good sensual massage or if you want to have a real Sukebe treatment, you should not seek it here and there are much better places in town (notable All about Touch for its much much better Sukebe package).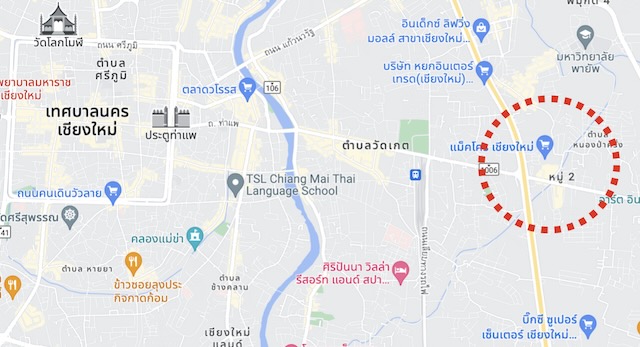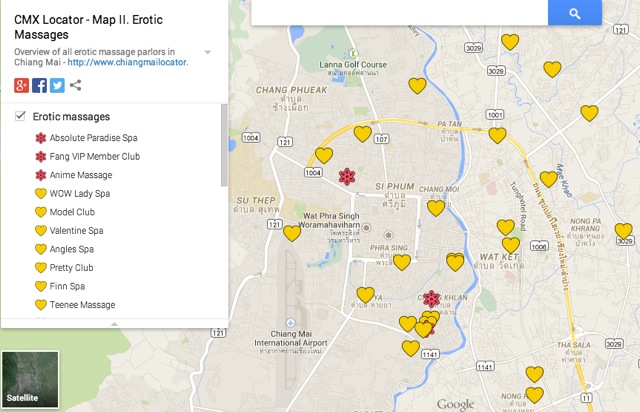 Having trouble to find it or want more information? Sign up for Insider Guide and get a full route description and more.
Mokaru Spa photos